Premier orders Facebook posts probe
ANTI-SOCIAL? A high-ranking official posted remarks on Facebook that could be in violation of public ethics, the premier said, before ordering the matter to be probed
Premier Sean Chen (陳冲) has ordered an investigation into a high-ranking official over comments he posted recently on his Facebook page that run counter to the government's policies.
While everyone is entitled to freedom of speech, a review is needed to see if Centers for Disease Control Deputy Director-General Shih Wen-yi (施文儀), as a civil servant, made remarks that were not directly related to his duties, the premier said yesterday.
At issue were two messages posted on Facebook by Shih on Wednesday.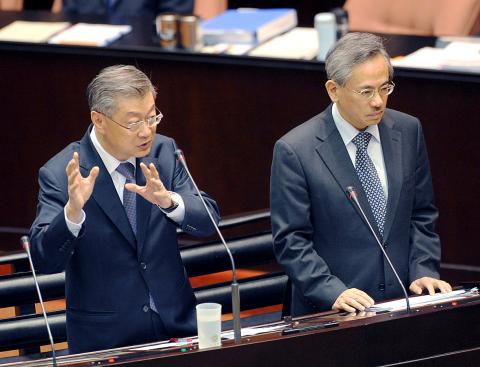 Premier Sean Chen, left, talks in the legislature yesterday about his decision to order an investigation into a high-ranking official over the latter's recent posts on his Facebook page that run counter to the government's policies.
Photo: Fang Pin-chao, Taipei Times
In one, he opposed the government's policy to extend National Health Insurance coverage to Chinese students studying in Taiwan, for the reason that they are not Taiwanese.
In the other, Shih played down the significance of Taiwan being included in the US' Visa-Waiver Program by arguing that the US did not grant Taiwan complete visa-waiver status, because it still requires Taiwanese to register online to obtain an Electronic System for Travel Authorization (ESTA) prior to traveling to the US.
Chen said he has demanded that the head of personnel administration look into the matter to see whether these remarks have violated the Civil Servant Services Act (公務員服務法).
At a question-and-answer session in the legislature later yesterday, Directorate-General of Personnel Administration Minister Frank Huang (黃富源) hinted that Shih might have broken administrative disciplinary rules and violated public ethics if the news reports about his Facebook posts turned out to be true.
Fielding questions from Chinese Nationalist Party (KMT) Legislator Hsu Shao-ping (徐少萍), Huang agreed that Shih's behavior could be found "inappropriate."
Huang said Clause 2 of the Civil Servant Services Act's Article 4, as well as Article 8 of the Code of Conduct for Public Servants (公務員服務守則), could be applicable to the case.
The rules require that public servants receive prior permission from superiors before offering their views related to their duties and highlights the spirit of teamwork, he said.
Meanwhile, several KMT lawmakers demanded that the Cabinet discipline Shih over the comments.
During the question-and-answer session, KMT Legislator Alex Fai (費鴻泰) said he supposed that Shih was a registered Democratic Progressive Party (DPP) member.
In Shih's Facebook posts, "he used outrageous and provocative language to make his points. He must be a DPP member, without doubt," Fai said.
Fai cited Shih as a case in point that there were some DPP "spies" in President Ma Ying-jeou's (馬英九) administration who deliberately engage in deeds which displease the public, to leave them with the impression that the Ma administration is incompetent and inefficient.
Shih has closed his Facebook account. He did not offer any comments yesterday.
Comments will be moderated. Keep comments relevant to the article. Remarks containing abusive and obscene language, personal attacks of any kind or promotion will be removed and the user banned. Final decision will be at the discretion of the Taipei Times.