Hsieh lauds China during visit
CHANGES: The former premier acknowledged the sensitivity of the visit, but said it was important that the DPP showed it could handle Taiwan's cross-strait interests
A market economy with socialist characteristics has liberated productivity in China, so perhaps in the future it will similarly be able to develop a democracy with socialist characteristics, former premier Frank Hsieh (謝長廷) said yesterday in Xiamen, China's in Fujian Province.
On the first day of his first visit to China in 18 years, Hsieh said the changes in China have been phenomenal and he hoped that his visit would deepen mutual trust between the Democratic Progressive Party (DPP) and Beijing.
The former DPP chair arrived in Xiamen, the first stop of his five-day trip, and headed to Dongshan Island, where he received a warm welcome from local people also surnamed Hsieh (謝) and attended a traditional ceremony to worship his ancestors in the afternoon.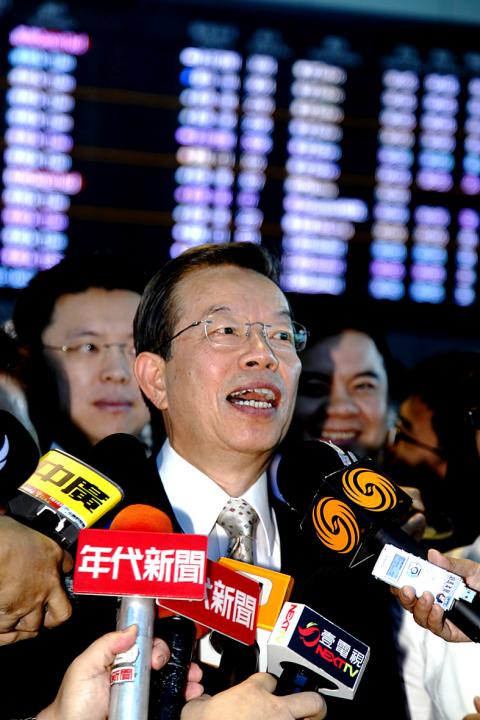 Former premier Frank Hsieh speaks to reporters at the Taiwan Taoyuan International Airport yesterday.
Photo: EPA
Hsieh played down the possible political ramifications his act of worship may have, saying that the aspiration to search for one's roots is an integral part of human nature and "politics should never go beyond human nature."
Hsieh later visited Tongbo Village, which came to be known as "the widows' village" after the Chinese Civil War, where Chinese Nationalist Party (KMT) troops conscripted 147 men, 91 of them married, out of approximately 200 villagers before it retreated to Taiwan in 1949. The village was later "liberated" by the Chinese Communist Party (CCP).
There is neither hatred nor resentment between the DPP and the CCP, Hsieh said, adding that his visit to the village was an attempt to confirm that people have learned valuable lessons from the cruelty of war.
"There should never be war again," he told reporters after visiting a memorial museum in the village.
Speaking to reporters yesterday morning at Taiwan Taoyuan International Airport prior to his departure, Hsieh said that the trip was "risky" because it involved many unknown factors and could have unforeseen consequences.
He stressed that the DPP has to prove to the voters that it is capable of handling cross-strait issues, taking care of Taiwanese businesspeople in China and making people's voices heard.
Hsieh is scheduled to visit Xiamen University today, before leaving for Beijing in the evening.
He will be in the Chinese capital to attend an international bartending event — the main purpose of his trip — where he is also to visit Beijing National Stadium, nicknamed "the Bird's Nest," and attend a closed-door meeting with members of the Chinese Academy of Social Sciences, before returning to Taiwan on Monday.
Comments will be moderated. Keep comments relevant to the article. Remarks containing abusive and obscene language, personal attacks of any kind or promotion will be removed and the user banned. Final decision will be at the discretion of the Taipei Times.