Taiwan an important part of US' Asia strategy: AIT
KEY PLAYER: The new head of the American Institute in Taiwan said he was dedicated to furthering bilateral ties and that Taiwan was an important security partner
The US views the role of Taiwan in supporting US President Barack Obama's strategy to strengthen its presence in the Asia-Pacific region positively, American Institute in Taiwan (AIT) Director Christopher Marut said yesterday.
"Certainly, as a major component of the so-called pivot or rebalance, the US is looking to expand trade and cooperation as part of its overall focus on Asia, and Taiwan is an important economic and security partner in the region," Marut said at a press conference in response to media inquiries on what the US redirecting its military focus to Asia means for Taiwan and how the plan is being carried out through the AIT's work.
The plan was unveiled earlier this year, prompting discussion on how it would reshape the trilateral relationship between Washington, Beijing and Taipei.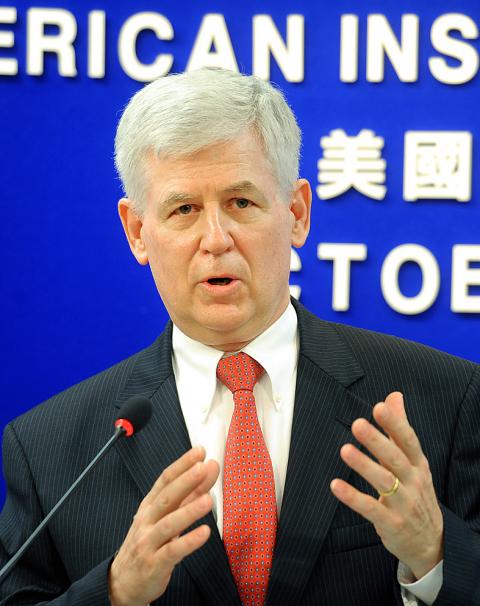 American Institute in Taiwan Director Christopher Marut speaks during a press conference in Taipei yesterday.
Photo: Fang Pin-chao, Taipei Times
At a press conference scheduled to introduce Marut, who assumed the position of AIT director three weeks ago, he highlighted the areas of economic and security cooperation between the US and Taiwan.
On the economic front, the AIT is to work to advance US trade relations with Taiwan, by both expanding US exports to meet the Obama administration's goal of doubling exports by 2015, as well as encouraging Taiwanese investment and manufacturing to come to the US, he said.
Following Taiwan's decision to relax restrictions on imports of US beef containing residues of the leanness-enhancing feed additive ractopamine in July, the US has decided to send an interagency team to Taipei later this month to discuss resuming talks under the Trade and Investment Framework Agreement (TIFA) platform.
At the question-and-answer session, Marut said the US looks forward to moving TIFA talks forward, but "no decision has been made yet on when to resume those talks."
The talks started in 1994, but have been suspended by the US since 2007 in response to Taiwan banning imports of US beef over fears of mad cow disease. Taipei's policy of examining US beef for ractopamine residues in January last year further prolonged the talks' hiatus, until they were scheduled to resume late that month.
Responding to a question on which issue would be the largest obstacle to him to boosting US-Taiwan ties in the next few years, Marut said: "Certainly, on the trade side, we have got a lot of work to do. TIFA talks have not been held since 2007 … I think that rebuilding of trust has to take place between the two sides."
On questions relating to Taiwan's accession to the US-led emerging Trans-Pacific Partnership (TPP), he said discussion of Taiwan's possible future inclusion in the TPP is "premature."
"From the US' perspective, the current priority should be for Taiwan to rebuild confidence in our bilateral trade relationship," Marut said.
When asked whether the US will continue to push Taiwan to allow pork containing ractopamine residues, Marut said: "The US consistently urges Taiwan to ensure that its food safety measures are based on science and consistent with international standards."
Marut said the ractopamine residue safety standards established by international food safety body the Codex Alimentarius Commission in early July applies to both beef and pork products.
With regard to security cooperation between the US and Taiwan, which he described as "one of the strongest elements" of the overall relationship, Marut said that he would continue to support the efforts which have contributed to regional stability.
Marut was also asked questions regarding recent actions taken by Taiwan to assert sovereignty over the Diaoyutai Islands (釣魚台) — disputed by Japan and China — but appeared reticent about offering his view on the matter.
"The East China Sea issue is one that the claimants must resolve among themselves. The US encourages them to do so in a peaceful manner. We want all parties involved to work this out through dialogue," he said.
Comments will be moderated. Keep comments relevant to the article. Remarks containing abusive and obscene language, personal attacks of any kind or promotion will be removed and the user banned. Final decision will be at the discretion of the Taipei Times.