Frank Hsieh confirms visit to China
BARROOM DIPLOMACY: The former premier will attend a bartending event in Beijing in a private capacity and promised he would refrain from public political events
Former premier Frank Hsieh (謝長廷) of the Democratic Progressive Party (DPP) announced yesterday he would visit China from Thursday until Monday, adding that he hoped the visit would serve as a catalyst for the DPP's closer engagement with Beijing.
The five-day trip that will take him and his delegation to Xiamen and Beijing will make Hsieh the highest-ranking former DPP official to visit China. Hsieh has served as premier and DPP chairman
"I am willing to take the first step for bilateral exchanges [between the DPP and China] and be responsible for whatever consequences may follow," Hsieh told a press conference at his office, with more than 50 reporters covering the event.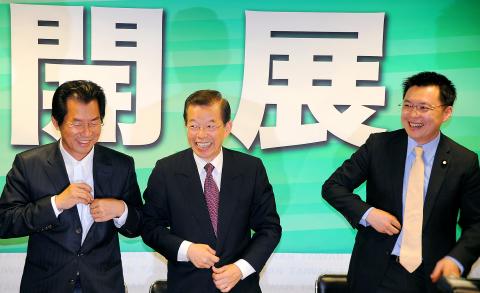 Former premier Frank Hsieh, center, smiles at a press conference in Taipei yesterday after announcing he will be visiting China this week.
Photo: Liu Hsin-de, Taipei Times
"Cross-strait engagement cannot be monopolized by the Chinese Nationalist Party [KMT]. The DPP cannot stand still and neither should it be marginalized from the platform of bilateral dialogue," he said.
The veteran politician has accepted an invitation from the the International Bartenders' Association to watch a bartending competition in Beijing and was granted a visa for the trip.
Hsieh and his delegation are scheduled to visit Xiamen, Fujian Province, where he will pay tribute to his ancestors on Dongshan Island and visit Xiamen University, as well as Taiwanese businesses, on Thursday and Friday. He will then go to Beijing for the bartending event and a visit to the Beijing National Stadium, nicknamed "the Bird's Nest."
Hsieh said he would visit China in his private capacity as chairman of the Taiwan Reform Foundation and there would be "no public political events" in his itinerary.
"The visit will also be an attempt to forge mutual trust, which is crucial between domestic political parties, as well as countries across the strait," he said.
The visit to Xiamen was a dream finally fulfilled, Hsieh said, because a visit he had planned to the city when he was Kaohsiung mayor 12 years ago was blocked by then-president Chen Shui-bian (陳水扁).
While he would like to make the trip non-political, Hsieh said he would not hesitate to talk to officials in Beijing about the Republic of China and his China policies, which call for a "constitutional consensus" (憲法共識) and "one Constitution, two interpretations (憲法各表)".
Hsieh has been using the two concepts in recent years to replace his previous concept of "constitutional one China" (憲法一中), a vague term that was criticized by some DPP members.
Concerns about his possible political discussions with Chinese leaders were unnecessary, Hsieh said in a question-and-answer session, saying he had "put all [his] ideas in a book," so he could not change them overnight.
The delegation will include DPP lawmakers Lee Ying-yuan (李應元) and Chao Tien-lin (趙天麟), Greater Kaohsiung Councilor Kang Yu-cheng (康裕成), Yunlin County Commissioner Su Chih-fen (蘇治芬) and TransWorld University professor Hsieh Min-chieh (謝敏捷).
Several DPP members have visited China since the DPP's loss in the presidential election in January, including New Taipei City (新北市) office director Lo Chih-cheng (羅致政), former Straits Exchange Foundation chairman Hung Chi-chang (洪奇昌) and DPP Legislator Hsiao Bi-khim (蕭美琴).
Hsieh said he had talked to DPP Chairman Su Tseng-chang (蘇貞昌) about the trip, but declined to disclose further details.
Su responded yesterday evening by lauding Hsieh's effort to promote better understanding of China, saying that he was confident that the trip would be "surprise-free" because Hsieh has always been a wise politician who knows very well how to safeguard Taiwan's sovereignty and democratic values.
Hsieh has reassured the party that there would be no "political visits and events" during the trip, he said.
Su said he and Hsieh shared the same goal because he had already said that the DPP needed to better understand China in a variety of areas — politics, economics, culture and civil society.
However, former vice president Annette Lu (呂秀蓮) said that the visit should be carefully assessed and should be transparent, adding that any comments should be made cautiously.
Comments will be moderated. Keep comments relevant to the article. Remarks containing abusive and obscene language, personal attacks of any kind or promotion will be removed and the user banned. Final decision will be at the discretion of the Taipei Times.