Hu reiterates 'one China' to Lien
SAME OLD STORY: The Chinese president met with former Taiwanese vice president Lien Chan, who praised Hu for the 'great contributions' he has made to cross-strait ties
Chinese President Hu Jintao (胡錦濤) yesterday reiterated the "one China" principle while stating that Beijing's current policy to promote peace across the Taiwan Strait will continue after he steps down.
Over the past years, both sides of the Strait have reached common political ground in opposing Taiwanese independence and upholding the so-called "1992 consensus," which are the keys to cross-strait relations progressing along the right path, Hu was quoted as saying in a report by Xinhua news agency during his meeting with former Taiwanese vice president Lien Chan (連戰) on the sidelines of the APEC forum in Vladivostok.
Enduring trust and an enlarged platform of consensus are needed to deepen the development of cross-strait peace, "especially when it comes to the important matter of jointly upholding the 'one China' principle," Hu said.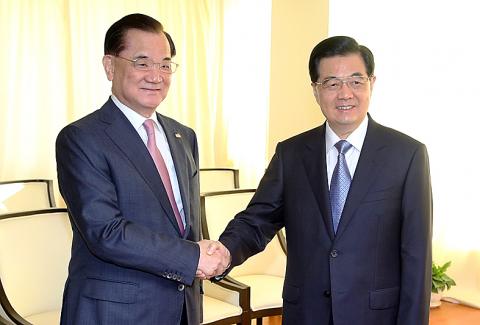 Chinese President Hu Jintao, right, shakes hands with former Taiwanese vice president Lien Chan at a meeting they had on the sidelines of the APEC forum in Vladivostok, Russia yesterday.
Photo: CNA
China will continue to boost the peaceful development of cross-strait relations to strengthen political, economic, cultural and social development on either side, he added.
Hu is expected to step down as the general secretary of the Chinese Communist Party during the party's 18th National Congress set to take place in a few weeks. This is the last time he will attend the annual APEC leaders' meeting.
Lien, who is attending the APEC meeting on behalf of President Ma Ying-jeou (馬英九) for the fifth year and has met Hu on many occasions, said in a news conference that he had conveyed Ma's regards to Hu during the meeting.
Lien said he had expressed Ma's appreciation to Hu for the "great contributions" he had made to cross-strait relations, which Ma said have "made history" and left an important legacy for Chinese to take up.
Meanwhile, Lien extended an invitation to Hu to visit Taiwan, saying that "I very much look forward to the opportunity to receive you in Taiwan someday and show you around."
Also during the talks, Lien and Hu reached an agreement to speed up follow-up negotiations under the cross-strait Economic Cooperation Framework Agreement, concluding that the negotiations on trade in services should be completed within one year, while those on trading goods should be concluded by next year.
Lien also urged Hu to support and assist Taiwan's efforts to sign free-trade and trade cooperation agreements with its trading partners to boost its competitiveness against major rivals such as South Korea and Singapore.
According to Lien, the inclusion of Taiwan in regional economic integration arrangements, such as the Trans-Pacific Partnership and the Regional Comprehensive Economic Partnership for East Asia, would be favorable to the development of cross-strait relations and help consolidate the economy of both sides.
Regarding the promotion of a cross-strait peace agreement, Lien proposed that the two sides work toward that goal using a "building-block approach" that begins with "peripheral issues," as a way of building up "mutual political trust."
To that end, academics and think tanks from the two sides of the Strait can hold peace forums regularly to exchange and develop ideads-, he said.
Meanwhile, in response to a question by a Japanese reporter, Lien said he did not discuss issues related to the Diaoyutai Islands (釣魚台) with Hu.
Comments will be moderated. Keep comments relevant to the article. Remarks containing abusive and obscene language, personal attacks of any kind or promotion will be removed and the user banned. Final decision will be at the discretion of the Taipei Times.