Apple wins US$1.05bn Samsung suit
WORLD TECH WAR II: After being ordered to pay Apple US$1.05 billion in damages, Samsung said it would appeal the verdict, which it regards as 'a loss for consumers'
Samsung stole the innovative technology used by Apple to create its revolutionary iPhone and iPad, a jury concluded on Friday — a decision that comes after a year of scorched-earth litigation. Jurors ordered Samsung to pay Apple US$1.05 billion in the latest skirmish of a global legal battle between the two tech giants. An appeal is expected.
Apple Inc filed its patent infringement lawsuit in April last year and engaged legions of the country's highest-paid patent lawyers to demand US$2.5 billion from its top smartphone competitor. Samsung Electronics Co fired back with its own lawsuit, seeking US$399 million.
However, the verdict belonged exclusively to Apple, as the jury rejected all Samsung's claims against Apple. Jurors also decided against some of Apple's claims involving the two dozen Samsung devices at issue, declining to award the full US$2.5 billion Apple demanded.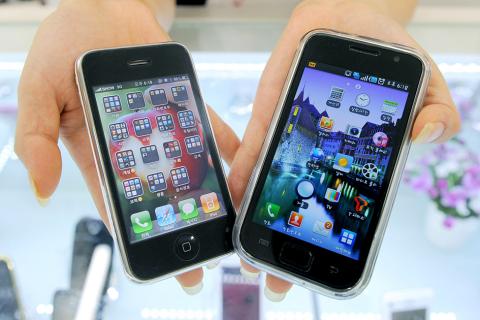 A South Korea shop manager shows Samsung Electronics` Galaxy S mobile phone (R) and Apple`s iPhone 3G at a shop in Seoul on July 27, 2010. Apple won more than $1 billion in a massive US court victory over Samsung on Friday in one of the biggest patent cases in decades.
Photo: AFP
The jury found that several Samsung products illegally used such Apple creations as the "bounce-back" feature when a user scrolls to an end image, and the ability to zoom text with a tap of a finger.
Apple lawyers plan to formally demand that Samsung pull its most popular cellphones and computer tablets from the US market. They can also ask the judge to triple the damages amount to US$3 billion. US District Judge Lucy Koh (高慧蘭) is to decide those issues in several weeks' time, along with Samsung's demand that she overturns the jury's verdict.
Samsung, headquartered in Seoul, responded to the verdict, saying in a statement it will contest the verdict.
"We will move immediately to file post-verdict motions to overturn this decision in this court and if we are not successful, we will appeal this decision to the Court of Appeals," Samsung said yesterday.
The South Korean company said in an earlier statement that the verdict was "a loss" for consumers and that Apple had "manipulated" the patent system.
Samsung also said the verdict was "not the final word" in this case or other similar battles around the world.
"It will lead to fewer choices, less innovation and potentially higher prices," it said. "It is unfortunate that patent law can be manipulated to give one company a monopoly over rectangles with rounded corners, or technology that is being improved every day by Samsung and other companies."
Apple and Samsung have filed similar lawsuits in eight other countries — South Korea, Germany, Japan, Italy, the Netherlands, Britain, France and Australia.
Samsung has emerged as one of Apple's biggest rivals and has overtaken the US company as the world's leading smartphone maker. Samsung's Galaxy line of phones run on Android, a mobile operating system that Google Inc has given out for free to Samsung and other smartphone makers.
The outcome of the case is therefore likely to have a ripple effect in the smartphone market. After seeing Samsung's legal defeat, other device makers relying on Android may become more reluctant to use the software and risk getting dragged into court.
Other makers of Android-based devices include HTC Corp (宏達電), LG Electronics Inc, Google's Motorola Mobility Holdings Inc, Sony Corp and a number of Chinese brands.
Apple and HTC have sued each other over patent infringement over the past year. HTC is expected to hear an initial ruling by the US International Trade Commission on Nov. 7 about its second lawsuit against Apple.
The Taiwanese company declined to comment in an e-mail response to a query on the Apple-Samsung case.
Marcus Clinch, an intellectual property lawyer at Eiger Law in Taipei, said HTC would need to look very closely at the patents in question with Apple and see which may be similar to those in the Samsung case.
"Having Samsung's products banned in the US may be a bigger danger to HTC than the damages award, because of the precedent it sets for the industry," Clinch said.
Based on the latest survey by research firm IDC, Samsung shipped 50.2 million smartphones globally in the April-to-June period and holds a market share of 32.6 percent, while Apple sold 26 million iPhones with a market share of 16.9 percent.
With shipments of 8.8 million smartphones in the second quarter, HTC's global market share was 5.7 percent, the research firm said.
Additional reporting by Bloomberg and Staff writer
Comments will be moderated. Keep comments relevant to the article. Remarks containing abusive and obscene language, personal attacks of any kind or promotion will be removed and the user banned. Final decision will be at the discretion of the Taipei Times.