Bureau issues land alert for typhoon
SLOW-MOVING STORM: While some domestic flights have been canceled, several cities and counties announced that work and school would proceed as usual today
The Central Weather Bureau yesterday issued a land alert for Typhoon Tembin and said it could make landfall on the east coast today.
At 8:30pm yesterday, the eye of Tembin was 320km east of Taitung. It was moving northwestward at 9kph.
Bureau forecaster Chen Yi--liang (陳怡良) said the radius of the storm would not cover Taiwan proper until this morning, as the typhoon was moving very slowly. This could further delay when the typhoon makes landfall, which he said could be between this evening and early tomorrow morning.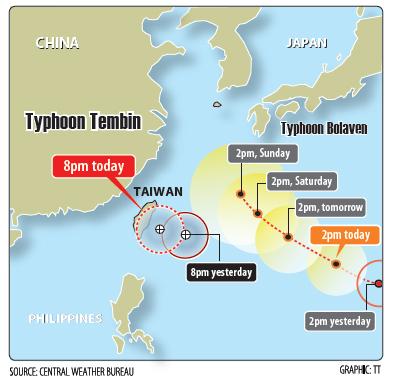 The bureau said that residents in Yilan, Hualien and Taitung, as well as outlying Green Island (綠島) and Lanyu (蘭嶼, also known as Orchid Island) must beware of strong winds and torrential rains, adding that the nation would soon be covered by the storm as it continues to move westward.
The bureau estimated that accumulated rainfall in the mountainous areas of Kaohsiung, Pingtung and Yilan could top 1,000mm from yesterday until Saturday. The accumulated rainfall in Hualien could reach 1,100mm during the same period, it added.
While Tembin and another approaching typhoon, Bolaven, were located about 1,500km from each other, there were no signs that they will interact with each other, the bureau said.
However, the bureau did not rule out that the two storms could move closer to each other after tomorrow.
As of 8:30pm yesterday, Keelung, Taipei City, New Taipei City (新北市), Taoyuan County, Hsinchu city and county, Miaoli County, Greater Taichung, Chiayi City, as well as the counties of Changhua, Yunlin, Nantou, Chiayi, Penghu, Lienchiang and Kinmen had announced that there will be work and school today.
However, some local airlines announced that flights to Hualien, Kaohsiung or Taitung today have been canceled because of the typhoon. The schedules for a small number of cross-strait or international flights would also be adjusted.
Travelers are advised to contact the airlines for flight information.
The Ministry of National Defense said it had helped evacuate hundreds of residents in disaster-prone areas in Hualien. Nearly 200 residents in Chiayi County have also been temporarily moved to a military base.
More than 49,000 soldiers are on standby to provide relief and rescue assistance and 107 military bases around the nation are ready to shelter up to 53,272 evacuees, it added.
Other safety measures taken ahead of Tembin's arrival include the closure of 11 forest recreation areas and Suhua Highway, which links Suao in Yilan County with Hualien.
Farmers and fishermen have been harvesting produce such as pomelos, watermelons, day lilies and oysters ahead of Tembin's landfall.
Additional reporting by CNA
Comments will be moderated. Keep comments relevant to the article. Remarks containing abusive and obscene language, personal attacks of any kind or promotion will be removed and the user banned. Final decision will be at the discretion of the Taipei Times.