Japanese raise flags on Diaoyutais
STRONG PROTEST: The 150 right-wing Japanese activists, including eight lawmakers, spent five hours near the islands in an effort to stake their claim
Nationalists raised Japanese flags on an island at the heart of a corrosive territorial row with China yesterday, in a move likely to further inflame tensions with Beijing.
About a dozen members of the right-wing group Gambare Nippon ("Hang In There, Japan") swam ashore, an Agence France-Presse (AFP) journalist witnessed, from a 20-boat flotilla carrying activists and lawmakers.
The landing comes just days after Tokyo deported pro-Beijing protesters who had landed on the island, part of a chain administered by Japan, but claimed by China, which had warned against acts "harming" its territorial sovereignty.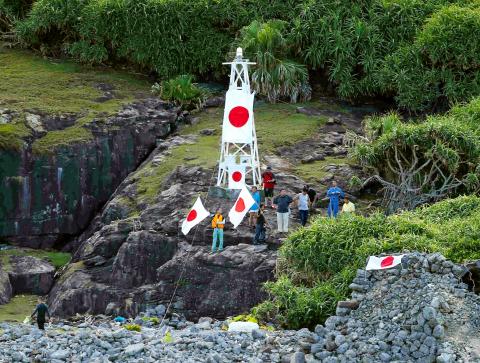 Japanese nationalists wave Japan's national flag yesterday in front of a lighthouse on a disputed island group known as the Diaoyutai Islands in Chinese and the Senkaku Islands in Japanese.
Photo: AFP
Tokyo politician Eiji Kosaka, one of the men who made it to the island, said the group had planted Japanese flags on a hillside and on the shore.
"This is undoubtedly Japanese territory," he told an AFP reporter aboard the flotilla on his return. "On the mountain we found [the ruins of] Japanese-style houses that had places for drying fish."
"It is very sad that the Japanese government is doing nothing with these islands," he said, adding that the nationalists' expedition had been "a great success."
The 150 people who had made the voyage, including eight parliamentarians, sailed back to far southwestern Ishigaki yesterday. They had spent about five hours at the islands, known as the Senkaku Islands in Japan and the Diaoyutai Islands (釣魚台) in Taiwan.
Japanese Coast Guard ships had urged the activists not to land, with officers boarding some of the vessels to question people. No arrests were made.
China reacted with vehemence.
"Japanese right-wingers illegally violated China's territorial sovereignty," a statement quoted foreign ministry spokesman Qin Gang (秦剛) as saying. "The foreign ministry has already lodged solemn representations and expressed strong protest to the Japanese embassy in China and urged Japan to stop actions which harm China's territorial sovereignty."
Before the voyage, Kenichi Kojima, a local politician from Kanagawa, near Tokyo, said the trip was about who owned the archipelago, whose seabed is believed to harbor rich mineral resources.
"I want to show the international community that these islands are ours. It is Japan's future at stake," he said.
Organizers, who had been refused permission by Tokyo to go ashore, said ahead of their departure that they would be holding a ceremony aboard boats to remember some of those who died in World War II.
In Tokyo, Japanese Vice Foreign Minister Tsuyoshi Yamaguchi said established practice was for only government officials to land there.
However, he added: "In principle, it is alright for Japanese people to visit Japanese territory."
The dispute over the islands is one of the major stumbling blocks — along with issues related to Japan's military occupation of parts of China during World War II — to smooth relations between Asia's two giant economies.
Tensions spiked as Japan deported 14 pro-China activists who sailed to the islands from Hong Kong.
Some managed to land on Uotsurijima, the largest island, becoming the first non-Japanese to set foot on any part of the archipelago since 2004.
Comments will be moderated. Keep comments relevant to the article. Remarks containing abusive and obscene language, personal attacks of any kind or promotion will be removed and the user banned. Final decision will be at the discretion of the Taipei Times.