London 2012 Olympics: Table tennis player makes Taiwanese Olympic history
Taiwanese table tennis player Chuang Chih-yuan (莊智淵) made history on Tuesday when he defeated good friend Adrian Crisan of Romania to advance to the semi-finals of the men's singles at the Olympic Games in London.
Chuang, seeded fifth in the tournament, whipped the 15th-seeded Crisan in straight sets, 11-3, 11-4, 11-4, 11-5, to become the first male Taiwanese player ever to advance to the semi-finals at the Olympics.
China-born Chen Jing (陳靜) won a silver medal representing Taiwan in the women's singles in Atlanta in 1996, but no Taiwanese male has ever made it past an Olympic quarter-final.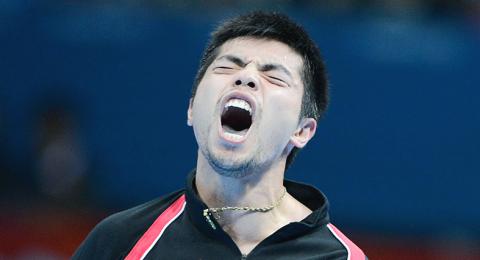 Chuang Chih-yuan of Taipei celebrates after defeating Adrian Crisan of Romania in the men's singles quarter-final match at the London 2012 Olympic Games table tennis competition on Tuesday.
Photo: EPA
Chuang reached the quarter-finals in the men's singles at the Athens Games in 2004 before falling to Wang Hao (王皓) of China in six sets, and it is second seed Wang who Chuang must face again in the semi-final at 6pm today.
"I'm very happy, but the tournament isn't over," said the 31-year-old Chuang, reflecting a maturity that may have been missing in the past. "I used to be a lot more temperamental. Now I'm more poised, and I'm able to stay calm and constantly think about strategy, and deal with challenges."
Tuesday's match presented a special challenge for Chuang because of his friendship with Crisan, developed when they trained together in Germany.
When Chuang first arrived in Germany, it was Crisan who helped him get acclimatized to the new environment, and the two ate and practiced together.
Calling Crisan "one of my three best friends," Chuang said the toughest part of the match was getting mentally prepared, both because he was playing a friend, and an opponent who knew the ins and outs of his game.
"After thinking about it, I just decided to play my normal game and yell out to psych myself up as I usually do," Chuang said.
After a match in which there was little drama, Crisan made it a point to separate sport and friendship.
"We are good friends and that hasn't changed," Crisan said after the match as he wished Chuang luck in fulfilling his dream of winning an Olympic medal.
Medaling was not on Chuang's mind after his win. He was focused on getting some rest and preparing for his semi-final against China's Wang.
"Every match in the Olympics is a tough battle. The tournament isn't over," Chuang said. "I'll continue to give it everything I have."
In the other semi-final, which takes place at 5pm today, Chinese No. 1 seed Zhang Jike (張繼科) faces Germany's Dimitrij Ovtcharov.
Comments will be moderated. Keep comments relevant to the article. Remarks containing abusive and obscene language, personal attacks of any kind or promotion will be removed and the user banned. Final decision will be at the discretion of the Taipei Times.