Typhoon Saola lumbers to Taiwan
EXTREME WEATHER: Keelung City, Taipei City, New Taipei City, Taoyuan County and Hsinchu City have all announced work and school closures for the day
The nation must be on high alert as the Central Weather Bureau (CWB) said Typhoon Saola would come closer to Taiwan today, bringing torrential rain nationwide.
Amid warnings of heavy rain to come, authorities evacuated nearly 600 residents from New Taipei City (新北市), as well as another 600 from Yilan and Hualien counties, which look set to bear the brunt of the typhoon.
In Taipei City, nearly 100,000 sandbags prepared by the government were snapped up as the CWB called on residents to take special precautions against torrential rain and flooding.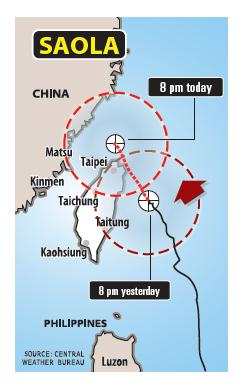 Parts of northeastern Taiwan already reported rainfall of close to 900mm by yesterday afternoon, while the CWB said about one-third of that amount had fallen in suburban Taipei. It could dump more than 1,500mm of rain in northern Taiwan before moving westward toward the Chinese coast late today.
The highest accumulated rainfall was detected in Taipingshan (太平山) in Yilan County, which topped 1,044mm by 8:30pm.
The bureau warned that chances for extremely torrential rain, where the accumulated rainfall could top 350mm within 24 hours, are high in Yilan County, Taipei City, New Taipei City, Hsinchu City and Taoyuan, Hsinchu, Miaoli and Nantou counties, as well as Greater Taichung, Greater Tainan and Greater Kaohsiung, Pingtung and Hualien counties.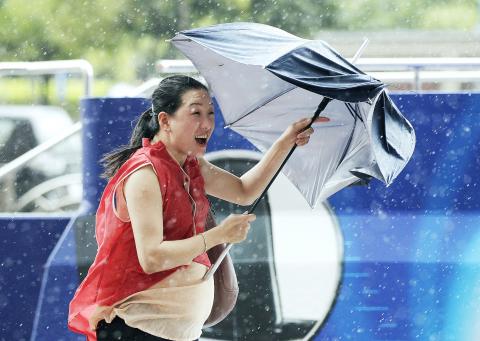 A woman in Taipei walks with her umbrella against strong winds as Typhoon Saola approaches Taiwan yesterday.
Photo: Pichi Chuang, REUTERS
Torrential rain and strong wind brought by the circumfluence of Saola disrupted the traffic system yesterday. The Taiwan Railway Administration (TRA) canceled nine express trains, mainly those operating along North Link Railway and the east coast.
Meanwhile, more than 8,000 railway passengers were delayed along the West Coast as an electricity pole fell at the section near the TRA station in Yangmei (楊梅), Taoyuan County. The railway operator said that days of rain had eroded the pole's base.
The Directorate-General of Highways (DGH) closed eight sections of road along Highways No. 7, 8, 9 and 11.
Information from the Civil Aeronautics Administration showed that 92 domestic and international flights were either delayed or canceled yesterday.
As of 10pm last night, Keelung City, Taipei City, New Taipei City, Taoyuan County and Hsinchu City had announced that work and classes would be canceled today, with more cities and counties expected to declare typhoon closures. As of 8:40pm yesterday, the center of Saola was 160km off the southeast coast of Yilan. It was moving northwest at 13kph, slightly faster than earlier this week.
The Ministry of National Defense said in a statement issued late on Tuesday that the military has more than 100 camps on standby to accommodate people evacuated from disaster-prone areas as Typhoon Saola approaches.
The camps can hold up to 53,272 evacuees, it said, adding that more than 47,000 servicemen are also ready to respond to emergencies and meet disaster rescue and relief needs, and more than 3,000 military vehicles, 486 water pumps, 37 aircraft and other equipment are ready to be deployed if needed.
Comments will be moderated. Keep comments relevant to the article. Remarks containing abusive and obscene language, personal attacks of any kind or promotion will be removed and the user banned. Final decision will be at the discretion of the Taipei Times.