DPP questions Wu's role in scandal
CONNECTIONS: A report alleges that the vice president and his wife knew Chen Chi-hsiang and might have been involved in Lin Yi-shih's alleged bribery case
The Democratic Progressive Party (DPP) yesterday urged Vice President Wu Den-yih (吳敦義) to explain the role he may have played in the Lin Yi-shih (林益世) scandal and again called on investigators for a quick and thorough probe into the bribery allegations.
The Chinese-language Next Magazine yesterday reported on the close relationship between Wu and Lin, who stepped down as Executive Yuan secretary-general amid as widening bribery scandal, as well as the alleged connection between Wu and his wife, Tsai Ling-yi (蔡令怡), and several key individuals in the bribery case.
"Wu has to tell the truth and clarify whether he and his wife knew Chen Chi-hsiang (陳啟祥) [head of Ti Yung Co (地勇選礦公司)] and whether Chen's father-in-law made arrangements for the two" to help Chen secure a metal recycling contract from state-controlled China Steel Corp (CSC, 中鋼), DPP Legislator Pan Men-an (潘孟安) said.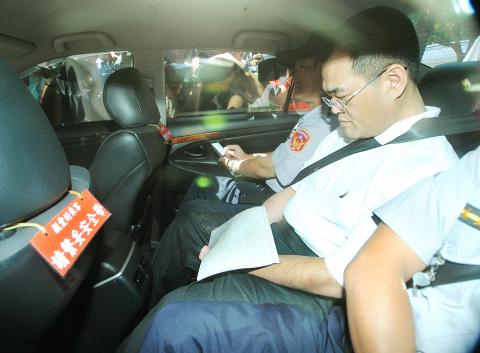 Former Executive Yuan secretary-general Lin Yi-shih is escorted by police to a trial hearing in Taipei yesterday.
Photo: Fang Pin-chao, Taipei Times
Chen accused Lin of taking a bribe of NT$63 million (US$US$2.1 million) in 2010 to help him land a slag-treatment deal from CSC and of asking for NT$83 million this year to renew the contract.
Wu must explain why he approved the controversial appointment of CSC chairman Tsou Jou-chi (鄒若齊), who retired in 2002 and broke the company's unwritten rule that no retired employee would be re-hired, in 2010 when he served as premier, Pan said.
Pan urged the Special Investigation Division (SID) to speed up its investigation into related individuals and parties in the scandal, such as several high-ranking government officials and employees of CSC and its subsidiaries.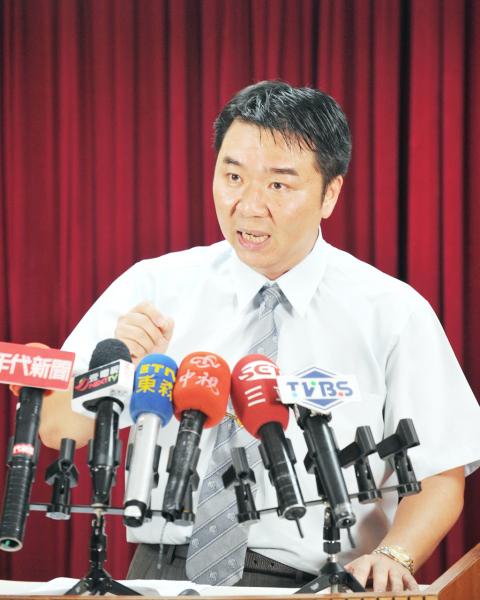 Hung Hsin-hsu, spokesperson for the Kaohsiung District Prosecutors Office, talks to reporters at a press conference in Greater Kaohsiung yesterday about reports by the Chinese-language **Next** Magazine.
Photo: Huang Chih-yuan, Taipei Times
"We're making this appeal because Lin and his family could not have arranged the deal on their own without assistance from others," Pan said, adding that it appeared that the SID's investigation was limited to Lin and his family.
In an audio recording, Lin was heard saying he could not arrange the contract when he was a legislator without help from others, but now he can make the decision on his own as Cabinet secretary-general, DPP Legislator Chen Ting-fei (陳亭妃) said.
"The audio clip told us that you need to have someone in the Executive Yuan to get the deal done," Chen said, adding that when Lin was a lawmaker, that "someone" in the Cabinet could have been Wu.
The integrity of the president and the vice president has to be challenged and questioned at all times, DPP Legislator Huang Wei-cher (黃偉哲) said.
"Wu said he did not know Chen and Chen's father-in-law, but media reports said Wu did. One of them is lying," Huang said.
While the SID has pledged to investigate "any lawmaker" involved in the corruption case, it did not say that it would go after "any government official" in the case, Huang said.
Huang said he hoped that politics would not interfere with the case and the SID's probe.
Wu yesterday denied any role in the scandal and insisted that the personnel changes at CSC were made in accordance with regulations.
He accused Lin of exaggerating the nature of their relationship.
Striking back at the accusations made by political commentators and the Next Magazine report, Wu said he and his wife did not know Chen Chi-hsiang and did not interfere with personnel appointments at CSC.
"I don't know Chen or his father-in-law ... It is clear from the audio clips released that Lin bragged about his power, and who can stop him from exaggerating things to Chen?" Wu said in Keelung.
The vice president's remarks were interrupted by two DPP Keelung councilors, who raised placards that read: "Show up, Mr X" and chanted slogans.
Appearing displeased, Wu asked the two councilors to "find your so-called Mr X because he is not here," denying he was the "Mr X" who a political commentator had said was behind the bribery case.
Political commentator Hu Chung-hsin (胡忠信) said on a political talk show on Monday night that a high-ranking government official was also involved in the corruption scandal, claiming that "Mr X" introduced Chen Chi-hsiang to Lin.
The latest Next Magazine report alleged that Wu and his wife had lived in the same community as Chen Chi-hsiang's father-in-law in Nantou, and that Chen Chi-hsiang went to Wu for help two years ago when he was serving as premier.
The story said Lin bragged about his close relations with Wu and told Chen Chi-hsiang that he "handled all of Wu's works" when asking for bribes.
The approval of the appointment of Tsou in 2010 by Wu, who was premier at the time, created more opportunities for legislators to lobby, as Tsou set up a legislature coordination department to strengthen the company's communication with the legislature, the story said.
Wu said that since 2007, Executive Yuan regulations had stipulated that all personnel appointments at state-run corporations should be reviewed by the Ministry of Economic Affairs and approved by the Executive Yuan, and his approval of the CSC chairman's appointment was made in accordance with standard procedures.
"Every personnel appointment at state-run enterprises was made in accordance with the law, and I did not interfere with any of the personnel arrangements," he said.
The allegations against Wu have caused a stir in the Presidential Office, and Wu and his office started to gather evidence to refute the accusations when they learned about the news on Monday.
Wu said he had clarified the situation with President Ma Ying-jeou (馬英九) on Tuesday, and the president understood that the allegations were baseless.
He also urged the magazine to stop making "groundless accusations" and threatened to file a lawsuit against the magazine if it failed to clarify the matter.
The SID said that even though the allegations that Wu had good relations with Lin were true, that was not evidence that Wu had at any time violated the law.
As such, there was no need for the SID to investigate Wu for the time being, it said.
The SID summoned Lin and his wife, Peng Ai-chia (彭愛佳), for questioning again yesterday to cross-examine the couple because of contradictions in their earlier statements relating to the source of money prosecutors removed from their safe deposit boxes.
Accompanied by her attorney, Peng walked into the SID's office at about 9am and declined to give any information related to the case.
Lin, who is being held at the Taipei Detention Center, arrived about an hour later.
Inconsistent statements by Lin, Peng and Lin's mother, Shen Juo-lan (沈若蘭), have led prosecutors to believe that Lin is seeking to cover up the identities of other people who may have been involved in the scandal and other sources of his ill-gotten money.
Sources said Lin had alleged that the NT$63 million was paid in both New Taiwan dollars and US dollars, part of which he had given to his mother, while saying that Peng did not handle the money.
For her part, Shen claimed Lin had handed over the entire NT$63 million, which she said she had deposited in various safe deposit boxes, part of which had been entrusted to Peng.
However, Peng claims all the money seized by prosecutors from safe deposit boxes rented under the names of her acquaintances were given by Lin and that she was unaware of the source.
In related news, the Kaohsiung District Prosecutors' Office denied claims by the magazine that Kaohsiung head prosecutor Wang Chi-ming (王啟明) had asked the Greater Kaohsiung Government's Environmental Protection Bureau to punish Ti Yung and may have conspired with Lin.
The office said it had received several complaints that Ti Yung was violating environmental protection laws and that Wang's suggestion at an environmental protection meeting had nothing to do with politics or the Lin scandal.
The Ministry of Justice announced it had launched an administrative investigation into Wang's possible involvement.
Additional reporting by Rich Chang
Comments will be moderated. Keep comments relevant to the article. Remarks containing abusive and obscene language, personal attacks of any kind or promotion will be removed and the user banned. Final decision will be at the discretion of the Taipei Times.