Matsu votes to allow building of casino
REALITY CHECK: A legislator said many issues, such as land acquisition, legislative approval and Weidner Resorts' willingness to improve facilities, remain unanswered
Residents of Matsu yesterday voted in favor of the construction of a casino resort on the outlying islands in a closely watched referendum that opened the door to the nation's first legal gambling establishment.
According to final figures announced by the Lienchiang County Government, 56 percent voted in favor of the initiative, against 42 percent who opposed it. A total of 3,162 of 7,762 eligible voters cast ballots, for a voter turnout of 40.7 percent. Among those who voted, 1,795 supported the casino plan, while 1,341 were against it. There were 28 invalid ballots.
Although frustrated at the result, Alliance Against the Legalization of Gambling executive director Ho Tsung-hsun (何宗勳) said it was not the end of the group's campaign against the casino.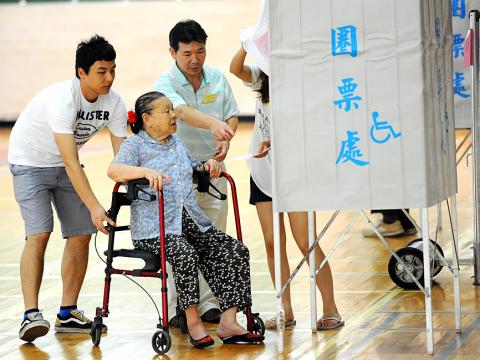 The mother of Lienchiang County Commissioner Yang Sui-sheng is assisted as she prepares to vote in the Matsu gambling referendum yesterday.
Photo: Chang Chia-ming, Taipei Times
"Matsu residents may have been deceived by the developer and the county commissioner's wrongful policies," Ho told the Taipei Times by telephone. "The developer made a lot of promises; we'll wait and see if it can fulfill the promises. We will initiate another referendum in three years."
Ho was referring to the promises that resort developer Weidner Resorts Taiwan made of constructing an international airport and college town there, as well as a causeway linking Beigan Island to the neighboring island of Nangan (南竿).
The company also promised that after the first year of the casino's operation, it would give each Matsu resident a monthly subsidy of NT$18,000, and if profit reaches a certain level, it would raise the monthly subsidy to NT$80,000 at the beginning of its fifth year of operation.
Lienchiang County Commissioner Yang Sui-sheng (楊綏生) welcomed the result, saying it could bring in change for Matsu.
"With the casino resort would come improvements in transportation, and when transportation improves, we will be able to welcome more tourists," Yang said. "Tourism development is our ultimate goal."
However, independent Legislator Chen Hsueh-sheng (陳雪生) said there were still many issues that have to be straightened out.
"Before a casino resort can be built, the legislature first needs to pass the proposed Gambling Act [博奕法]," he said. "Besides, most of the land in Matsu is either government or military property. Some is even restricted military zones — so there is a long and complicated administrative procedure to go through."
He also questioned Weidner Resorts Taiwan's willingness to make such a huge investment to improve or build transportation and tourism facilities in Matsu.
"I'm personally opposed to the casino plan, but I respect the opinion of the majority," Chen said.
Chen Ying-mei (陳鶯梅), a resident of Matsu who works as a tour guide and voted for the casino plan, said she welcomed the result, but did not believe Weidner would be able to fulfill all its promises.
"As a member of the tourism industry, I'm for the casino plan, because it would bring improvement to transportation facilities — which is the biggest problem in Matsu," Chen Ying-mei said. "The government would not spend resources on Matsu with so few people, so our only hope are big businesses wanting to invest."
She said that most of those who opposed the casino plan either do not live in Matsu or are government employees who do not have to worry about their source of income.
"But for us who live on this island, we need to make money to survive," she added.
"Honestly, I don't believe that the future casino operator would be able to give us the NT$80,000 per month subsidy, I don't even care if the casino goes out of business in a few years," she said. "When the casino closes, the bridge and the airport that they built would still be around, right?"
Comments will be moderated. Keep comments relevant to the article. Remarks containing abusive and obscene language, personal attacks of any kind or promotion will be removed and the user banned. Final decision will be at the discretion of the Taipei Times.