Talim expected to bring heavy rainfall
HEADED OUR WAY: Talim is a rare storm in that it is coming toward the nation from the Taiwan Strait. Land and sea alerts are expected to be issued today
Tropical Storm Talim is likely to be the first storm to hit Taiwan this year and is expected to bring heavy rainfall across the nation, the Central Weather Bureau said yesterday.
The bureau said it would most likely issue a sea alert for the storm early this morning, while a land alert would be issued later in the day.
As of press time, the bureau had yet to issue a sea alert for Talim.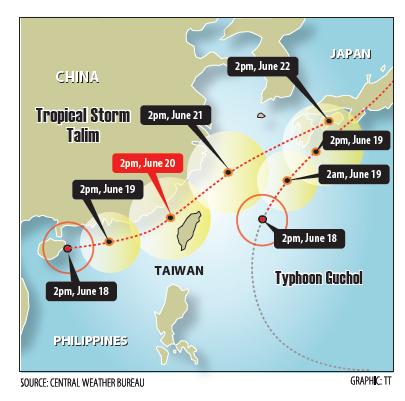 Graphic: TT
Information from the bureau showed that Talim, meaning "sharp" in Filipino, was formed at 2am yesterday.
By 5pm, the center of Talim was about 480km off the southwest coast of the Dongsha Islands (東沙群島). It was moving northeastward at 17kph, with a radius of 120km.
Forecaster Hsieh Min-ken (謝旻耕) said the bureau estimated the accumulated rainfall from today until Thursday could exceed 1,500mm in the mountainous areas of central and southern Taiwan because of the combined effect of Talim and the southwest monsoon.
The entire nation must be prepared to brave torrential rain, he said, adding that residents in central and southern Taiwan in particular must be ready to cope with the threat of extremely torrential rain.
Those living on the west coast need to be prepared for flooding caused by the rain and spring tide, the bureau said.
The bureau's projected path of Talim showed it would cruise across the Taiwan Strait and be close to central Taiwan by tomorrow, when the wind and rain are expected to be the strongest.
The storm is then expected to move along the nation's west coast before it moves away from Taiwan by Thursday.
While the rain is expected to be at its heaviest tomorrow and Thursday, the bureau forecast that the weather system around Taiwan would remain unstable until Friday.
Some of the meteorologists said Talim's circumfluence resembled that of a tropical depression system that had caused severe flooding in August 1958. They said it was rare that a tropical storm or a typhoon would come from the Taiwan Strait, adding that the damage could be worse if it makes landfall.
In view of the disasters caused by last week's torrential rain, the Directorate-General of Highways said it would start closing sections of several highways and county highways leading to scenic spots this afternoon, including Highways No. 7, 8, 9, 14, 18, 20 and 21.
Meanwhile, the Central Emergency Operation Center was activated at 3:30pm yesterday, half an hour earlier than scheduled, Cabinet officials said.
The relevant ministries have finalized their preparations for relief assistance, the Cabinet said in a statement, as it urged people to take early precautions against the storm and avoid traveling in mountainous areas.
Additional reporting by CNA
Comments will be moderated. Keep comments relevant to the article. Remarks containing abusive and obscene language, personal attacks of any kind or promotion will be removed and the user banned. Final decision will be at the discretion of the Taipei Times.