Ma hopes Beijing will improve rights
MEMORIES NEVER DIE: Ma said cross-strait differences in human rights needed to be overcome before closer contact is made, but stopped short of making demands
President Ma Ying-jeou (馬英九) issued a statement yesterday to mark the 23rd anniversary of China's 1989 Tiananmen Square Massacre in which he expressed hope that China would improve its human rights record and initiate democratic development.
For more than two decades, China's economy has grown rapidly and people's lives have greatly improved as the country has become increasingly competitive, Ma said.
However, the emotional scars left by the massacre that took place in Beijing on June 4, 1989, have yet to heal and the incident has given the international community an impression of China's human rights development that has stayed virtually unchanged since then, he said.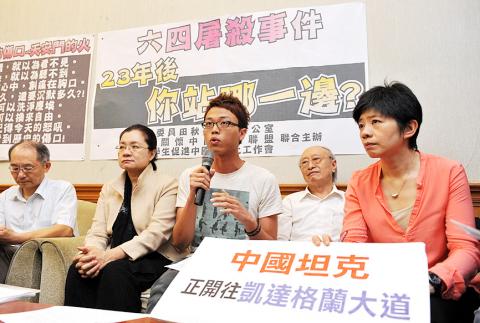 Taiwan Solidarity Union Legislator Lin Shih-chia, former Chinese government adviser Ruan Ming, student democracy activist Tsai Chia-hsun and Democratic Progressive Party Legislator Tien Chiu-chin, first to fourth from right, hold a press conference in Taipei yesterday to mark the 23rd anniversary of the Tiananmen Square massacre.
Photo: Chien Jung-fong, Taipei Times
"Most ethnic Chinese societies believe that China today is more mature and in a better position to transform into a more diverse and open democratic society. Dealing with the trauma of the June 4 Incident could be the first step toward political reform," he said.
Ma said Taiwanese and Chinese are all of Chinese origin and share the same cultural heritage, including the concepts of freedom, democracy and human rights.
"We once again reiterate that we cherish the peace created by the two sides over the past four years and hope that the positive interaction will continue," Ma added.
However, Taiwan and China still differ in human rights development, and these differences will need to be overcome before the two sides can enter a deeper phase of interaction, Ma said.
Taiwan's experience in becoming a democratic society has proven that democracy can take root and grow in a Chinese culture, he said, adding that he has great hopes for improvements in human rights and democracy in China and that the two sides of the Taiwan Strait can begin dialogue in the fields of democratic rule and human rights protection, with the shared culture between Taiwan and China as a foundation.
Ma also said he would continue to express concern over democratic development in China, which he described as the best way to help reduce the psychological distance between the people of the two sides of the Strait.
The Mainland Affairs Council had issued a statement on Sunday, calling on Beijing to adopt the idea of "people first" as the core principle of its administration, and to promote political reforms based on self-reflection on the 1989 "incident" and its reform experiences over the past years.
Democratic Progressive Party (DPP) Legislator Tuan Yi-kang (段宜康) yesterday called both Ma's and the council's statements ineffectual and superficial.
Pointing to the US Department of State's statement on Sunday urging China "to release all those still serving sentences for their participation in the demonstrations; to provide a full public accounting of those killed, detained or missing; and to end the continued harassment of demonstration participants and their families," Tuan asked why the council did not dare make any concrete demands of China.
In comparison with the US Department of State's statement, Ma's and the council's statements are "shameful," Tuan said.
Separately yesterday, former DPP chairperson Tsai Ing-wen (蔡英文) urged her party and the Chinese people to keep fighting for democracy in China in a message to commemorate the anniversary.
"June 4, 1989, marks an historic point in time of a bloody crackdown, as well as an attempt at seeking democratic reform by the previous generation of Chinese. What it means to the Chinese people will be determined by how the current generation of Chinese do on the road to democratization," Tsai wrote on her Facebook page.
Since the Chinese Nationalist Party (KMT) has neither shouldered the responsibility to promote democratization in a rapidly changing China, nor shown any intention to do so, the DPP will have to embrace the challenge and responsibility, she said, adding that the Chinese government has not changed after 23 years, as Beijing still refuses to listen to the public's voice and engage in introspection on its use of state violence.
Translated by Jake Chung, staff writer
Comments will be moderated. Keep comments relevant to the article. Remarks containing abusive and obscene language, personal attacks of any kind or promotion will be removed and the user banned. Final decision will be at the discretion of the Taipei Times.