Human bird-flu case in a Hong Kong boy confirmed
HIGH ALERT: A jittery Hong Kong has announced a series of preventive measures, while Taiwan has been screening incoming travelers for fever since Saturday
Hong Kong health authorities on Saturday urged the public not to panic after the territory reported its first human case of bird flu in 18 months in a two-year-old boy.
Hong Kong officials said the Chinese boy was in serious condition after testing positive for the H5N1 strain of avian influenza and the territory had raised the bird flu alert level to "serious."
Hong Kong and Chinese health authorities said investigations revealed that the boy, who lives in the neighboring Guangdong Province, had visited a local wet market and had contact with a live duck in the middle of last month.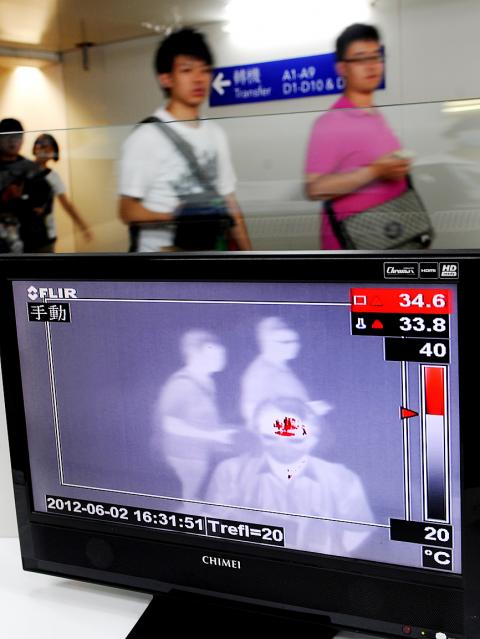 A monitor displays the body temperature of passersby in Taipei on Saturday. The Centers for Disease Control is requiring staff at international airports and harbors to strengthen controls following news that a Chinese boy in Hong Kong was in serious condition after testing positive for the H5N1 strain of avian influenza.
Photo: Chu Pei-hsiung, Taipei Times
He later developed a fever and runny nose and was taken for treatment at a Hong Kong private clinic on May 26.
"The boy's parents are asymptomatic, which means the chance of a human-to-human transmission is slim," a spokesman from the Hong Kong Centre for Health Protection said in a statement.
The spokesman said the boy was in intensive care, while his parents were being quarantined at the same hospital.
A government spokeswoman confirmed it was the first human case of bird flu in Hong Kong since November 2010, which involved a 59-year-old woman.
Xinhua news agency said Guangdong was on "high alert," but tests have so far found no signs of an outbreak.
Hong Kong was the site of the world's first major outbreak of bird flu among humans in 1997, when six people died from a mutated form of the virus, which is normally confined to poultry. Millions of birds were then culled.
The latest infection prompted Hong Kong Health Minister York Chow (周一嶽) to convene an emergency meeting as he announced a series of preventive measures, while reassuring the public that it was an "isolated" case.
"We feel that there is no need for panic among Hong Kong citizens," he told reporters.
Chow said there were no plans to ban live poultry imports for the time being, but inspection and disinfection would be stepped up at markets. Schools and various institutions have been asked to be on alert.
"We think it is an important measure to take, particularly for Hong Kong, because we had experiences of outbreaks of avian influenza in Hong Kong," he said.
"For this particular case, so far the chance of it being spread to other humans is relatively low. But we still need to go through the whole process of analyzing the origin and channel of the infection and have to study the virology of the virus," Chow added.
The H5N1 strain has killed more than 350 people worldwide since 2003, according to WHO statistics, with the latest fatality reported on Monday last week involving a 10-year-old Cambodian girl.
Concerns about avian influenza have risen in the region, with China, Vietnam and Indonesia all reporting deaths from the virus this year.
In response, Taiwanese authorities said that aside from keeping a close tab on developments in Hong Kong, they were also stepping up taking samples from incoming travelers.
The Department of Health (DOH) has since Saturday been taking the body temperatures of all passengers at airports and asking for their history of contact with poultry.
All incoming travelers from China, Hong Kong and Macau will have a sample taken if they exhibit symptoms of the flu or have a history of contact with poultry, the DOH said.
Centers for Disease Control (CDC) Deputy Director-General Chou Jih-haw (周志浩) said that any Taiwanese planning to travel abroad should be mindful of sanitation in areas with H5N1 infection.
People should avoid coming into contact with poultry, and the meat and eggs of chickens, ducks or geese should be eaten only if they are thoroughly cooked, he said, adding that people who develop a fever or symptoms similar to a cold or flu on their return to Taiwan should seek the aid of CDC personnel at the airport.
Additional reporting by CNA
Translated by Jake Chung, staff writer
Comments will be moderated. Keep comments relevant to the article. Remarks containing abusive and obscene language, personal attacks of any kind or promotion will be removed and the user banned. Final decision will be at the discretion of the Taipei Times.