Debt clock rises for sixth month
While President Ma Ying-jeou (馬英九) takes every opportunity to boast about his frugality, the national debt clock shows national finances deteriorating, Democratic Progressive Party (DPP) lawmakers said yesterday.
As of the end of last month, the national debt clock stood at NT$5.23 trillion (US$178.37 billion), or an average debt of NT$225,000 per person, DPP Legislator Pan Men-an (潘孟安) told a press conference.
It also represented the sixth monthly increase in a row.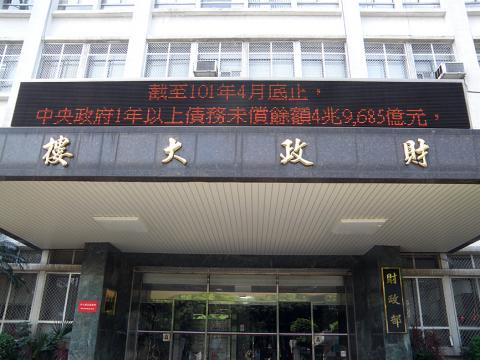 The National Debt Clock at the entrance to the Ministry of Finance displays the latest debt figures yesterday.
Photo: Cheng Chi-fang, Taipei Times
Moreover, if undisclosed debts totaling NT$18.66 trillion were factored in, the average debt per person would shoot up to NT$1.02 million, Pan said.
Undisclosed debts include those from non-profit funds, local governments and insurance systems for labor, public servants and military personnel.
DPP lawmakers said Ma often bragged about his frugality — such as his claim that energy consumption at his official residence is 88 percent lower than that under former president Chen Shui-bian's (陳水扁) administration — but national debt had soared under his administration.
"It would be better for Ma to save not only his own money, but also the government's," Pan said.
The average debt per person rose from NT$197,000 in November 2010 to NT$225,000 last month, which DPP Legislator Tsai Chih-chang (蔡其昌) said was ironic in the wake of Ma warning the then-DPP administration about national debt before he won the presidency in 2008.
The DPP administration achieved unprecedented fiscal balance during its last year in power, Tsai said, adding that Ma had squandered public funds on many projects, such as the Taipei International Floral Expo and the Republic of China centennial celebrations.
DPP Legislator Huang Wei-cher (黃偉哲) accused Ma of lax spending and paying attention only to his "public image and legacy."
His administration used up almost all of the state affairs fund between 2008 and 2010, totaling NT$98 million.
"It seems to me that Ma has been pretty generous with the way he spends the government budget," Huang said.
National Treasury Agency officials said the debt had not broken the limits set in the government's annual budget for the year.
Since December 2010, Taiwan has released data on the national debt on the seventh day of each month and set up the national debt clock to remind government agencies to carefully monitor their spending.
Additional reporting by CNA
Comments will be moderated. Keep comments relevant to the article. Remarks containing abusive and obscene language, personal attacks of any kind or promotion will be removed and the user banned. Final decision will be at the discretion of the Taipei Times.