Workers' Day draws variety of demonstrations
FEELING EXPLOITED: Labor rights activists performed a variety of 'sports' events on Ketagalan Boulevard to demonstrate the variety of burdens faced by workers
More than 1,000 labor union members, activists, medical interns, nurses, migrant workers, teachers and students expressed their dissatisfaction with working conditions and the employment environment in a protest in Taipei on Workers' Day yesterday.
Holding flags and signs outlining their demands, workers from various industries gathered at Liberty Square at noon to protest against poverty and worker exploitation.
Among a series of demands, groups called for the abolition of the responsibility system in the Labor Standards Act (勞動基準法), a reduction in the number of temporary workers and measures to protect young people's right to work.
Thousands of people take part in an anti-exploitation march in Taipei yesterday to mark International Workers' Day.
Photo: Liao Chen-huei, Taipei Times
Leading the parade, more than 200 nurses shouted: "We refuse to allow patients to take care of patients" and "patients can only be healthy when nurses get enough rest."
Taiwan Radical Nurses Union member Liang Hsiu-mei (梁秀眉) said that in addition to protesting against insufficient manpower and rest hours, this year the union is emphasizing the serious problem of "freakish shift arrangements" — the unreasonable and frequent shift changes with only a few hours of rest in between, leading to exhaustion and sleep disorders.
Other protesters looked to future generations.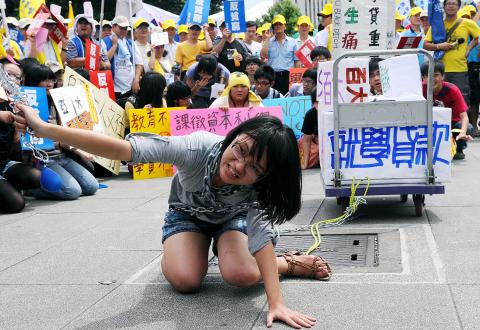 A Taiwanese students kneels to demand the government to stop raising school fees during a May Day rally in Taipei yesterday.
Photo: AFP
"We are standing out here not just for our generation, but also for our children. Many of our members' children face difficulties in finding a stable job and often end up relying on their parents' income," said Yang Chun-hua (楊俊華), chief secretary of the Labor Union of the Taipei City Government's Department of Environmental Protection.
Yang said about 20 percent of union members' children were on student loans and about one-third of the members were still paying back credit card debt with their salary.
South Taiwan Passenger Transportation Ltd Liability Co Trade Union chairperson Chen Yun-hsiang (陳韻翔) said bus drivers were often forced to work excessive hours under poor health conditions, endangering the lives of passengers.
Holding signs that read "equality" and "minimum wage covers all workers," foreign workers called for the same wage as local workers.
On Ketagalan Boulevard in the morning, hundreds of labor rights activists from about 30 civic groups held a protest against deteriorating labor conditions by performing sports competitions that symbolized exploitation or economic burdens faced by workers.
The "events" — a race to show that workers cannot catch up financially, weightlifting to represent the heavy economic burden on families and a pole-jumping competition to symbolize rising consumer and energy prices — highlighted the reality that the losers in the system are "guaranteed an unfair game," said the Taiwan Labor Front, which organized the event.
Taiwan Labor Front secretary-general Son Yu-lian (孫友聯) said about one-fourth of salaried workers are unable to save more than NT$50,000 (US$1,714) a year and the majority barely make a living with their low wages.
A generation of breakdown and collapse is being created, Son said.
"Why is it that we workers only earn about 44 percent of the total income, but have to pay about 75 percent of the total income tax in Taiwan?" Alliance for Fair Tax Reform convener Wang Jung-chang (王榮璋) said, adding that the government was lying to the public with its promises of imposing a tax on the rich.
"The Executive Yuan recently announced it would raise the stock income tax threshold from NT$3 million, as initially proposed, to NT$4 million, but the income tax deduction for workers is only about NT$104,000," Wang said.
Near the end of the rally, the activists pasted pieces of paper that read "poverty," "exhaustion," "blind," "debt" and other characters on a large board decorated with a printout of President Ma Ying-jeou's (馬英九) Facebook page.
Comments will be moderated. Keep comments relevant to the article. Remarks containing abusive and obscene language, personal attacks of any kind or promotion will be removed and the user banned. Final decision will be at the discretion of the Taipei Times.