US representative calls for Chen to be given medical leave
STAY OUT: Deputy Minister of Justice Chen Shou-huang said Chen Shui-bian's incarceration was not an issue in which other governments were welcome to interfere
US Representative Dan Lungren of the Republican Party has called on the Tom Lantos Human Rights Commission and other House of Representatives members to investigate the imprisonment of former president Chen Shui-bian (陳水扁).
The Tom Lantos Humans Rights Commission is a bipartisan caucus in the US Congress aiming "to promote, defend and advocate internationally recognized human rights norms ... both within and outside of [the US] Congress, as enshrined in the Universal Declaration of Human Rights and other relevant human rights instruments."
Chen, serving a term of 17-and-a-half years on bribery and corruption charges, has complained of ailing health in recent months. The Democratic Progressive Party (DPP) has been calling for the administration of President Ma Ying-jeou (馬英九) to allow Chen to be given prison leave long enough to visit a hospital and see a doctor.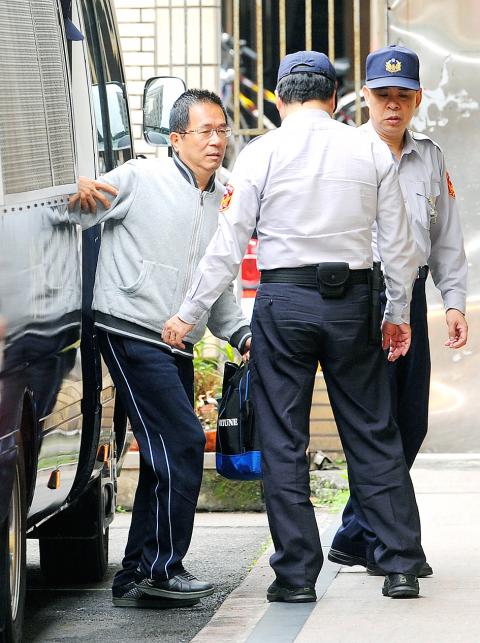 Former president Chen Shui-bian arrives at the Taiwan High Court in Taipei on Thursday last week for a hearing in connection with perjury charges stemming from his state affairs fund trial.
Photo provided by the Taipei Photojournalists Association.
Chen suffered from acute coronary syndrome last month and was diagnosed with a prostate tumor.
Lungren had sent a letter to the co-chairmen of the commission, Democratic Representative Jim McGovern and Republican Representative Frank Wolf, calling on them to take note of worrying developments these past few weeks about Chen's gradually worsening health.
The letter cited section 3301 of the Taiwan Relations Act (TRA), claiming a legal basis for the commission to look into Chen's imprisonment because "The preservation and enhancement of the human rights of all the people on Taiwan are hereby reaffirmed as objectives of the United States," adding that the commission should strongly encourage Taiwan's government to let Chen receive adequate medical care outside prison.
Mark Kao (高龍榮), president of the Washington-based Formosan Association for Public Affairs, applauded the motion and called on the commission to inquire into the matter.
Deputy Minister of Justice Chen Shou-huang (陳守煌) was quoted by the Central News Agency as saying that the former president's health has not deteriorated as his family members claimed, adding that his ministry would be closely monitoring Chen Shui-bian's health and would pay close attention to his rights.
Chen Shui-bian is serving a sentence handed down by the High Court and everything would be done in accordance with the law, Chen Shou-huang said, adding that the former president's incarceration was not a matter in which other nations were welcome to interfere.
As for Chen Shui-bian's family calling on the Ma administration to grant him medical leave, Chen Shou-huang cited Article 58 of the Prison Act (監獄行刑法), saying that unless an inmate has contracted a disease that could not be adequately cared for in prison, and depending on the severity of the situation, the prison administration may contact the Agency of Corrections to apply to have the prisoner sent to a prison hospital or an outside hospital.
The Taipei Prison and the agency would decide whether to give Chen Shui-bian medical leave based on his physical health, Chen Shou-haung said.
Additional Reporting with CNA
Translated by Jake Chung, Staff Writer
Comments will be moderated. Keep comments relevant to the article. Remarks containing abusive and obscene language, personal attacks of any kind or promotion will be removed and the user banned. Final decision will be at the discretion of the Taipei Times.