High aluminum levels found in food
MEMORY LOSS: About 66 percent of the 24 foods sampled, including doughnuts and steamed buns, contained aluminum in excess of FAO/WHO recommended levels
Several food products that use raising agents were found to contain excessively high levels of aluminum, the Consumers' Foundation said yesterday, adding that consumption of the non-ferrous metal could affect memory.
The foundation told a press conference that 66 percent of the 24 samples of doughnuts, fried dough sticks (youtiao, 油條), steamed buns (mantou, 饅頭), kelp and silk noodles (fensi, 粉絲) sold in the market that it tested in February were found to contain high levels of aluminum.
Aluminum was found in three of the six doughnuts tested, all six of the fried dough sticks tested, two of the six steamed buns, two of the three kelps and all three of the silk noodles, said Hwang Yu-sheng (黃鈺生), publisher of Consumer Reports magazine.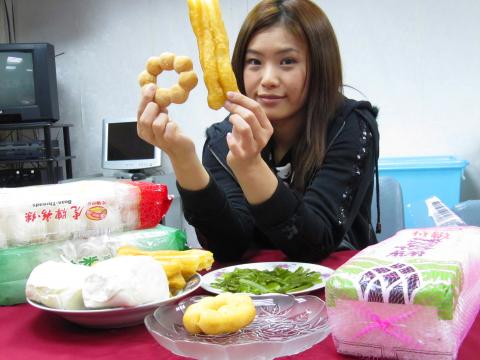 A woman holds up a doughnut and a fried dough stick, or youtiao, during a press conference organized by the Consumers' Foundation yesterday. According to the foundation, 66 percent of 24 randomly tested foods such as doughnuts, steamed buns and seaweed tested positive for aluminum, with many of the products coming from well-known manufacturers.
Photo: Taipei Times
Last year, the foundation found high levels of aluminum in waffles, pancakes and salted dried jellyfish, which had used aluminum-containing raising agents in the manufacturing process, foundation vice chairman Mark Chang (張智剛) said.
"Last year, the Joint FAO/WHO Expert Committee on Food Additives [JECFA] placed the recommended provisional tolerable weekly intake [PTWI] for aluminum at 2mg/kg body weight [bw], while the European Food Safety Authority placed it at 1mg/kg bw," Chang said.
Taiwan has no legal limits on raising agents added to processed food, Chang said, making it difficult for consumers to know how much aluminum they have consumed.
According to the foundation's test report, aluminum levels in two samples of doughnuts from a chain store and a hypermarket were found to range between 200 parts per million (ppm) and 300ppm.
All six samples of fried bread sticks from six traditional breakfast stores had an aluminum content of more than 200ppm, with four containing aluminum levels of between 400ppm and 600ppm.
Lee Cherh-yu (李哲瑜), an associate professor at Taipei Chengshih University's Department of Food and Beverage Management, said that based on JECFA's recommended PTWI of 2mg/kg for aluminum, a child weighing 30kg who consumes four doughnuts, with each containing 250ppm of aluminum, would exceed recommended limits in a week.
Many of the food products tested had probably used alum (aluminum potassium sulphate) as raising agents to make the texture of the food more appealing, Lee said.
"However, an excessive intake of aluminum has a correlation with Alzheimer's disease," he said. "And we are especially concerned about its effects on younger children's growth and development, as well as on people with weaker metabolic functions."
"If some of the samples tested did not contain aluminum food additives, then this proves that these products can be produced without the substance," Hwang said.
"The foundation would therefore like to urge manufacturers to be responsible in upholding food safety for consumers and the government should establish standards on safe levels for aluminum in food products," Hwang said.
The Food and Drug Administration said it was currently conducting a survey on the risk of exposure to aluminum in food in Taiwan and that it would pay close attention to see if the UN established new standards in the area.
Modifications on food additives regulations will be made based on the results of the survey and evaluations of international standards, it added.
Comments will be moderated. Keep comments relevant to the article. Remarks containing abusive and obscene language, personal attacks of any kind or promotion will be removed and the user banned. Final decision will be at the discretion of the Taipei Times.