DPP calls for Chen's release or transfer
HEALTH WOES: The ailing former president should be transferred to a prison with medical facilities, released for treatment or be granted amnesty, DPP lawmakers said
Democratic Progressive Party (DPP) lawmakers yesterday called for a release for medical treatment or a prison transfer for former president Chen Shui-bian (陳水扁), who has been suffering health problems during his incarceration.
Chen, who is serving a 17-and-a-half-year sentence for corruption, was granted a seven-day release from Taipei Prison between March 6 and Tuesday last week for a medical checkup. He was found to be suffering from acute coronary syndrome and underwent a cardiac catheterization.
The Ministry of Justice should grant Chen a release for medical treatment on the grounds of human rights and humanitarianism, or arrange for Chen's transfer to the Taichung Prison, which has a medical facility, DPP lawmakers said at a press conference.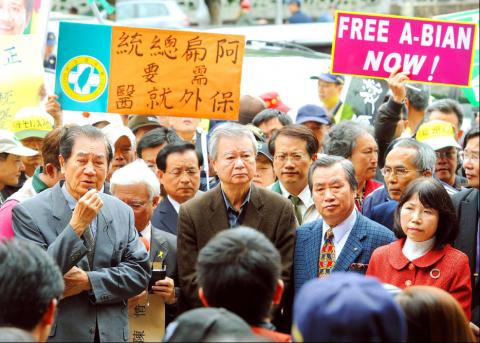 Democratic Progressive Party Legislator Mark Chen, front left, and supporters of various civic groups petition the Ministry of Justice in Taipei yesterday to permit jailed former president Chen Shui-bian to receive medical treatment outside prison.
Photo: Fang Pin-chao, Taipei Times
After the press conference, dozens of DPP and Taiwan Solidarity Union lawmakers, as well as about 200 supporters, including representatives from various civic groups, visited the ministry and submitted a letter of appeal to Deputy Minister of Justice Chen Shou-huang (陳守煌) to request a release and transfer.
The former president meets all three requirements for a transfer of prisons, as his spouse is handicapped, his mother is more than 65 years old and he has been released for medical treatment in the past three months, DPP Legislator Yu Mei-nu (尤美女) said.
The lawmakers then returned to the legislature and went to work, with 20 DPP legislators proposing an amendment to the Statute Governing Preferential Treatment to Retired Presidents and Vice Presidents (卸任總統副總統禮遇條例) to preserve preferential medical treatment for former presidents and vice presidents who are imprisoned.
The DPP and civic groups also raised the matter of Chen receiving amnesty, which would have to be granted by President Ma Ying-jeou (馬英九).
DPP Legislator Gao Jyh-peng (高志鵬) cited the cases of many former foreign heads of state, including former US president Richard Nixon, former French president Jacques Chirac and former South Korean presidents Chun Doo-hwan and Roh Tae-woo, who were all involved in scandals, but were granted amnesty by their governments and never served jail terms.
Even the Burmese junta placed Aung Sang Suu Kyi under house arrest rather than send her to prison, Gao said, adding that the Taiwanese government treated its former president worse than Myanmar did its dissidents.
"Premier Chen, do you think former president Chen should be granted an amnesty?" Gao asked Premier Sean Chen (陳冲), who responded that amnesty, according to the Constitution, is a presidential power and that he could not answer the question.
Gao, who was not satisfied with the answer, spent more than 10 minutes repeating the same question, with the premier replying in the same fashion each time.
The premier said he understood that Gao was raising the question on behalf of many supporters of the former president and he pledged to report the amnesty request to Ma.
Comments will be moderated. Keep comments relevant to the article. Remarks containing abusive and obscene language, personal attacks of any kind or promotion will be removed and the user banned. Final decision will be at the discretion of the Taipei Times.