Yani Tseng victorious at Founders Cup in Phoenix
TSENGSATIONAL: Eight hours after they teed off, and in poor light and bitter cold, Yani Tseng seized her 14th LPGA title, her second win in four events this year
Yani Tseng (曾雅妮) two-putted for par from 40 feet in fading light and cold temperatures to hold off Ai Miyazato and Choi Na-yeon by a stroke on Sunday at the LPGA Founders Cup.
The top-ranked Taiwanese star won her 14th LPGA Tour title and her second in four events this year. She closed with a four-under 68 to finish at 18-under.
The second-ranked Choi also shot 68, while Miyazato had a 69.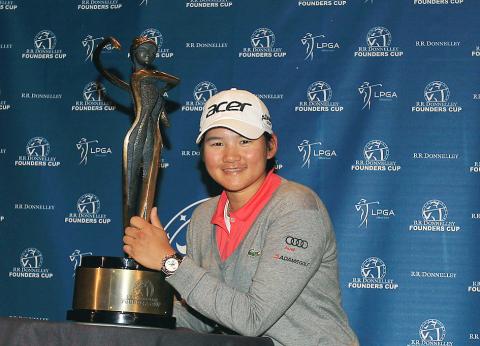 Taiwan's Yani Tseng poses with the trophy after winning the Founders Cup on Sunday in Phoenix, Arizona.
Photo: AFP
Because of lightning near the Wildfire Golf Club, play was delayed three times for a total of three hours. Tseng holed her winning two-foot putt at 6:45pm — 8 hours, 4 minutes after the leaders teed off and seven minutes after sunset.
"I was feeling like we were going to finish tomorrow, so we were really lucky to finish today and finish in the dark the last few holes," Tseng said.
"Because of my eyes, I couldn't see much of a distance, so I tried to keep to myself: 'OK, just finish these few holes, just hit a good shot, good contact, play one shot at a time,'" she said.
After temperatures in the high 20s on Thursday and Friday and low 20s Saturday, it plunged to about 5oC on Sunday morning and only got up to about 13oC.
Following overnight rain, play began at 8:30am. It was still about 7oC, spitting rain and windy when the leaders teed off at 10:41am. Soon after, hail fell briefly on parts of the course.
"It was a little drama out there," Tseng said. "I didn't play very well on the front nine. It was like hail on the first hole and it was like hail three holes. I was just really patient. We were back on and off."
Three strokes behind Miyazato at the turn, Tseng birdied five of the first six holes on the back nine and closed with three pars. On Thursday, in the first round, she played a seven-hole stretch on the back nine in seven-under, with an eagle and five birdies.
The 24-year-old Tseng successfully defended her LPGA Thailand title last month and has five victories in her last 11 starts. She led the tour last season with seven victories — including major victories in the LPGA Championship and Women's British Open — and finished the year with 12 worldwide titles.
"She's amazing," Choi said. "She plays so well. She never looks nervous or if there's pressure on her."
Tseng, tied for the third-round lead with Miyazato at 14-under, bogeyed the seventh and eighth holes to fall three strokes behind the Japanese player.
After the second delay, with the sun poking through the clouds, Tseng returned to hole a 25-foot birdie putt on the par-four 10th.
She followed with a six-footer on the par-five 11th to pull within a stroke, then made a 16-foot putt from the fringe on the par-four 13th to tie for the lead at 16-under.
Following the last delay, Tseng pulled ahead with a 20-foot birdie putt on the par-three 14th. Choi also birdied the hole to tie Miyazato for second.
Tseng opened a two-stroke lead with a birdie in heavy rain on the par-five 15th.
"I think 15 was really a key hole because if I made birdie on that hole, I think I still had a chance," Miyazato said. "But it rained so hard and it was really cold, and my hands like didn't have a feeling, so it was really tough."
Miyazato and Choi birdied the par-four 16th to pull within a stroke, but could only match Tseng's pars on the final two holes as they raced to avoid a Monday finish.
After Tseng lagged her 40-foot birdie try back down the hill on the 18th to two feet, Choi came up four-feet short on a 30-footer on a similar line, while Miyazato missed a 25-foot attempt from pin-high on the right side.
US Women's Open champion Ryu So-yeon was fourth at 13-under after a 68.
Comments will be moderated. Keep comments relevant to the article. Remarks containing abusive and obscene language, personal attacks of any kind or promotion will be removed and the user banned. Final decision will be at the discretion of the Taipei Times.