Chen to undergo cardiac procedure
HOSPITAL CHECKUP: Chen Shui-bian had series of exams at Taoyuan General Hospital and a heart problem was detected. A small prostate tumor was reportedly also found
Former president Chen Shui-bian (陳水扁) is suffering from acute coronary syndrome and will undergo cardiac catheterization today, the Taoyuan General Hospital said yesterday after Chen, on a temporary release from prison, underwent a medical checkup.
The Taipei Prison said it had agreed to a recommendation by the hospital that Chen undergo the operation and remain hospitalized for one week.
Escorted by police, Chen, who was not handcuffed, was transported in a prison van to the government hospital and arrived at 6:27am. He appeared fragile and walked unsteadily as he entered the hospital.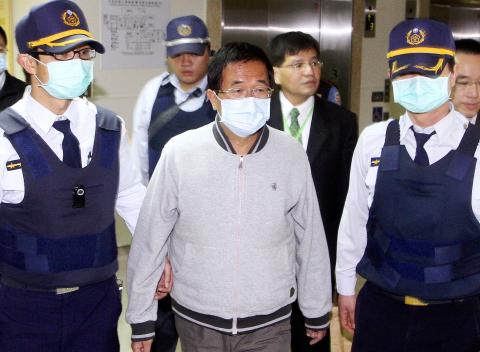 Former president Chen Shui-bian, center, is escorted by police into the Taoyuan General Hospital for a medical checkup in Taoyuan County yesterday.
Photo: Reuters
Hospital spokesman Hsu Jin-chyr (徐錦池) said Chen underwent a colonoscopy, ultrasound of his liver, gall bladder, intestines, stomach, kidney and prostate, as well as an electrocardiogram, magnetic resonance imaging (MRI) scan, a chest CT scan and an eye exam. The checkup was completed at about 3:30pm.
Chen is suffering from acute coronary syndrome — reduced blood flow to the heart — and the hospital had arranged for him to undergo cardiac catheterization, Hsu said. He confirmed that Chen would be allowed to stay in hospital for about one week.
Democratic Progressive Party (DPP) Legislator Hsu Tain-tsair (許添財) quoted hospital officials as saying that doctors had also found a small tumor — about 1cm — on Chen's prostate.
Since the doctors had yet to determine whether the tumor was malignant, the hospital recommended that Chen receive medical treatment for his heart problem first.
Chen's son, Chen Chih-chung (陳致中), and daughter, Chen Hsin-yu (陳幸妤), accompanied him during the exam.
His mother, Chen Lee Shen (陳李慎), who lives in Greater Tainan, also visited her son at the hospital.
"My son looks miserable," she said in tears. "If A-bian's [Chen Shui-bian's nickname] exam results are bad, I do not want to live."
The former president had also asked that Taipei General Hospital vice president Kuo Chang-feng (郭長豐) accompany him during the exam.
After the checkup was over, Chen Chih-chung said his father was confined in his small cell — about 6.6m2 — 24 hours a day, unlike other prisoners, who could work eight hours a day in prison factories and were allowed to work outside their cell. Such treatment was bad for his father's health, he said.
The prison claims the special treatment is for security concerns, Chen Chih-chung said, adding that this infringes on his father's human rights, is inhumane and unfair.
Chen Chih-chung said he hoped his father would receive the same treatment as other prisoners.
The hospital checkup was arranged after former first lady Wu Shu-jen (吳淑珍) visited her husband on Thursday last week and said he looked very tired and had a swollen stomach.
She asked the prison to send her husband to a hospital that was unaffiliated with the prison for a complete checkup in light of a family history of liver cancer.
Chen is serving a 17-and-a-half-year prison term for corruption.
Comments will be moderated. Keep comments relevant to the article. Remarks containing abusive and obscene language, personal attacks of any kind or promotion will be removed and the user banned. Final decision will be at the discretion of the Taipei Times.