Obama takes 'tougher' tone with Xi
HASHING IT OUT: Joe Biden said the US and China would not always agree on things, while Xi Jinping said there was 'always room for improvement' on human rights
US President Barack Obama set a firm and more assertive tone — appearing tougher than he has in the past — when he met Chinese Vice President Xi Jinping (習近平) at the White House on Tuesday.
As protesters, including Taiwanese Americans, chanted and waved banners from a park across the street, Xi was lectured on trade, currency and human rights.
While most details of the closed-door meetings with senior US officials were not disclosed, one source said that Taiwan was most likely discussed with US Secretary of State Hillary Rodham Clinton, but not with Obama.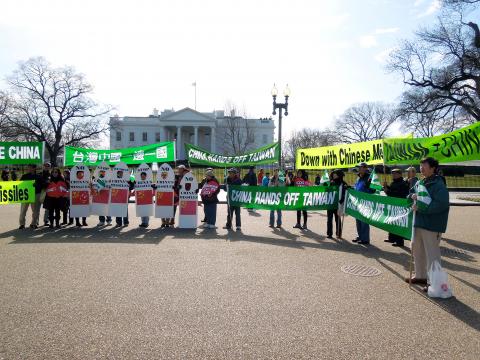 Taiwanese Americans protest outside the White House on Tuesday as US President Barack Obama met Chinese Vice President Xi Jinping.
Photo courtesy of the Formosan Association for Public Affairs
Following the main Oval Office session with Xi, Obama said: "We've tried to emphasize that because of China's extraordinary development over the last two decades, that with expanding power and prosperity also comes increased responsibilities."
The implication was that Beijing had not been fulfilling its responsibilities.
"We want to work with China to make sure everyone is working by the same rules of the road when it comes to the world economic system," Obama said.
Again, the president's words appeared to constitute a thinly veiled criticism of China's trade practices.
Xi, who is expected to take over as China's next leader, said he wanted to build a "cooperative partnership based on mutual respect and mutual interests."
Welcoming Xi to the White House, US Vice President Joe Biden emphasized that the two countries would not always see eye to eye.
"We saw this in the recent UN Security Council debate about Syria where we strongly disagreed with China and Russia's veto of a resolution against the unconscionable violence being perpetrated by the [Syrian President Bashar al-] Assad regime," Biden said.
As Xi, 58, awoke on the first day of his US visit, the Washington Post carried a front-page story revealing that earlier this month, Chinese officials denied a top US Department of State official a visa and refused to meet with her to discuss religious freedom issues.
The newspaper said that in this election year, Obama was being criticized by human rights groups, religious leaders and Republicans for not sufficiently challenging China on issues such as its recent crackdown on Tibetans.
Put on the spot during a State Department luncheon on Tuesday, Xi insisted his country had made "tremendous and well-recognized achievements" over the past 30 years.
"Of course, there is always room for improvement when it comes to human rights," Xi added.
"We don't sacrifice the important issues for the sake of having a comfortable visit, nor do we shy away from candid private conversations with the Chinese on human rights," Danny Russel, Asia director at the US National Security Council, said earlier.
It has been widely reported in the US that Xi wants to use this visit to boost his international standing and demonstrate to his audience back home that he can manage Beijing's crucial relationship with Washington.
As the private White House meetings got under way, US Representative Chris Smith opened a bipartisan hearing on Capitol Hill on human rights abuses in China.
"I hope that President Obama doesn't put human rights last on the agenda," Smith said.
He urged that human rights be raised in a "serious and visible way" during Xi's visit.
Meanwhile, the demonstrators were in action. Some were chanting through a bullhorn: "one Taiwan, one China."
While the Taiwanese were among the most vocal — some had come in buses from New Jersey and New York — there were larger groups of Tibetans, Uighurs, Falun Gong practicioners and members of the Democracy Party of China.
Comments will be moderated. Keep comments relevant to the article. Remarks containing abusive and obscene language, personal attacks of any kind or promotion will be removed and the user banned. Final decision will be at the discretion of the Taipei Times.