2012 ELECTIONS: DPP steps up attack over Fubon merger
COUNTERATTACK: After the KMT's attack on Tsai over alleged improprieties, the DPP has gone on the offensive, and it is the KMT's turn to complain of a 'smear campaign'
The Democratic Progressive Party (DPP) yesterday continued to pressure President Ma Ying-jeou (馬英九) over what it said were illegal connections with a financial holding company and inappropriate dealings in a bank merger.
For a second consecutive day, DPP spokespeople and politicians called press conferences and disclosed information they had obtained to show that Ma had failed to avoid a conflict of interest in the merger of Fubon Bank (富邦銀行) and Taipei Bank (台北銀行) when he was Taipei mayor in 2002.
Fubon paid US$2.5 billion to acquire Taipei Bank in August 2002 during the first of Ma's two terms as mayor.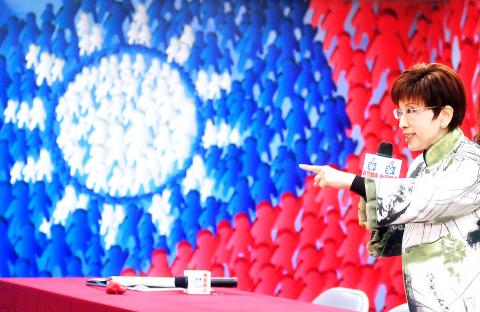 Chinese Nationalist Party (KMT) Legislator Hung Hsiu-chu, speaking at President Ma Ying-jeou's election campaign headquarters in Taipei yesterday, calls on the Democratic Progressive Party not to keep making allegations about Ma and a donation from the Fubon Financial Group.
Photo: CNA
The DPP's move comes in the wake of allegations by the Chinese Nationalist Party (KMT) that DPP presidential candidate Tsai Ing-wen (蔡英文) profiteered from Yu Chang Biologics Co (宇昌生技股份有限公司), now known as TaiMed Biologics Co (中裕新藥股份有限公司), when she served as vice premier between 2006 and 2007.
The DPP said on Monday that Ma had accepted a NT$15 million (US$495,000) political donation from Fubon in either 2004 or 2008 and had met the bank's executives on as many as six occasions before, during and after the merger in 2002 and 2003.
Ma denies both allegations and said he had only two meetings with the executives and they all took place after the merger.
Citing a document from the Taipei City Government's Department of Finance, which was marked "urgent" and "top secret," and the minutes of a Taipei Bank board meeting on Aug. 8, 2002, DPP spokesperson Chuang Ruei-hsiung (莊瑞雄) said that Ma's "hasty" approval of the merger in one day was "suspicious."
The approval of the merger was unprecedented because the document passed over the desks of nine officials — from the section chief to then-Taipei mayor Ma — in less than 24 hours, Chuang said.
"What was the hurry to get it done before the December [2002] mayoral election?" he asked.
The two banks signed the merger on Sept. 8, 2004, which means Ma's meetings with Fubon executives were inappropriate for an elected official, he said.
The KMT has questioned Tsai's integrity, saying she classified a document on the formation of Yu Chang as "secret" and approved government funding for a company of which she later serve as chairperson, Chuang said.
"So why did Ma approve the merger in one day and associate with people he should not have associated with?" he asked.
"The KMT's scrutinizing of Tsai and [its defense of] Ma is an obvious double standard," Chuang said.
In a newspaper ad published yesterday, the DPP legislative caucus cited four media stories between 2002 and 2003 that it said put Ma's integrity over the merger in question.
The ad asked Ma why Fubon Bank, with total assets of NT$155.7 billion, was able to merge with the much larger Taipei Bank, which had total assets of NT$663.5 billion, and why the Taipei City -Government received only two of 11 seats on Fubon's board, while the bank had seven.
The city government under Ma undervalued Taipei Bank and the former bank's value was NT$6 -billion more than the city -government had calculated, DPP legislative candidate Chien Yu-yen (簡余晏) said.
Taipei City Finance Department Commissioner Chiu Da-chan (邱大展) said Fubon Bank won the merger case with the highest bid among five companies, at NT$36 per share.
Then-Taipei Bank chairman Liao Cheng-ching (廖正井), who is currently a KMT legislative candidate, was quoted as saying in 2003 that the merger was "flawed" and that Taipei Bank should not have been the one to be merged, the ad said.
KMT Legislator Fei Hung-tai (費鴻泰), who served as vice speaker of the Taipei City Council in 2002, also questioned why the merger was never discussed in the city council, the ad said.
Chien and DPP Legislator Lee Chien-chang (李建昌) also accused Ma of abusing his power as mayor by selling 44 Taipei Bank properties to Fubon at prices much lower than market rates in August 2003.
For example, land at Taipei Bank's Guting branch was sold for its 1977 purchase price, Chien said, adding that it was "beyond imagination that Taipei Bank did not go through an asset restructuring process before the merger deal."
Ma also unilaterally designated Fubon as Taipei City Government's partner to be in charge of all city funds and Goldman Sachs Taiwan as the consultant for the merger with executive orders, Lee said.
Ma's re-election campaign team also went on the offensive yesterday and accused the DPP of "distorting the truth" and ignoring Ma's explanations for election gains. It also urged the DPP to stop its "smear campaign."
Ma campaign spokesman Yin Wei (殷瑋) dismissed Chuang's claims that Ma had a private meeting with Fubon Financial chairman Daniel Tsai (蔡明忠) prior to the merging of Fubon Bank and Taipei Bank on Aug. 8, 2002, and said that Ma had only met Fubon executives twice, rather than five times, as claimed by the DPP, adding that the meetings all took place after the merger.
Ma on Monday said his two meetings with Fubon executives took place on Sept. 16, 2002, and Aug. 11, 2003, and the meetings did not touch upon issues related to the merger or other municipal affairs.
"President Ma has explained the meetings with Fubon executives clearly, but the DPP intentionally distorted media reports against the president," Yin said at campaign headquarters.
"We urge the DPP to stop manipulating the issue as a campaign tactic," Yin said.
Yin added the camp would file a lawsuit against the DPP today for making false accusations against Ma with intentions to make Ma lose the presidential election, and therefore violating the Presidential and Election and Recall Act (選舉罷免法).
Comments will be moderated. Keep comments relevant to the article. Remarks containing abusive and obscene language, personal attacks of any kind or promotion will be removed and the user banned. Final decision will be at the discretion of the Taipei Times.