Taiwanese diplomat may wait in prison for months
The Taiwanese diplomat who pleaded guilty to a charge of violating a US federal labor law in Kansas City, Missouri, on Friday may have to wait months before she can be released after the judge presiding over the case delayed ruling on a plea bargain agreement.
The ruling was a setback for Jacqueline Liu (劉姍姍), director-general of the Taipei Economic and Cultural Office in Kansas City, who has been detained since Nov. 10, when she was arrested on charges of underpaying and overworking her Filipino housekeeper.
US prosecutors accused Liu of fraudulently hiring two Philippine housekeepers for her residence. One was employed in 2009 and last year, and the other from March 6 to August this year. By pleading guilty, Liu admitted she fraudulently entered into employment contracts with two housekeepers and that she did not intend to comply with the stated terms, US prosecutors said in a press release.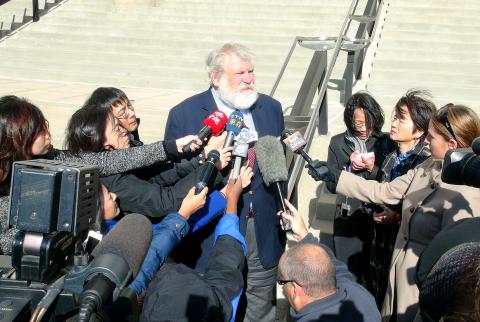 Taiwanese diplomat Jacqueline Liu's lawyer Jim Wirken said after Friday's hearing that his client seemed uneasy about the hearing's outcome.
Photo: CNA
After Liu waived her right to a grand jury trial at a detention hearing on Wednesday, she signed a plea agreement with prosecutors, but US District Judge David Gregory Kays did not accept the plea agreement at Friday's hearing.
Kays said he would consider the plea agreement and a pre-sentencing investigation report, which could take about three months to complete. Liu is to remain in custody while the judge considers the plea agreement.
The Kansas City Star reported Kays asking in the hearing: "Did you do this in your official capacity or as a private individual?" and "Did you use your title when you signed your name [to the contract]?" — to which Liu replied: "No."
Liu's answer seemingly contradicted a statement by the Ministry of Foreign Affairs when it first responded to Liu's arrest that the employment of the housekeeper was related to Liu's official duties and that the housekeeper did not come under the purview of Liu's personal life.
The two housekeepers were both paid by the ministry.
When about Liu's contention that the housekeeper was not hired under her official position, the ministry's spokesman James Chang (章計平) said in Taipei that "he respected" what Liu had said.
At the conclusion of Friday's hearing, Liu paid a total of US$80,044 in full restitution to the two victims, which accounts for the hours they worked based on a schedule of 16 to 18 hours of work per day over six-and-a-half days a week.
Under the terms of the plea agreement, Taipei and Liu would jointly recommend a sentence of time served, which would trigger Liu's immediate deportation from the US upon sentencing.
Liu remains in federal custody until her sentencing hearing, which has yet to be scheduled.
The two housekeepers have been proven to be victims of a severe form of human trafficking under the Trafficking Victims Protection Act, US prosecutors said.
"As a result, they will receive government support for a T visa, which would allow, among other benefits, them to legally remain and work in the US," they said.
After the "waiver and plea hearing," Liu's lawyer Jim Wirken said his client seemed uneasy about the hearing's outcome.
Wirken had hoped Kays would agree at the hearing to a 24-point plea bargain deal negotiated by him and US Assistant Attorney Cynthia Cordes, who recommended a sentence of time served and deportation.
According to the Kansas City Star, Liu appeared in court on Friday in a prison-issued jumpsuit with her hands and feet shackled, unlike the hearing on Wednesday, in which she appeared unshackled and dressed in street clothes.
Wirken said he had requested that Liu be permitted to wear street clothes, but that Kays had decided that she be treated no differently from any other defendant in pre-trial detention, according to the paper.
Chang said the ministry felt "deeply grieved" that Liu had to wear a prison jumpsuit and be shackled.
"Liu is our director-general of a Taipei Economic and Cultural Office in the US. She should be accorded due respect," he said.
Liu's case has been characterized by the ministry as a personal incident rather than one in which the US government failed to treat a Taiwanese diplomat with due respect and to follow due process during its investigation into the allegations against Liu.
The shift coincidently came after Wirken's first meeting with Liu on Wednesday and followed discussions with ministry officials to devise strategies to settle the case.
Additional reporting by CNA
Comments will be moderated. Keep comments relevant to the article. Remarks containing abusive and obscene language, personal attacks of any kind or promotion will be removed and the user banned. Final decision will be at the discretion of the Taipei Times.