APEC envoy's talk raises concerns: Tsai
Comments to Chinese leaders by the nation's APEC envoy, as well as interference by Beijing in the January elections, raise serious concerns about the China policy of President Ma Ying-jeou's (馬英九) administration and the democratic nature of the elections, the Democratic Progressive Party (DPP) said yesterday.
It is lamentable that former vice president Lien Chan (連戰), Ma's envoy to the APEC summit, failed to mention the president's "10 guarantees" when he discussed the idea of signing a cross-strait peace agreement during a meeting with Chinese President Hu Jintao (胡錦濤), DPP Chairperson Tsai Ing-wen (蔡英文) said in Sinjhuang (新莊), New Taipei City (新北市), yesterday morning.
Lien put forward the issue of signing a cross-strait peace agreement during his 55-minute meeting with Hu in Honolulu, Hawaii, on Saturday, prior to the main APEC leaders' summit, saying he hoped both sides "could start to exchange views on the peace issue."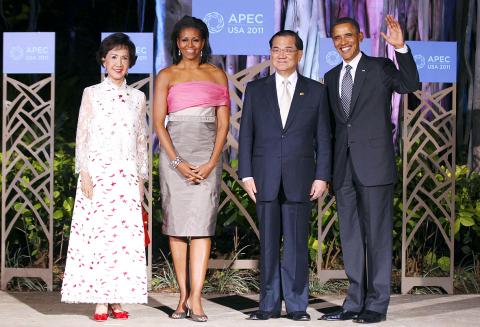 Taiwan's APEC envoy Lien Chan, second right, and his wife, Lien Fang-yu, left, pose with US President Barack Obama, right, and first lady Michelle Obama as they arrive at the opening dinner at the APEC summit in Honolulu, Hawaii, on Saturday.
Photo: Reuters
Ma's erratic stance on the peace initiative has raised concerns about his administration's stability, -credibility and its policymaking process, Tsai, the DPP's presidential candidate, said one day after the party criticized Lien and the Chinese Nationalist Party (KMT) for "starting to negotiate with the Chinese Communist Party on the peace accord behind closed doors."
Elaborating on comments she made on Saturday, when she said China has acted as a "helping hand" for the KMT in the presidential election, Tsai said that "anyone who has been watching this election closely would reach the conclusion" that China has been assisting the KMT "in a lot of ways."
Tsai called on Beijing to stay neutral and to stop interfering in Taiwan's elections.
DPP spokesperson Chen Chi-mai (陳其邁) listed five ways in which China has interfered with the election in a press release.
One was by sending -provincial-level purchasing delegations to boost Ma's economic performance, Chen said.
Another was the use of incentives, he said, including the offer of cheap airline tickets so Taiwanese businesspeople could return to Taiwan for the elections, Chen said.
"Such tactics are aimed at only one thing, helping the KMT win the presidential and legislative elections," Chen said.
Discussing the possible peace agreement yesterday, Presidential Office spokesperson Fan Chiang Tai-chi (范姜泰基) said Ma had already said that current conditions were not right for discussions on a cross-strait peace pact, adding that there was little chance that any peace agreement would be promoted in the next four years.
"If the conditions are right, we will put the matter to a referendum," he said.
Additional reporting by CNA
Comments will be moderated. Keep comments relevant to the article. Remarks containing abusive and obscene language, personal attacks of any kind or promotion will be removed and the user banned. Final decision will be at the discretion of the Taipei Times.