Resilient Taiwan drop All-Stars series finale 6-4
Wowing the 16,000-plus fans in the stands with a pair of home runs, the MLB All-Stars outfought a resilient Taiwan national squad to run away with a 6-4 win in Game 5 of the 2011 Taiwan All-Star Series at Chengcing Lake Baseball Stadium in Greater Kaohsiung yesterday afternoon, sweeping the friendly exhibition series in grand fashion.
Robinson Cano (New York Yankees) showed off his expertise in the long-ball category with a solo shot off Taiwan reliever Yang Yao-hsun (陽耀勳) in the top of the third that put the visitors ahead 4-3. Ty Wigginton (Colorado Rockies) followed with a pinch-hit blast off Taiwan's Lin Yu-ching (林煜清) to lead off the seventh that provided an insurance run for the Big Leaguers.
The highly anticipated showdown between Jeremy Guthrie (Baltimore Orioles) and Taiwan's very own Major Leaguer, Wang Chien-ming (王建民), of the Washington Nationals did not live up to its hype, as both starters failed to shut down the opposing hitters by serving up three runs apiece through the first two innings of play.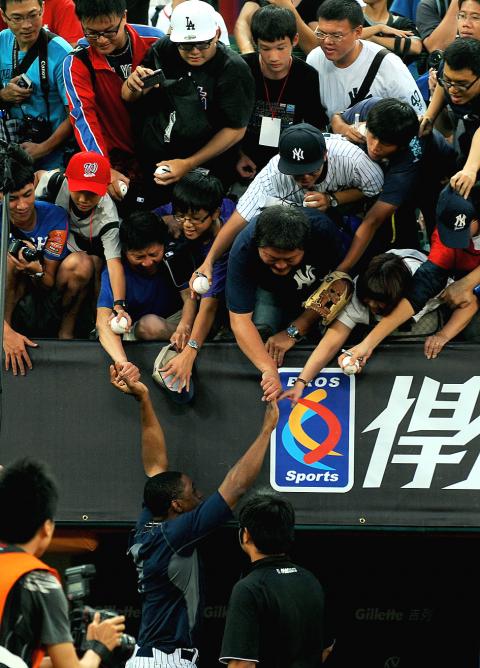 Curtis Granderson (All-Stars) greets fans in Greater Kaohsiung yesterday.
Photo: Lin Cheng-kung, Taipei Times
After surviving a shaky first that saw him give up a walk and a single without surrendering any runs, Wang found himself in trouble in a three-run second by giving up two doubles and a single even though two of the three runs were unearned.
However, Guthrie returned the favor by allowing a two-run double to Taiwan's Pan Chih-fang (潘志芳) before an RBI groundout by Lin Che-hsuan (林哲瑄) tied the game at 3-all in the bottom of the second.
That set up Cano's homer, which gave the All-Stars a 4-3 lead that they added to with a run in the fifth inning when Logan Morrison's (Florida Marlins) double off reliever Cheng Wen-hao (鄭文豪) drove in Ryan Roberts (Arizona Diamonbacks) all the way from first to make it 5-3.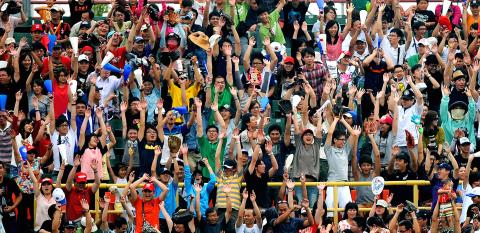 Baseball fans cheer for their side at the final game between the MLB All-Stars and Taiwan's national team in Greater Kaohsiung yesterday. The MLB All-Stars took the last game of the series 6-4 to end the 2011 Taiwan All-Star Series unbeaten.
Photo: Lin Cheng-kung, Taipei Times
Even though Taiwan's hitters plated a run in the bottom of that frame against reliever LaTroy Hawkins (Milwaukee Brewers) to again reduce the deficit to one run, that was as close as they managed against the stingy bullpen work of Rich Thompson (Los Angeles Angels), Jose Veras (Pittsburgh Pirates) and Mark Melancon (Houston Astros), who combined for four shutout innings of two-hit relief to deny Taiwan any chance for a rally.
Thompson earned his second win of the series with two innings of shutout ball. He allowed a hit, while fanning four and walking one to beat counterpart Yang, who gave the Major Leaguers the lead for good on the homer to Cano.
"It's been a very positive influence for baseball in Taiwan," Major League skipper Bruce Bochy (San Francisco Giants) said after the game.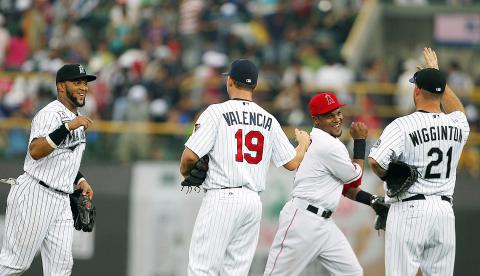 Players from the MLB All-Stars, from left, Emilio Bonifacio, Danny Valencia, Erick Aybar and Ty Wigginton, celebrate after defeating the Taiwan national team in Greater Kaohsiung yesterday.
Photo: Reuters
His troops came in and showed why the Major League is still the premier stage where only the elite can compete and thrive in the game of baseball.
Comments will be moderated. Keep comments relevant to the article. Remarks containing abusive and obscene language, personal attacks of any kind or promotion will be removed and the user banned. Final decision will be at the discretion of the Taipei Times.