DPP's Tsai Ing-wen opens national campaign base
OLD BATTLEGROUND: The presidential candidate chose New Taipei City to base her headquarters, as she is familiar with the area after running for mayor there last November
Democratic Progressive Party (DPP) Chairperson Tsai Ing-wen (蔡英文) yesterday launched her national presidential campaign headquarters in Banciao District (板橋), New Taipei City (新北市), and pledged to make Taiwan a country of fairness and justice if she were elected in January.
"Taiwan will not be a country comprising two worlds, because the next president will stand on the same side with the underprivileged and improve the quality of people's daily lives," Tsai told a crowd of about 30,000.
"And I believe that president will be me," she said, in the same municipality where she was defeated by a narrow margin in the special municipality mayoral elections in November last year.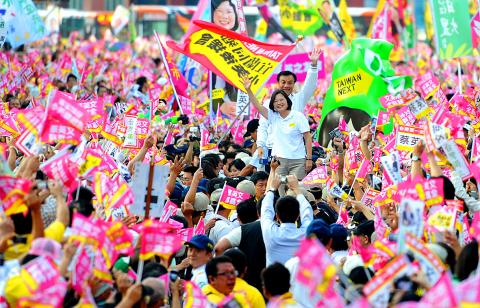 Democratic Progressive Party presidential candidate Tsai Ing-wen, center, and running mate Su Jia-chyuan, behind Tsai, wave to supporters attending the opening of their national campaign headquarters in Banciao District, New Taipei City, yesterday.
Photo: Lo Pei-der, Taipei Times
Tsai's campaign team chose New Taipei City rather than Taipei as the location for its national headquarters because of Tsai's familiarity with the place and because the city has the most voters among the nation's local administrative regions.
The 55-year-old, who garnered 1,049,000 votes and lost by 5.3 percent to New Taipei City Mayor Eric Chu (朱立倫), said she intended to secure more votes this time.
Social justice and the well-being of the public, rather than cross-strait issues, should be the central theme of the presidential election, Tsai said.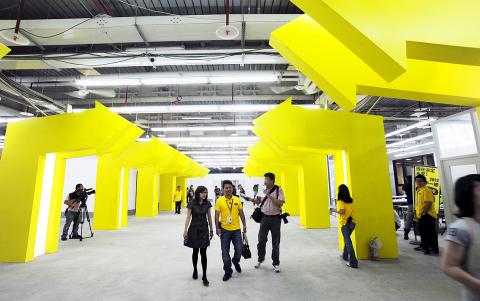 Visitors walk through Democratic Progressive Party Chairperson Tsai Ing-wen's national presidential campaign headquarters in Banciao District, New Taipei City, which were open to the public and the press on its opening day yesterday.
Photo: Lo Pei-der, Taipei Times
"The DPP will always stand on the side of Taiwanese and it understands how to improve people's lives better than the Chinese Nationalist Party [KMT]," she said, adding that President Ma Ying-jeou's (馬英九) biggest problem was that "he doesn't know how to solve people's problems."
"His administration has distanced itself from Taiwanese when people are concerned about their future more than ever," she said.
The headquarters occupies two floors in a building in downtown Banciao, with a total floor area of 500 ping (1,653m2).
With a white, yellow and pink color scheme, the headquarters contains office space, a reception area, conference rooms, a media working room, a call center and a shop selling Tsai's campaign merchandise.
"We wanted this headquarters to be as 'green' as it could be," DPP spokesperson Chuang Ruei-hsiung (莊瑞雄) said, explaining that the design was based on simplicity and adding that the office would not be air-conditioned.
Furniture and equipment are either rented or donations from supporters, he said.
Comments will be moderated. Keep comments relevant to the article. Remarks containing abusive and obscene language, personal attacks of any kind or promotion will be removed and the user banned. Final decision will be at the discretion of the Taipei Times.