Hundreds march in 'Occupy Taipei' demonstration
Scuffles broke out between "Occupy Taipei" demonstrators, the police and Taipei 101 security staff when hundreds of demonstrators rushed into the Taipei 101 shopping mall chanting anti-capitalist slogans, as part of a globally coordinated movement against capitalism inspired by the "Occupy Wall Street" demonstration that started in New York City last month.
"No to capitalism! We are the 99 percent," demonstrators chanted, while also singing the Workers' Fight Song as they marched through the ground floor of the shopping mall in the country's tallest building.
Before entering the building, demonstrators circled it, sparking minor physical and verbal clashes with security staff and the police who tried — unsuccessfully — to stop the protesters from entering.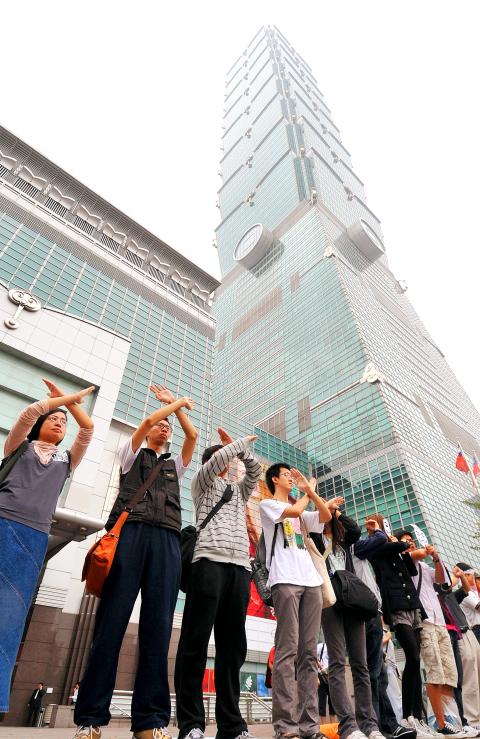 A group of demonstrators protest against Taiwan's widening income disparity at Taipei 101 yesterday.
Photo: Chien Jung-fong, Taipei Times
After their brief "march" inside the building, the demonstrators lay down and blocked the entrance of the building. Initiated by Internet users on Facebook, several hundred people showed up at the "Occupy Taipei" demonstration.
The protesters said Taipei 101 was chosen as the target because it is a landmark symbol of capitalism in Taiwan. Participants were mostly students, but also included office workers and unemployed and retired people.
National Taiwan University student Ho Shiang-kai (何翔凱) and friends edited and printed their own magazine, titled Socialist, that they sold during the demonstration, saying they hoped to spread different views.
"I'm glad to see a demonstration in Taipei that has no specific goals, but is directly targeting -capitalism and the financial system in the country," he said, adding that the capitalist system is making the poor — especially young college graduates — work hard, while they don't get much in return, and the wealthy make more money through investment activities.
"There are too many problems with capitalism, but I think, at least, the first step to creating a fairer society is to tax peoples' income through investment activities," he said. "It's not fair that workers have to pay taxes on their hard-earned money, but the wealthy are exempt from taxation on whatever they earn from the money game."
Liang Sheng-yueh (梁聖岳), a high school student from Hsinchu City who traveled to Taipei to take part in the demonstration, was also concerned about the widening wealth gap.
"The economic growth figures may look good on paper, but we are not feeling it because all the money is going into the hands of capitalists," Liang said. "I don't expect instant change to happen, but I hope that this demonstration can at least be a start for change in the future."
A 63-year-old owner of a home design firm surnamed Shen (沈) said he was happy to see so many young people standing up against social inequality. However, he said he had expected that more people would have attended the protest.
A young woman, who only wished to be known as Zoe and was among the first group of people to initiate the event, said she was surprised to see so many people coming out yesterday.
"This shows that a lot of people are dissatisfied with current social conditions," she said. "I wouldn't say whether today's [yesterday's] action was a success or a failure, because this is only the start."
Comments will be moderated. Keep comments relevant to the article. Remarks containing abusive and obscene language, personal attacks of any kind or promotion will be removed and the user banned. Final decision will be at the discretion of the Taipei Times.