Ma apologizes for his failures
THE HARDEST WORD: In a TV interview, the president said the global recession had prevented him from wholly accomplishing the '6-3-3' goals of his 2008 campaign
President Ma Ying-jeou (馬英九) yesterday apologized for failing to carry out major policies, including the "6-3-3" policy he laid out in his 2008 election campaign, but called on the public to support his re-election bid as he defended his government's achievements in "reviving the economy" and "improving cross-strait relations."
In an interview with TVBS, Ma blamed the failure to fully accomplish the "6-3-3" policy on the global recession and promised to work harder to revitalize the economy if re-elected in January.
The "6-3-3" policy refers to Ma's promise to attain an economic growth rate of 6 percent, bring the unemployment rate to less than 3 percent and increase per capita income to US$30,000 by next year.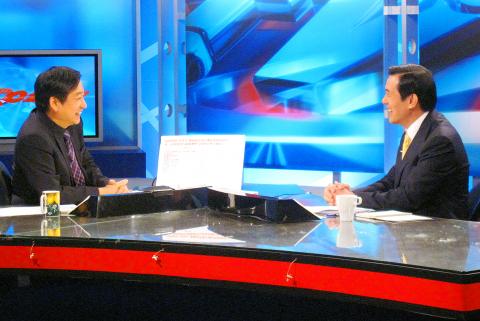 President Ma Ying-jeou, right, talks to TVBS talk show host Lee Tao during an interview yesterday in which Ma expressed his views on the future of Taiwan's economy.
Photo: CNA
"There are goals we failed to achieve, such as the unemployment rate, which is 4.45 percent now. I apologize for failing to achieve the goal and I understand that public frustration will be reflected in my approval rating," Ma said. "However, we managed to revitalize the economy amid the global financial crisis … give me four more years and I will do better."
Asked to list reasons why voters should support his re-election, Ma said that he had integrity, he had not abused his powers and he had made great efforts to revitalize the economy while improving cross-strait relations.
He also defended his respect for judicial independence as a "responsible national leader," insisting that he maintained a neutral stance on individual cases, including the corruption cases involving former president Chen Shui-bian (陳水扁) and Chen's family.
The former president was -sentenced on -Thursday to 18 years in prison by the Taiwan High Court for taking bribes connected to a series of bank mergers during his eight years in power. His wife, Wu Shu-jen (吳淑珍), was sentenced to 11 years and fined NT$102 million (US$13.36 million) in the same case and stripped of her civil rights for eight years.
The ruling overturned a ruling by the Taipei District Court, which cleared Chen Shui-bian and his wife of all charges over the case.
Ma said the different rulings sparked disputes in both the pan-blue and pan-green camps, but he would insist on holding a neutral position on the matter despite accusations about alleged government interference in Chen's cases.
In response to a question about People First Party (PFP) Chairman James Soong's (宋楚瑜) presidential aspirations, Ma, who doubles as Chinese Nationalist Party (KMT) chairman, said he respected Soong's decision and that the KMT would continue to seek to co-operate with its pan-blue ally.
"There are personal reasons and political goals for the PFP behind Chairman Soong's presidential dream and I respect that … The KMT and the PFP have cooperated on numerous occasions and we hope the two parties can continue to cooperate," he said.
Soong said he would join the presidential race and started a presidential petition last month amid fears from the pan-blue camp that his participation could split the pan-blue vote.
Comments will be moderated. Keep comments relevant to the article. Remarks containing abusive and obscene language, personal attacks of any kind or promotion will be removed and the user banned. Final decision will be at the discretion of the Taipei Times.