Taiwan, China agree to sign nuclear agreement
EMERGENCY MEASURES: An agreement on Taiwanese businesspeople's safety in China will not be inked this year, but nuclear safety is scheduled to be addressed
Taiwan and China will not sign an agreement to help protect Taiwanese businesspeople and their investments in China in the next round of formal talks between the two countries scheduled for Oct. 19 to 21 in China.
However, they have agreed to cooperate more closely on nuclear power safety and disaster preparedness and are scheduled to sign an agreement regarding this at the talks.
"The two sides need more time for negotiations and will not be able to sign the [investment protection] agreement at the talks," Taiwan's Straits Exchange Foundation (SEF) said in a statement yesterday.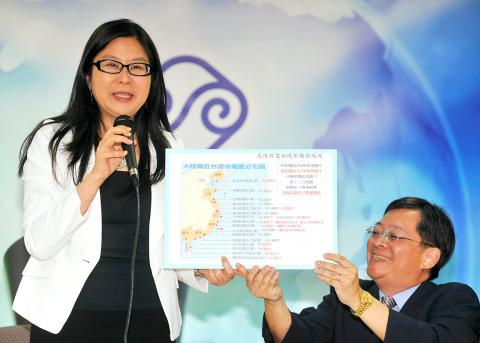 Mainland Affairs Council Minister Lai Shin-yuan, left, and the Atomic Energy Council's Department of Planning Director David Yao yesterday hold up a map of China's nuclear reactors at a press conference in Taipei.
Photo: CNA
China's Taiwan Affairs Office spokesman Yang Yi (楊毅) also confirmed to Chinese media yesterday that no protection agreement would be signed.
Negotiations on the pact have been deadlocked for months over a number of issues, including how disputes should be arbitrated.
Taiwan has been a major investor in China in recent years, providing more than US$100 billion in financing, according to some estimates, as well as crucial technological know-how.
Taiwan has pushed for an international arbitration mechanism through the International Chamber of Commerce, while China has balked at this because it fears that by allowing such a mechanism it would tacitly acknowledge Taiwan's sovereignty.
Other issues include ways of protecting Taiwanese businesspeople's personal safety, as both sides have failed to settle on a 24-hour notification system.
Taiwan wants China to inform family members and government organizations in Taiwan of any detention of Taiwanese businesspeople within 24 hours, but China argues that its vast territory would make notification within that time frame difficult.
While the investment pact will not be on the agenda at the upcoming round of talks, the two sides have in the wake of Japan's atomic crisis this year agreed to cooperate more closely on nuclear power safety and disaster preparedness. They are scheduled to sign an agreement in that regard at the talks.
Under the deal, Taiwan's Atomic Energy Council (AEC) and its Chinese counterpart would alert each other if nuclear disaster struck and cooperate to limit the resulting damage, Taipei officials said.
Such a deal is needed because the majority of China's nuclear facilities are on its southeast coast, only 100km to 200km from Taiwan, officials said.
China has previously announced plans for more than 20 new plants.
The AEC yesterday did not divulge any other details about the agreement, saying only that the process of notification and cooperation in various areas would be decided before the signing. Further discussion is required on some aspects of the agreement such as nuclear safety regulations, technology and exchanges, it added.
AEC Chairman Tsai Chuen-horng (蔡春鴻) said earlier in the day at a legislative hearing that Taiwan's experience in cooperating with Japan and the US has proved to be mutually beneficial, so hopefully the agreement that is set to be signed in the coming cross-strait talks would also be beneficial to both Taiwan and China, adding: "The agreement will be negotiated on an equal level, reciprocal and with dignity."
The nuclear pact will be important to Taiwanese businesspeople in China, he added, saying there are many nuclear power plants in China's coastal areas, where a large percentage of Taiwanese entrepreneurs are based.
The council would be able to give them first-hand information and inform residents there of contingency plans in the event of emergencies, he said.
Comments will be moderated. Keep comments relevant to the article. Remarks containing abusive and obscene language, personal attacks of any kind or promotion will be removed and the user banned. Final decision will be at the discretion of the Taipei Times.