DPP urges clarification of King's comments
OUT OF PLACE: The DPP said it was the place of the president to announce major cross-strait policies, not his 'spoiled' campaign manager King Pu-tsung
A war of words over a remark by President Ma Ying-jeou's (馬英九) executive campaign director King Pu-tsung (金溥聰) in the US continued yesterday, with the Democratic Progressive Party (DPP) requesting that the Ma camp provide clear answers on the matter.
"We demand that President Ma publicly explain who King speaks for and why a campaign manager could speak on major national security issues," DPP spokesman Liang Wen-jie (梁文傑) said, referring to King's comments on cross-strait relations in the US.
King — who is in the middle of a 12-day US trip — when asked whether Ma plans to visit China if he wins a second term in January's presidential election said in an interview with Hong Kong-based Phoenix Satellite Television in Washington that "there is a possibility."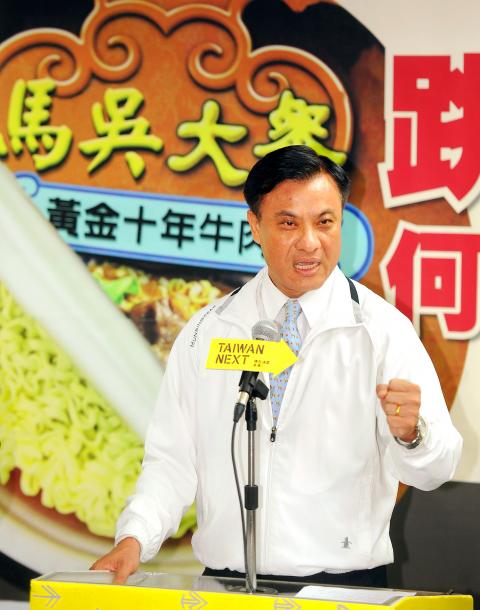 Democratic Progressive Party vice-presidential candidate Su Jia-chyuan, speaking at the party's campaign headquarters in Taipei -yesterday, accuses President Ma Ying-jeou of not fulfilling his campaign pledges.
Photo: Liao Chen-huei, Taipei Times
His comments prompted a strong rebuke from DPP Chairperson Tsai Ing-wen (蔡英文), who accused King of breaching government protocol by discussing cross-strait policies, which she said should be announced only by the president.
King also talked about a possible cross-strait peace accord in a press conference in Washington, saying that "if it serves Taiwan's interests, why not?"
"How can a campaign manager represent the president and speak on major policy on foreign soil?" Liang asked.
King's subsequent explanation that the comments were only his "personal observations" was not acceptable because the issues are highly sensitive and could cause incorrect expectations from the Chinese, Liang said.
Several Taiwanese academics have been contacted by their Chinese counterparts, who wanted to know whether King's comments represent Taiwan's future China policy, he said.
Ma has spoiled King for too long simply because of their relationship, DPP spokesman Lin Chun-hsien (林俊憲) said, adding that Ma should clarify King's comments as president.
Through such comments during his US visit, King has successfully diverted the media attention away from DPP presidential candidate Tsai, DPP Legislator Huang Wei-cher (黃偉哲) said.
Tsai arrived in Washington yesterday for a nine-day visit. Her arrival was delayed because her trans-Pacific flight had to return to Japan about 90 minutes after takeoff when a passenger suffered a heart attack.
Huang said King's comments were a breach of protocol and comments on major policy should have been made by government spokespeople, not a campaign manager who holds no public position. King does not even hold an official position in the Chinese Nationalist Party (KMT), Huang said.
In a statement, the Presidential Office said Ma had no plans to visit China, nor engage in political negotiations with China because the "time is not ripe."
"Tackling the easier and more urgent issues before moving on to more difficult and less pressing ones remains the principle for cross-strait negotiations. Economic issues precede political ones," the statement said.
Presidential Office Spokesman Fan Chiang Tai-chi (范姜泰基) said there was no urgency for political negotiations across the Taiwan Strait and that the Ma administration did not set a timetable for any political dialogue with China.
"President Ma also made it clear that he would only make official foreign visits, regardless of the purpose of the visits, as the Republic of China president," he said.
At a different setting yesterday, Lo Chih-chiang (羅智強), the deputy executive director of Ma's campaign office, defended King's authority to discuss the development of cross-strait relations, urging the DPP to refrain from manipulating the issue for election purposes.
"As a KMT member and a former KMT secretary-general, there's nothing wrong with Mr King discussing the possibility of cross-strait developments, as seeking to sign a cross-strait peace agreement with China is a goal in the KMT's regulations," he said.
Lo accused the DPP and Tsai of "illogically criticizing" King over his comments on cross-strait policies and challenged Tsai to "restrain" former DPP chairmen Frank Hsieh (謝長廷) and Su Tseng-chang (蘇貞昌), two DPP campaign officials who often comment on cross-strait policies and national affairs.
Playing a recording of King's interview with Phoenix Television at a press conference, Lo backed up King's argument that the TV station quoted King "out of context."
"The DPP challenged King's authority in commenting on cross-strait issues as a distraction to prevent its own cross-strait policies from being examined," he said.
Meanwhile, DPP vice-presidential candidate Su Jia-chyuan (蘇嘉全) described Ma as a "bounced-check president" and a "copycat president" during a press conference in Taipei.
Ma made his famous "6-3-3" campaign pledge in 2008, which means his administration would achieve annual GDP growth of 6 percent, an unemployment rate of less than 3 percent and a per capita income of US$30,000.
"None of those has been achieved," Su Jia-chyuan said.
One more pledge Ma has not lived up was his promise to donate 50 percent of his salary if his administration failed in achieving the "6-3-3" goal, a promise Ma delivered in a presidential debate, Tsai's running mate added.
As the most powerful president in recent Taiwanese memory, with a majority in the legislature, it would be difficult for Ma to find excuses for his failures, Su Jia-chyuan said.
Ma's "incompetence" does not end there, DPP legislative caucus whip Ker Chien-ming (柯建銘) said, as the president so far "has tried to copy almost everything the DPP has done."
For example, he said, Ma's campaign decided to "shadow" Tsai's US visit with an almost identical itinerary and it is ready to unveil its vision and policy for a "golden decade," which will likely look very similar to the DPP's 10-year policy guidelines.
"Electing Ma was a historical mistake and it is time for history to correct itself," Ker said.
Additional reporting by CNA
Comments will be moderated. Keep comments relevant to the article. Remarks containing abusive and obscene language, personal attacks of any kind or promotion will be removed and the user banned. Final decision will be at the discretion of the Taipei Times.