Nation braces for Typhoon Nanmadol
LESSONS FROM MORAKOT: More than 3,000 residents have been evacuated and 35,000 military personnel mobilized to provide disaster relief assistance if needed
More than 3,000 residents in southern and eastern Taiwan were forced to evacuate early yesterday as Typhoon Nanmadol approached after battering the northern Philippines.
The storm, packing maximum sustained winds of 137kph and gusts of up to 173kph, was expected to make landfall in either Pingtung or Taitung county this afternoon, forecasters said.
The Central Emergency Operations Center said Hualien, Pingtung, Yilan and Taitung counties had issued evacuation orders in the morning. Both Hualien and Pingtung counties needed to evacuate more than 1,000 residents.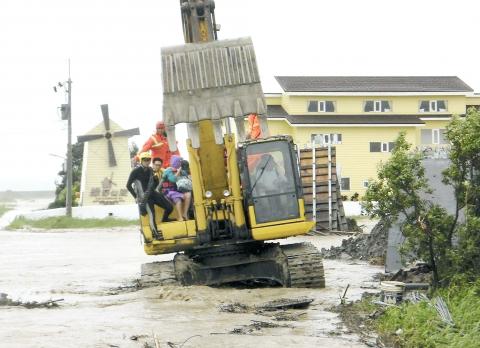 Residents are evacuated on an excavator in Hengchun Township, Pingtung County, as Typhoon Nanmadol approached yesterday.
Photo: Reuters
Nantou and Chiayi counties also evacuated residents in mountainous areas in the afternoon.
The Soil and Water Conservation Bureau said that 318 -mudslide-prone rivers in Yilan, Hualien, Taitung, Pingtung and Greater Kaohsiung were on yellow alert.
President Ma Ying-jeou (馬英九) urged government agencies to be more vigilant in taking precautions against the typhoon.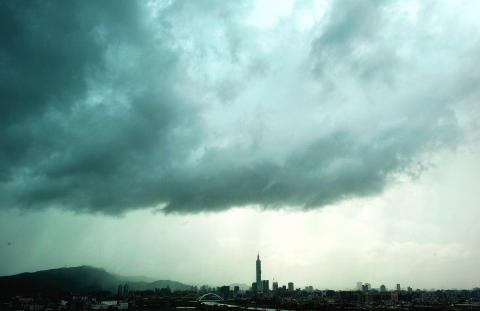 Dark clouds hang over the Taipei City skyline yesterday as Typhoon Nanmadol approaches Taiwan.
Photo: Chine Jung-fong, Taipei Times
The government must remain on guard because judging from past experience, a slow-moving typhoon is likely to trigger more serious damage and casualties, Ma said at a briefing at the Central Emergency Operation Center, which is on watch for the typhoon.
With the medium-strength typhoon estimated to bring rainfall of up to 1,500mm, Ma said the government should make sufficient preparations, such as evacuating residents in dangerous areas and deploying military personnel for rescue work if a disaster occurs.
The Ministry of National Defense mobilized more than 35,000 officers and soldiers to be ready to pitch in with rescue, evacuation and disaster-prevention assistance.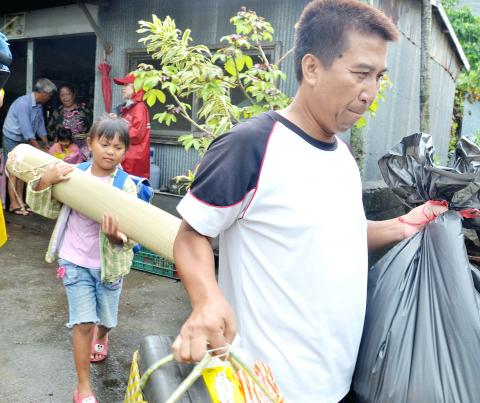 Residents in the Taitung area evacuate their home yesterday in preparation for the onslaught of Typhoon Nanmadol. The landslide alert was raised to yellow for 63 rivers and creeks and the Taitung County Government's disaster response center announced that residents of 12 townships and 39 villages should evacuate their homes by 6pm yesterday.
Photo: CNA
A total of 35,197 uniformed men and women were being deployed in areas forecast to be hit hardest by Nanmadol.
The soldiers will be equipped with portable power generators, water pumps, amphibious assault vehicles, tanks, aircraft and boats and rafts to help people affected by the storm, the ministry said.
The first 500 soldiers were dispatched to Nantou, Taitung, Hualien, Chiayi and Pingtung counties, and Greater Kaohsiung, the ministry said.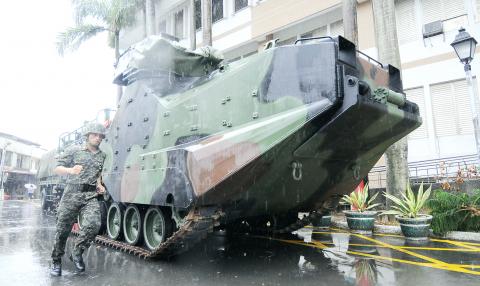 An armored vehicle is seen in Yilan County yesterday as the military was placed on standby so they would be ready to assist in rescue, evacuation and disaster prevention operations as Typhoon Nanmadol approached Taiwan.
Photo: Lo Pei-der, Taipei Times
In all, 160 vehicles were deployed at 42 locations in the south to move people out of vulnerable areas.
The ministry said it had dispatched two C-130 transport aircraft to rescue 140 stranded tourists on the outlying island of Matsu. All were safely returned to Taiwan proper.
While Nanmadol has yet to make landfall, the typhoon's circumfluence brought substantial amounts of rain to eastern Taiwan.
A man walks past boats docked in a harbor in Nanfangao in Yilan County yesterday. Taiwan has issued a warning to residents of its southern and eastern regions as Typhoon Nanmadol approaches after hitting the northern Philippines.
Photo: Pichi Chuang, Reuters
As of 7:40pm, statistics from the Central Weather Bureau showed that Sioulin Township (秀林) in Hualien had received the highest precipitation so far at 319mm. It was followed by Wanrong Township (萬榮) in Hualien and Hengchun Township (恆春) in Pingtung, with accumulated rainfall of 308mm and 306.5mm respectively.
The bureau estimated that accumulated rainfall in mountainous areas in Hualien could surpass 1,500mm. Rainfall in Yilan and Pingtung could also reach 1,100mm and 1,200mm respectively, it said.
Fearing heavy rain could trigger landslides, several government agencies implemented preventive measures. The Directorate-General of Highways closed the entire Suhua Highway at 6pm because the area is prone to landslides during typhoon season. It also closed the section between Dayuling (大禹嶺) and Taroko on the Central Cross-Island Highway.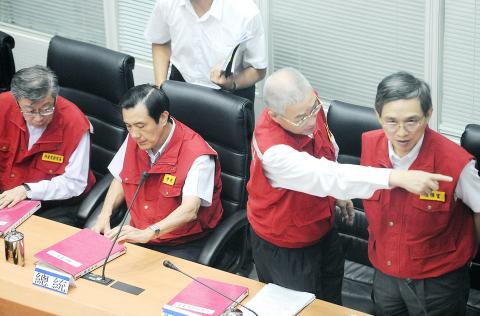 President Ma Ying-jeou, second left, Premier Wu Den-yih, second right, and Minister of Economic Affairs Shih Yen-shiang, right, attend a meeting at the Central Emergency Operations Center in Taipei yesterday.
Photo: Liao Chen-huei, Taipei Times
The Taiwan Railway Administration suspended services on the South Link Line, with the last train departing from Taitung at 5:40pm. It also stopped train services between Hualien and Taitung after 8:58pm. The Alishan Forest Park was also closed yesterday morning.
The Forestry Bureau said all its national forest parks would also be closed because of the typhoon.
The Hualien, Taitung, Pingtung, Yilan and Penghu county governments, as well as Greater Kaohsiung and Greater Tainan have announced that government offices and schools will be closed today.
Keelung, Taipei, New Taipei City (新北市), Taoyuan County, Greater Taichung, Hsinchu City, Hsinchu County, Miaoli County, Changhua County and Nantou County have also canceled school today, but offices will remain open. Schools and offices in Lienchiang County will also be open today.
Bureau Forecaster Wu Wan-hua (伍婉華) said Nanmadol could make landfall somewhere between Taitung and Hengchun early in the morning today, but it could also slide through coastal areas in the south.
She said that the entire country would be affected by the storm today, regardless of which direction the typhoon moves.
Wu said the typhoon would move to the Taiwan Strait between Greater Taichung and ­Chiayi after it crosses the Central Mountain Range. Rainfall in southwestern regions is expected to increase during that period.
As of 7:15pm, the center of the typhoon was located 60km off the southeast coast of ­Oluanpi. The radius of the storm reached 180km. It was moving northwest at a speed of 8kph.
People with scheduled flights were advised to contact their airlines as some domestic and international flights could be canceled today.
A Singapore-bound flight and 22 domestic services were canceled yesterday, while shipping services between Taiwan and several offshore islands was interrupted.
As the typhoon dumped water on the nation, Water Resources Agency (WRA) Deputy Director Joses Wu (吳約西) said the A-Kung-Ten Reservoir (阿公店水庫) and the Mutan Reservoir (牡丹水庫) were already discharging water.
The agency warned residents in the coastal and lowland areas to the southwest to be on the lookout for flooding.
Publication Notes
Typhoon day measures
Work as normal, schools closed Taipei, New Taipei City, Taoyuan, Keelung, Hsinchu County, Chiayi County, Changhua County, Nantou County and Greater Taichung. Offices and schools closed Greater Tainan, Greater Kaohsiung, Pingtung County, Yilan County, Hualien County and Taitung County.
Comments will be moderated. Keep comments relevant to the article. Remarks containing abusive and obscene language, personal attacks of any kind or promotion will be removed and the user banned. Final decision will be at the discretion of the Taipei Times.