Rights groups protest against expropriation
Farming rights advocacy groups yesterday came out in support of the nation's farmers as they face increasing land expropriation, with two groups also announcing plans for an overnight protest next week.
"The past decade has seen tens of thousands of good farms taken over [for development projects], and farmlands continue to disappear," alliance president Liu Ching-chang (劉慶昌) told a news conference in Taipei. "I wonder if our children and grandchildren would simply stop eating rice."
Liu is a farmer from Erchongpu (二重埔) in Jhudong Township (竹東), Hsinchu County, whose farmland is also facing expropriation as the government moves to expand Hsinchu Science Park.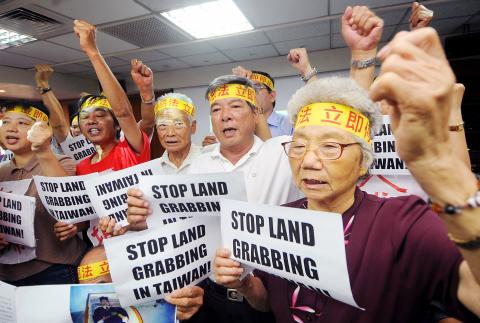 Farmers representing 12 local self-help associations in Taoyuan, Miaoli, Taichung, Changhua and other parts of the country hold signs protesting government land seizures at a press conference in Taipei yesterday.
Photo: Liao Chen-huei, Taipei Times
Liu said that government officials — including President Ma Ying-jeou (馬英九), Premier Wu Den-yih (吳敦義) and Minister of the Interior Jiang Yi-huah (江宜樺) —had promised farmers last year to revise the Land Expropriation Act (土地徵收條例), but "expropriation has continued everywhere."
"If the government is sincere about its promise, it should halt all ongoing expropriations until the law is amended," Liu said.
Liu and other farmers' rights advocates are not alone in their plea for a halt to forcible land takeover, as individuals and organizations from various countries voiced their support either by showing up in person at the news conference or by signing a petition.
Alex Kawakami, a spokesman for Brazil's Movimento dos Trabalhadores Rurais sem Terra (Landless Farmers' Movement, MST) who was present at the press conference, said that a global drive to develop biofuel has led to the destruction of the Amazon rainforest's ecological diversity and regular farming activity as large tracts of land were cleared for corn, soybean or sugarcane plantation.
"As a result, farmers are making less making less money, the unemployment rate has gone up, and [farmers'] lives have been greatly affected," Kawakami said.
Aside from the MST, several other organizations or individuals, including Vandana Shiva from India's Navdanya Foundation, Focus on Global South and the Grain, had signed a petition to show their support for farmers in Taiwan.
The Farming Villages Defense Alliance and the Taiwan Rural Front also announced that more than 1,000 farmers from 12 farming communities facing forced land expropriation would stage an overnight rally to voice their discontent on Ketagalan Boulevard in front of the Presidential Office in Taipei starting on the evening of July 16.
In related news, controversy over the government's public grain procurement policy came under spotlight this week when an elderly farmer in Chiayi County allegedly committed suicide because of anxiety about lower prices and the blight that struck his paddy field this year.
Visiting the farmer's family on Tuesday, Chiayi County Commissioner Chang Hwa-kuan (張花冠) criticized the government's food policy, saying that the timing was bad, that it lacked supporting measures and that it had failed to benefit farmers.
Since the government raised grain procurement prices by NT$3 per kilogram in April — when farmers had already run out of stock — grain merchants, rather than farmers, have been the beneficiaries of the policy, Chang said.
An abundant harvest during the year's first harvest season prompted some grain merchants to lower procurement prices, forcing farmers to sell their produce cheaply, she said.
Chen Jun-yan (陳俊言), section director of the southern region branch of the Agriculture and Food Agency, has said that the lower-than-expected procurement price was a result of the increased harvest, which rose by 10 to 20 percent this year.
This year's first harvest was also completed in a very short time, which has not happened in 20 years, Chen added.
Comments will be moderated. Keep comments relevant to the article. Remarks containing abusive and obscene language, personal attacks of any kind or promotion will be removed and the user banned. Final decision will be at the discretion of the Taipei Times.