Pro-independence groups voice their support for Lee
Pro-Taiwan independence groups yesterday expressed their belief in former president Lee Teng-hui's (李登輝) innocence after he was indicted on a charge of embezzling state funds, saying that President Ma Ying-jeou (馬英九) was behind the charge. The groups also said the indictment was politically motivated.
Justice has to be served in the indictment of Lee, scores of pro-Taiwan independence groups said at a joint press conference held in Taipei.
Lee was indicted on Thursday on charges of embezzling NT$7.8 million (US$271,000) in national security funds during his tenure in office from 1988 to 2000. The following day, Ma held an impromptu press conference denying accusations that the indictment of Lee was politically motivated.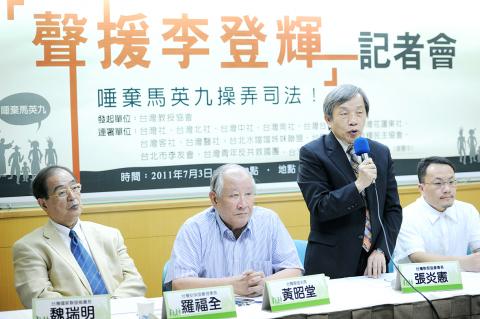 Chang Yen-hsien, president of the Taiwan Association of University Professors, yesterday speaks out in support of former president Lee Teng-hui, who was indicted for corruption last week.
Photo: Lo Pei-der, Taipei Times
Unconvinced, Taiwan Association of University Professors (TAUP) president Chang Yen-hsien (張炎憲) yesterday said it was hard to believe that Ma was not involved in the case.
Chang said that since Ma took office in 2008, opposition politicians, including former Chiayi County commissioner Chen Ming-wen (陳明文) and Yunlin County Commissioner Su Chih-fen (蘇治芬), have been falsely prosecuted.
Lee's support of Democratic Progressive Party (DPP) Chairperson and presidential candidate Tsai Ing-wen (蔡英文) and his proposed campaign of "voting against Ma to protect Taiwan" were the reasons why Ma decided to go after the former president, Chang said.
Examining the development of the case chronologically, "you will realize that this is a calculated maneuver," he said.
"Lee was indicted by the Supreme Prosecutors' Office Special Investigation Panel on June 30. Ma held a press conference the next day and said the case was by no means an act of political oppression. On July 2, Ma announced at the party congress of his Chinese Nationalist Party [KMT] that the main theme of his re-election campaign will be 'fighting corruption,'" Chang said.
Lo Fu-chen (羅福全), Taiwan's former representative to Japan, said Ma's recent comments on the case suggested that Taiwan's judicial system did not function independently.
"As the president, the top official of the administrative branch, Ma should not 'instruct' what should be done on any judicial case. If he does so, it's an infringement of the judicial system," Lo said.
Central Taiwan Society (台灣中社) secretary-general Lee Chuan-hsin (李川信) said the indictment did not make sense because "it was not necessary for Lee to steal money from the state fund for his own business because he doubled as KMT chairman at the time, and the KMT is one of the richest -parties in the world."
"Lee could have gotten the money from his own party [if he wanted to steal money], which would have been easier," Lee Chuan-hsin said.
Tsai on Friday called the timing of the former president's indictment "suspicious," adding that judicial cases "should not be used as tools to serve political interests or for election purposes."
Coming to Ma's defense, Lee Chia-fei (李佳霏), a spokeswoman for the president's campaign office, yesterday accused Tsai of -criticizing the judiciary through a political lens.
Lee Chia-fei said that when KMT members were indicted, the DPP did not accuse the courts of being selective in their rulings, and accuse Tsai of favoring a partisan judiciary in which "people from the pan-blue camp can be indicted and people from the pan-green camp cannot."
Additional reporting by Staff Writer
Comments will be moderated. Keep comments relevant to the article. Remarks containing abusive and obscene language, personal attacks of any kind or promotion will be removed and the user banned. Final decision will be at the discretion of the Taipei Times.