US lawmakers plan TRA enhancement
TAIWAN MATTERS: US Representative Ileana Ros-Lehtinen said Taiwan struck fear into the hearts of the 'old men' ruling China and that the US should sell new F-16s to Taipei
US Representative Ileana Ros-Lehtinen, chairman of the US House of Representatives' Foreign Affairs Committee, told a special hearing on Taiwan that she would soon introduce new legislation "to enhance the Taiwan Relations Act [TRA]."
While she gave no details, her intent is to boost US-Taiwanese relations and dramatically improve communications between Washington and Taipei.
She said Taiwan inspired all victims of Beijing's oppression and struck fear into the hearts of "the cynical old men who still rule Beijing."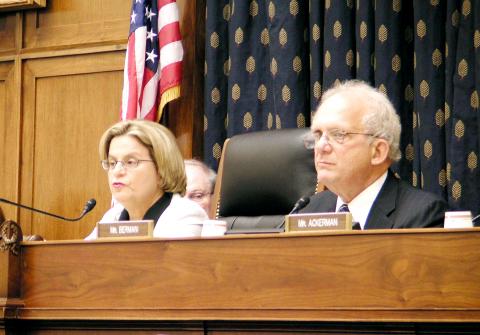 US Representative Ileana Ros-Lehtinen, left, Thursday told a special hearing on Taiwan that she would soon introduce new legislation to enhance the Taiwan Relations Act.
Photo: CNA
Ros-Lehtinen said the hearing, "Why Taiwan Matters," was especially timely and necessary because "it has come to my attention that there is a new spirit of appeasement in the air."
"Some in Washington policy circles are suggesting that the time has come to recognize the reality of a rising China and to cut our ties to Taiwan," she added. "This would be a terrible mistake which would have far-reaching ramifications about how the US treats its democratic allies — its friends."
Ros-Lehtinen said Taiwan needs the means to defend itself from threats and intimidation.
"Taiwan needs the next generation of F-16 fighters now in order to protect its skies," she said.
"There is the clear and present danger of sending Beijing the wrong signal. To avoid any misinterpretation about [US] congressional commitment to Taiwan's security and its survival, I will soon introduce legislation to enhance the Taiwan Relations Act," she added.
One of the four experts testifying at the hearing, Nancy Tucker of Georgetown University, might have given a hint in her testimony of what Ros-Lehtinen had in mind.
"Without changing a word of the TRA, Congress can make it more effective by refreshing its oversight commitment," Tucker said.
She said in the years soon after the TRA came into effect, the US Congress took an active role in monitoring implementation of the act, but that more recently members had become preoccupied with other issues and oversight had diminished.
Tucker said that the US Congress should be much more active in ensuring that the terms of the TRA are carried out, especially as they refer to Taiwan's defense.
"There is nothing inevitable about unification of Taiwan with China or about sustaining US-Taiwan ties," she said. "Taiwan continues to need the US as a counterweight to China's growing power and influence. Congress should more actively promote positive development of US-Taiwan relations."
All of those who testified supported the sale of advanced F-16C/D fighters to Taiwan and called for closer relations with Taipei.
June Teufel Dreyer of the -University of Miami said Chinese strategists viewed Taiwan as a stepping stone for reaching China's larger goals of controlling the region's sea lanes.
"To abandon a democratic country to an authoritarian government with an abysmal human rights record is a repudiation of all that the US stands for," she said. "In its zeal to improve relations with China, the administration of President Ma Ying-jeou (馬英九) has sought to avoid taking actions that will antagonize Beijing. Many, if not most of these, have come at the cost of erosions in Taiwan's sovereignty."
Dreyer made four recommendations: The immediate sale of the F-16C/Ds to Taiwan; a complete review of Taiwan's legitimate defense needs; removal of the restrictions on contacts between high-ranking US and Taiwanese officials; and a strong affirmation of the right of the people of Taiwan to determine their own political future.
Randall Schriver, a former US Department of State and US Department of Defense official, said Washington's relationship with Taipei needed to be prioritized.
He said that the administration of US President Barack Obama did not have high enough aspirations for Taiwan.
China is developing the capability to deter Taiwan's independence or influence Taiwan to settle the dispute on Beijing's terms, while simultaneously attempting to deter, delay or deny any possible US support for the nation, he added.
"We have severely neglected the US responsibility to provide arms to Taiwan. The US is not sufficiently helping Taiwan meet its defense needs," he said.
"Aircraft upgrades, submarines and F-16C/Ds are currently under consideration in Washington. I believe a faithful interpretation of US law demands this administration provide Taiwan with these capabilities. Yet the Obama administration continues to delay response to Taiwan's requests," he added.
Rupert Hammond-Chambers, president of the US-Taiwan Business Council, stressed that the US finds its interests and equities on Taiwan significantly reduced — mostly because US policymakers are attempting to calibrate interests with Taiwan on the basis of the US' China policy.
He said that in the event of a conflict with China, a modernized and capable Republic of China Air Force could play a critical and constructive role in supporting the US.
"Concern over China's reaction to the sale of F-16C/Ds has spooked the US government into not moving forward on this issue," Hammond-Chambers said.
"The US has exercised excessive restraint and has given Beijing ample opportunities to reduce its military posture opposite Taiwan," he added. "The continued US freeze on arms sales risks legitimizing China's reliance on military coercion to settle disputes."
Comments will be moderated. Keep comments relevant to the article. Remarks containing abusive and obscene language, personal attacks of any kind or promotion will be removed and the user banned. Final decision will be at the discretion of the Taipei Times.