DEHP probe extends to health goods
SEALED, NOT DELIVERED: More than 400 boxes of lactic acid bacteria made by Hong Shing Pharmaceutical have been sealed on suspicion they contain DEHP
The week-long food scare continues to widen as health authorities yesterday said that some products made by Hong Shing Pharmaceutical (宏星製藥), a well-known manufacturer of medicinal and health supplements which has Good Manufacturing Practice (GMP) certification, are suspected of containing contaminated clouding agents.
Department of Health officials said the latest round of investigations into manufacturers whose supply chain contains clouding agents manufactured by Yu Shen Chemical Co (昱伸香料有限公司), as well as companies that source their materials from Yu Shen, have found that Hong Shing's lactic acid bacteria, a type of health supplement, is thought to contain clouding agents laced with the chemical di(2-ethylhexyl) phthalate, or DEHP.
RESTRICTED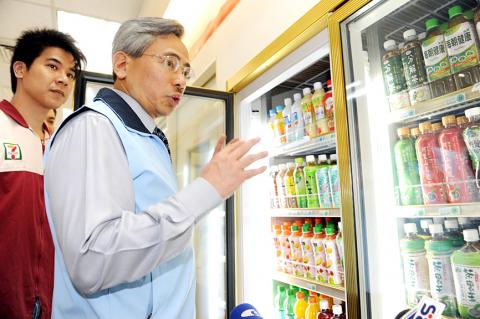 Department of Health Minister Chiu Wen-ta, right, inspects beverages at a Taipei convenience store yesterday.
Photo: Chang Chia-ming, Taipei Times
More than 400 boxes of the lactic acid bacteria made by Hong Shing have been sealed and stopped from being sold, said Feng Ren-lan (馮潤蘭), a deputy section chief at the Food and Drug Administration.
The department yesterday also conducted spot checks at clinics and pharmacies to see if all tainted products had been pulled off the shelves.
The operation was part of a broader move by the department to crack down on products tainted with DEHP.
Department officials said strawberry and grape-flavored syrup sold by Chuanlin Co to local pharmacies and clinics were found to be tainted with DEHP. The syrup was produced by a downstream firm of Yu Shen Chemical Co.
Clouding agents, legal food additives made from gum arabic, palm oil and emulsifier, are commonly used in fruit jelly, yogurt mix powder, juices and other beverages to keep emulsions evenly dispersed and enhance viscosity.
In the past few days, authorities discovered that Yu Shen and Pin Han Perfumery Co (賓漢香料公司), based in Tucheng District (土城), New Taipei City (新北市), were allegedly illegally adding chemicals to clouding agents.
TWO TYPES
While Yu Shen allegedly used DEHP, Pin Han was reported to have used the chemical diisononyl phthalate (DINP), which is similar to DEHP.
The department said both DINP and DEHP are legal when used in the manufacture of plastic products, but cannot legally be used in food additives.
The department on Friday required that all products containing clouding agents be pulled off the shelves. Manufacturers must prove to the government that their products are DEHP-free by today, before they will be allowed to put their products back on the market.
Comments will be moderated. Keep comments relevant to the article. Remarks containing abusive and obscene language, personal attacks of any kind or promotion will be removed and the user banned. Final decision will be at the discretion of the Taipei Times.