Tainted food scare sparks mass recalls
FOOD SCARE: Among the 167 suppliers facing recalls are Taiwan Sugar, Hey Song and Possmei, which has told its clients in 20 countries to stop selling its juice products
A total of 167 food ingredient suppliers face recalls because of toxic contamination in connection with an emulsifying additive, the Department of Health (DOH) said yesterday.
So far, the plasticizer Di(2-ethylhexyl) phthalate (DEHP) has been detected in the products of 47 local manufacturers of food and drinks that unknowingly used the tainted ingredient, all of which have to be recalled, said Hsu Ming-neng (許銘能), deputy director--general of the department's Food and Drug Administration (FDA).
Hsu urged other manufacturers to send their products for tests to prove that they are free of the harmful chemical.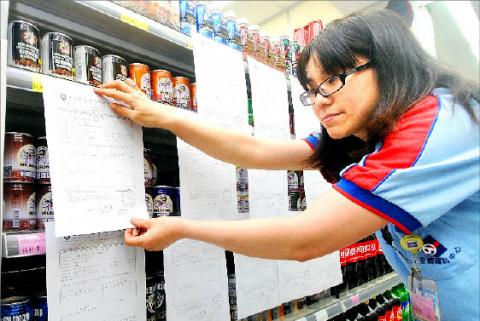 A member of staff at Pxmart in Taipei posts suppliers' test reports on shelves of products yesterday in the wake of the food scare over possible contamination with a banned additive to an emulsifier.
Photo: Fang Pin-chao, Taipei Times
Taiwan is gripped in a food scare after the department confirmed on Monday that DEHP had been found in an emulsifier that is commonly used in fruit jelly, yogurt mix powder, juices and other drinks.
Investigations show that the tainted emulsifier products were either produced by Yu Shen Chemical Co (昱伸香料有限公司) or came from intermediaries supplied by the company.
Some of the tainted ingredients and products were believed to have been exported overseas.
Hsu said the FDA should be able to track most of the -contaminated items within the next couple of days, when the department will again write to the International Food Safety Authorities Network (INFOSAN) under the WHO to report the details.
Hsu said he told INFOSAN officials of the incident while attending the World Health Assembly in Geneva earlier this week. The department later also wrote to INFOSAN via e-mail to provide further information, but the group has not yet responded, he said.
Among the products that were recalled yesterday were Taiwan Sugar Co's (Taisugar, 台糖) "Turmeric Oyster Shell" supplement tablets and Hey Song Corp's (黑松) "FruitHouse" probiotic powder and three other brands of dietary supplements.
Food ingredient exporter Poss-mei Corp said it has notified its clients in more than 20 countries to stop selling its concentrated juice products and await test results.
According to Possmei, the company will further inform its clients if the products are safe as soon as the results are available.
Passion fruit juice, mango juice and lychee juice produced by Possmei were on the DEHP -contamination-related recall list announced by the New Taipei City's (新北市) Health Bureau on Wednesday.
The company also supplies bubble milk tea ingredients. Among its most well-known oversea clients is Bubbleology tea house in London, which has also expressed concern over the DEHP contamination in Taiwan.
Possmei, however, said that the emulsifier is usually not added when making tapioca balls — a main ingredient of bubble milk tea — making contamination unlikely.
Giant Union Co, a supplier of oriental foods and commodities in Los Angeles, said on Wednesday that it has stopped importing "popping boba," a translucent gummy ball from Possmei that contains flavored juices and can be added to drinks.
Comments will be moderated. Keep comments relevant to the article. Remarks containing abusive and obscene language, personal attacks of any kind or promotion will be removed and the user banned. Final decision will be at the discretion of the Taipei Times.