Radiation level spikes in seawater at nuclear plant
Radioactivity levels are soaring in seawater near the crippled Fukushima Dai-ichi plant, Japan's nuclear safety agency said yesterday, two weeks after the nuclear power plant was hit by a massive earthquake and tsunami.
Even as engineers tried to pump puddles of radioactive water from the power plant 240km north of Tokyo, the nuclear safety agency said tests on Friday showed radioactive iodine had spiked 1,250 times higher than normal in the seawater just offshore from the plant.
Officials said iodine 131 levels in seawater 30km from the coastal nuclear complex were within acceptable limits established by regulations and the contamination posed little risk to aquatic life.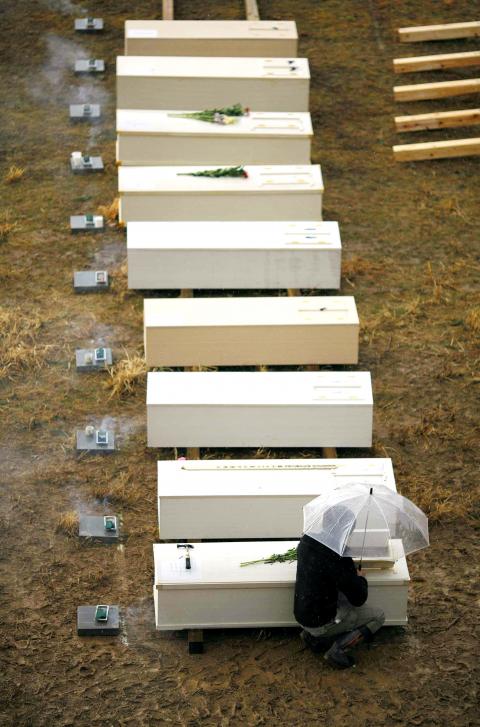 A family member of a victim of the earthquake and tsunami that swept Japan spends a moment alone with the victim's coffin during a mass funeral in Kesennuma, Miyagi Prefecture, yesterday. Ten flimsy wood coffins were laid on two sturdy rails at a hastily prepared cemetery of mostly mud as Kesennuma began burying its dead.
Photo: Reuters
"Ocean currents will disperse radiation particles and so it will be very diluted by the time it gets consumed by fish and seaweed," said Hidehiko Nishiyama, a senior official from Japan's Nuclear and Industrial Safety Agency.
Despite that reassurance, the disclosure may well heighten international concern over Japanese seafood exports. Several countries have already banned milk and produce from areas around the plant, while others have been monitoring Japanese seafood.
Radioactive water was found in buildings housing three of the six reactors at the crippled plant. On Thursday, three workers sustained burns at reactor No. 3 after being exposed to radiation levels 10,000 times higher than usually found in a reactor.
Nishiyama said Japanese agencies were trying to work out ways of "safely bailing out the water so that it does not get out into the environment, and we are making preparations."
He initially said the high radiation reading inside reactor No. 3, where the workers were injured, could indicate damage to the reactor. He later said it could be from venting operations to release pressure or water leakage from pipes or valves.
"There is no data suggesting a crack," Nishiyama said. "Reactor No. 3 is the only one of the six that uses a fuel mixture of plutonium and uranium. Plutonium is the most deadly radioactive isotope."
On Friday, Nishiyama chided plant operator Tokyo Electric Power Co (TEPCO) for not following safety procedures inside the turbine building.
More than 700 engineers have been working in shifts to stabilize the plant and work has been advancing to restart water pumps to cool their fuel rods.
Two of the plant's reactors are now seen as safe, but the other four are volatile, occasionally emitting steam and smoke. However, the nuclear safety agency said yesterday that the temperature and pressure in all reactors had stabilized.
When TEPCO restored power to the plant late last week, some thought the crisis would soon be over. However, lingering high levels of radiation from the damaged reactors have hampered progress.
An official at the science ministry said that daily radiation levels in an area 30km northwest of the stricken plant had exceeded the annual limit. However, experts say it is still below levels of exposure from medical X-rays.
The Japanese government has prodded tens of thousands of people living in a 20km to 30km zone beyond the stricken complex to leave.
Japanese Chief Cabinet Secretary Yukio Edano said the residents should move because it was difficult to get supplies to the area, and not because of elevated radiation levels.
Comments will be moderated. Keep comments relevant to the article. Remarks containing abusive and obscene language, personal attacks of any kind or promotion will be removed and the user banned. Final decision will be at the discretion of the Taipei Times.