Su announces presidential bid
LAST BATTLE? The former premier is looking to reverse two election setbacks in three years, vowing to turn Taiwan into a country 'where everyone has a smile on their face'
Former premier Su Tseng-chang (蘇貞昌) yesterday formally announced his bid for the Democratic Progressive Party's (DPP) nomination for next year's presidential election.
Surrounded by about 500 supporters in Taipei City, the former commissioner of Pingtung and Taipei counties emphasized his experience and outlined a plan to tackle what he said were the nation's main problems — youth unemployment, rising deficits and an aging society.
"We have lost our way. Taiwan has been floating in the open sea," Su said. "We need a strong leader during times like this, a helmsman who is of strong will."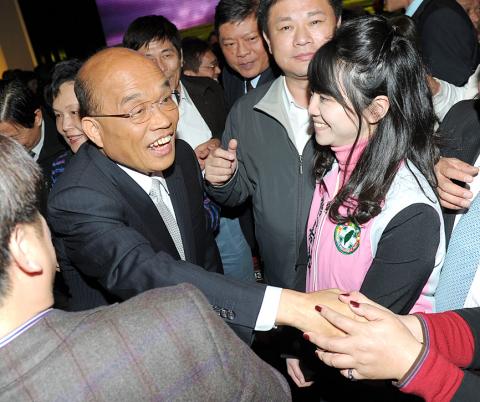 Former premier Su Tseng-chang, left, shakes hands with supporters after announcing his participation in the Democratic Progressive Party primary polls for next year's presidential election in Taipei yesterday.
Photo: CNA
Su's address highlighted his administrative experience and ties with rural communities.
"Using my love for this land and my life of experience, I will compete for the DPP nomination and win next year's presidential election," he said. "I'll lead the country to a more prosperous, fair, safe and hopeful future."
A key election theme, he said, would be changing the country to one "where everyone has a smile on their face."
The former premier vowed to also deal with sustainable development and national land reform, calling them pressing issues that would increase Taiwan's competitiveness.
On cross-strait relations, he said that while it was impossible to ignore China, the world's second-largest economy, "democracy and human rights are values that cannot be put up for sale."
Next year's election is seen as potentially the last battle for Su, 63, who is seeking to reverse two election setbacks, first as a vice presidential candidate in 2008 and then in a bid for Taipei City mayor last year.
He will face stiff competition for the DPP nomination from Tsai Ing-wen (蔡英文), who announced her bid on March 11 and temporarily stepped down as party chairperson to focus on her campaign.
Both have expressed willingness to compromise, but it is unclear what sort of deal could be brokered.
In a sign of what could amount to a tightly fought race, more than a dozen city councilors, legislators, county commissioners and mayors took part in his announcement, suggesting wide support for Su's campaign.
"We all admired his performance in Pingtung County [as commissioner]. He has talent and we are here to give him our support," Pingtung County Commissioner Tsao Chi-hung (曹啟鴻) said.
Also present at the announcement was Greater Tainan Mayor William Lai (賴清德), who missed Tsai's announcement because of what he called a schedule conflict.
Former premier Frank Hsieh (謝長廷), who had missed Tsai's event, was also absent yesterday.
Su's running mate in 2008, Hsieh told a radio show yesterday he believed the former premier's bid was "a bit unexpected."
Most people believe Tsai's poll numbers were higher and that Su "should not register," Hsieh said.
The presidential campaign is expected to be critical for Su, who has made no attempt to hide his intentions for an eventual bid for the nation's top post since losing in the Taipei mayoral election last November.
Recent opinion polls have shown Su and Tsai to be in a virtual tie. Both have been canvassing nationwide since the November special municipality elections.
The DPP is believed to be planning on holding a round of informal telephone polls in the next few weeks to give trailing candidates a convincing reason to back down before formal polling begins between April 25 and April 29.
Su has proposed a handshake agreement that would see the trailing candidate in the informal polls concede their campaign, but it is unclear whether Tsai has accepted the proposal.
Su was considered an early favorite for the presidential nomination before last year, despite failing to clinch the party nominations against Hsieh in 2008.
Comments will be moderated. Keep comments relevant to the article. Remarks containing abusive and obscene language, personal attacks of any kind or promotion will be removed and the user banned. Final decision will be at the discretion of the Taipei Times.