Japan nuclear crisis sparks mass exodus
DESPERATE FOR POWER: The latest threat at a stricken power plant was water evaporating in the fuel-rod pools, a development that could create lethal levels of radiation
Alarm over Japan's nuclear disaster grew yesterday, with more foreign governments advising citizens to flee Tokyo as army helicopters dumped water on the overheating plant at the center of the crisis.
Six days after a massive earthquake and tsunami plunged Japan into its worst crisis since World War II, the US and Britain chartered flights for nationals trying to leave and China moved thousands of citizens to Tokyo for evacuation.
Commercial airline tickets were scarce and some companies hired private jets to evacuate staff. In Tokyo, the streets were quiet but calm as the Japanese, though deeply concerned, mostly remained stoic over the emergency.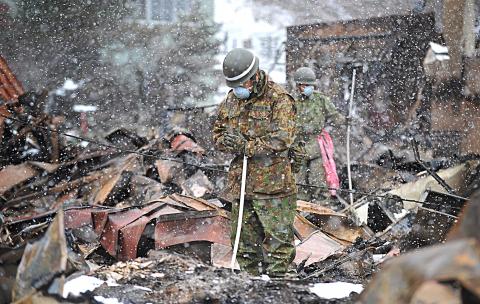 A Self Defense Force soldier prays before removing the body of a tsunami victim found in the debris in Otsuchi, Iwate Prefecture, Japan, yesterday.
Photo: AFP
At the stricken Fukushima Dai-ichi nuclear power plant, 250km from Tokyo, Chinook military helicopters dumped tonnes of water in a desperate bid to cool reactors crippled by the earthquake to prevent a catastrophic meltdown.
Fire engines were put into action to douse fuel rods inside reactors and containment pools submerged under water to stop them from degrading because of exposure to the air and emitting dangerous radioactive material.
"Based on what experts have told us, it's important to have a certain level of water [in the pools] before we can start to see any positive effect," chief government spokesman Yukio Edano told reporters.
The official toll of the dead and missing from the twin disasters, which pulverized the northeast coast, was approaching 15,000, police said, as aftershocks continued to rattle a jittery nation.
The number of confirmed dead stood at 5,457, with more than 80,000 buildings damaged and 4,798 destroyed, but as Japanese and international teams mounted a massive search and relief effort, reports from some battered coastal towns suggested the final death toll could be far higher.
Millions of people have been left without water, electricity, fuel or enough food and hundreds of thousands more are homeless, the misery compounded by heavy snowfalls, freezing cold and wet conditions.
Thick snow covered wreckage littering quake-hit areas, all but extinguishing hopes of finding anyone alive in the debris.
A cold snap brought heavy blizzards over the country's northeast overnight, covering the tsunami-razed region in deep snow and vital highways in ice.
"We're already seeing families huddling around gas fires for warmth," Save the Children's Steve McDonald said.
"In these sorts of temperatures, young children are vulnerable to chest infections and flu," he added, estimating that the disaster had left 100,000 children homeless.
The tense nation also saw the stock market fall again yesterday, closing down 1.44 percent on fears about the economic impact.
The latest threat at the Fukushima Dai-ichi plant was the fuel-rod pools, which contain used rods that have been withdrawn from reactors, yet remain highly radioactive. They are immersed in cooling water for years until they shed enough heat to become manageable for storage.
Water in one of the pools was evaporating because of the rods' heat and temperatures were slowly rising in two other pools because coolant pumps were knocked out by the quake and tsunami, experts said.
They warned that if the tanks run dry and leave the fuel rods exposed, the rods could melt or catch fire, creating potentially lethal levels of radiation.
At the same time, Japanese engineers were focused on restoring the power supply to the stricken power plant in an attempt to reactivate its cooling system.
"If the restoration work is completed, we will be able to activate various electric pumps and pour water into reactors and pools for spent nuclear fuel," a spokesman for plant operator Tokyo Electric Power Co said.
Comments will be moderated. Keep comments relevant to the article. Remarks containing abusive and obscene language, personal attacks of any kind or promotion will be removed and the user banned. Final decision will be at the discretion of the Taipei Times.