Tsai to declare presidential bid
CHALLENGE: While Tsai Ing-wen is expected to easily edge out Annette Lu in the party primary, she may also have to compete with Su Tseng-chang and Frank Hsieh
Democratic Progressive Party (DPP) Chairperson Tsai Ing-wen (蔡英文), whose popularity within the party has created substantial pressure on her to run for president, will officially announce her candidacy today.
Party sources confirmed yesterday that Tsai had in the past week been working behind the scenes to shore up support from party heavyweights, hire office staff and make preparations for her declaration this morning.
Tsai is expected to easily take the nomination against former vice president Annette Lu (呂秀蓮), who announced her bid last week.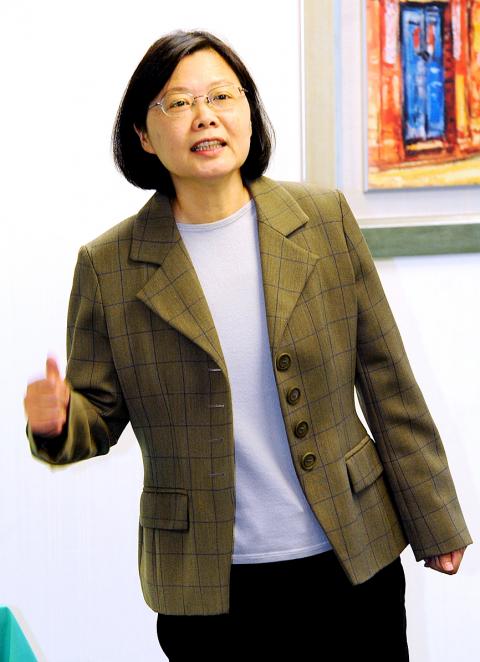 Democratic Progressive Party Chairperson Tsai Ing-wen speaks during a meeting of the party's Central Standing Committee in Taipei on Wednesday.
Photo: Wang Min-wei, Taipei Times
Another potential challenger is former premier Su Tseng-chang (蘇貞昌), though he has yet to make a declaration.
Tsai, 54, is widely seen as a potential formidable challenger to President Ma Ying-jeou (馬英九), who is expected to seek re-election.
Opinion polls about a year before the election show the two would be neck-and-neck, a situation reminiscent of the 2004 presidential election.
Tsai is seen as a next-generation leader within the DPP who helped the party get back on its feet after a series of devastating election losses in 2008. However, some say her aura faded slightly after she lost an election for New Taipei City mayor in November.
Party sources are calling the announcement the "next logical step" for the former vice premier under former president Chen Shui-bian (陳水扁).
Tsai, soft-spoken and seen as a scholarly figure, will likely play up her political skills in her campaign by capitalizing on public concerns over the pace of growing cross-strait ties to counter her relative lack of administrative experience.
Last month, she established two DPP-affiliated think tanks out of her remaining campaign funds from her New Taipei City mayor run to give the party more alternatives in cross-strait and economic policy.
It remains unclear who would be Tsai's pick to run on her ticket next year.
Neither Tsai nor the DPP has provided official answers to questions about her candidacy, but party sources said invitations to her announcement in Taipei City had already been sent out to former party leaders, lawmakers and DPP mayors.
DPP sources said several prominent figures in her campaign would have close connections with the former Chen administration, including former Presidential Office director Lin Teh-hsun (林德訓) and former Chen spokesperson Lin Chin-chang (林錦昌).
In addition to seasoned politicians, Tsai's campaign will include young DPP Taipei City councilors Hsu Chia-ching (徐佳青) and Juan Chao-hsiung (阮昭雄), who will act as spokespersons. It is believed that Lin Teh-hsun would head Tsai's office on Changan E Road.
While Tsai will likely dominate the DPP ticket as the party primary warms up later this month, she will nevertheless have to contend with Lu and possibly Su and former premier Frank Hsieh (謝長廷).
A final decision on the DPP ticket is expected on May 4 at the latest, although it could take place much sooner pending negotiations on April 6. If those negotiations fall through, the DPP will hold telephone polls from April 25 to April 29.
To avoid a possible conflict of interest, DPP officials said Tsai had taken a leave of absence and that DPP caucus chief Ker Chien-ming (柯建銘) would become acting chairperson.
"Party affairs will remain independent," DPP spokesperson Cheng Wen-tsang (鄭文燦) said. "The DPP will fairly and successfully complete the presidential primary."
There are indications that Tsai's announcement, which she is expected to be make at 10am, has weeks of planning behind it, from the carefully crafted invitations to the sudden departure of some DPP staff for her campaign office that was finalized last week.
The invitation to the announcement at National Taiwan University Hospital's International Convention Center reads: "Let us carry the heavy burden and set out from spring to welcome the time of the next difficult challenge."
Sources close to Tsai's campaign said she had likely made her decision early last week, although exploratory planning for the bid had taken place much earlier.
Tsai remained tight-lipped on the matter, even as she met with party heavyweights on Wednesday. Her decision could ruffle feathers within the party, as some members had hoped additional meetings between senior officials would be held before a contender was announced.
The official declaration will come just five days after Tsai invited other potential DPP presidential candidates to meet at party headquarters to reiterate the need for party unity and to avoid the damaging standoff of the 2008 campaign.
How Tsai reconciles calls for party unity with the need to further her own campaign in the party primary will be one of her most pressing tasks in the weeks ahead, DPP sources said.
Comments will be moderated. Keep comments relevant to the article. Remarks containing abusive and obscene language, personal attacks of any kind or promotion will be removed and the user banned. Final decision will be at the discretion of the Taipei Times.