DPP's Annette Lu formally launches presidential bid
RING HER BELL: The former vice president said voters will realize that she alone had the experience and capability to defeat President Ma Ying-jeou
Former vice president Annette Lu (呂秀蓮) yesterday officially launched her bid for the presidency, the first shot in what is shaping up as a year-long showdown.
Standing in Taipei City's Da-an Park, Lu said she was eager to start dealing with the challenges confronting Taiwan — the lack of diplomatic recognition, a growing deficit and a lackluster economy that is keeping unemployment high.
"I was the only vice president in [Republic of China] history to ever hold the post for eight years," Lu said. "People say to me that with my experience, I cannot back down because there are too many problems that Taiwan needs to confront."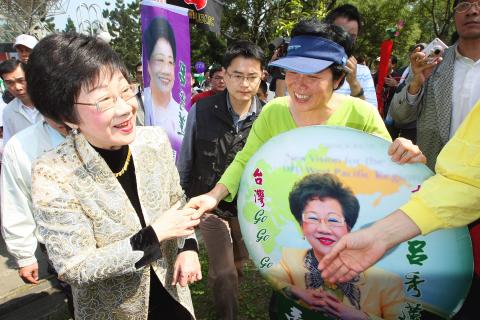 Former vice president Annette Lu, left, shakes hands with supporters in Taipei's Da-an Forest Park yesterday.
Photo: CNA
"Our next president must be ready to tackle these important problems," she said.
Lu's announcement, the first for next year's presidential election, is likely to pressure other Democratic Progressive Party (DPP) hopefuls to make public their intentions soon.
Lu served as former president Chen Shui-bian's (陳水扁) vice president, but her name recognition has dropped in the past two years. Media polls released last week suggest she would face an uphill battle in the DPP primaries.
She has dismissed the polls, saying voters would eventually realize that she alone has the experience and capability to defeat President Ma Ying-jeou (馬英九), who is expected to run for a second term.
"Can people [without experience] conduct foreign affairs? Can they react to important international incidents? These are serious topics" that the voters must consider, she said.
They have to ask themselves "whether it is better to be young or to have experience," Lu said.
Remaining active politically since leaving office in 2008, Lu has developed a large network of supporters, donors and advisors through Formosa Weekly, a magazine she launched in 2009.
However, she remains a deeply polarizing figure both inside and outside of DPP circles.
There are some doubts in the party on whether the 66-year-old can pull off a more modern campaign and revitalize the centrist vote, a segment the DPP lost in 2008 and that is seen as critical to the party's chances next year."I've been in many elections and every single time they were a challenge, but nothing is impossible; I can change and work hard. People shouldn't assume that I will lose," she said.
Asked whether she would run as an independent if she failed to win the DPP nomination, she said: "Don't underestimate me. I reject your prejudiced views."
Lu has clashed recently with many in the DPP over its decision to phase out a party member vote in the presidential primaries in favor of telephone polls.
There is also her opposition to the DPP leadership. She has said DPP Chairperson Tsai Ing-wen (蔡英文) should be blamed for the massive drop in party membership over the past two years, allegations the DPP has disputed.
A poll by the Chinese-language Apple Daily on Friday found 43.37 percent of respondents would support Tsai as the DPP's nominee, followed by 23.61 percent for former DPP premier Su Tseng-chang (蘇貞昌) and 10.41 percent for Lu. Another former DPP premier, Frank Hsieh (謝長廷), drew just 2.79 percent support.
In response, Lu said Chen also overcame lethally low popularity ratings in 1999, just months before the 2000 presidential elections.
"And in the end, it was Chen that entered the Presidential Office. Ratings [can change]," she said.
About 100 supporters turned out to see Lu launch her presidential bid, which she marked by ringing a bell that she said symbolized Taiwanese independence.
Fluttering banners proclaimed Lu would provide "critical leadership" at a "critical time," while a backdrop proclaimed that she would seek to turn Taiwan into a "cultured, technological and good country," a key component of her message, campaign officials said.
She also opened a campaign office and said her staff would be drawn from Formosa Weekly, giving her an advantage in terms of experience.
However, the event evoked memories of decade-old campaign events that Tsai, Su and other DPP politicians have largely surpassed with their multimedia and Internet platforms.
Tsai and Su have not yet said when they will announce their own decisions on next year's election.
Su said he would send Lu his "best wishes," adding: "We all belong to the same party and have the same ideals."
Tsai, campaigning for DPP candidates in the south, didn't respond directly to Lu's announcement.
The DPP is expected to begin negotiations on its presidential nominations on April 6. If the discussions prove inconclusive, it will conduct phone polls between April 25 and April 29 and wrap up the primaries on May 4.
Comments will be moderated. Keep comments relevant to the article. Remarks containing abusive and obscene language, personal attacks of any kind or promotion will be removed and the user banned. Final decision will be at the discretion of the Taipei Times.