Earlybird travelers crowding public transport systems
Public transportation systems were crowded yesterday, as many people chose to leave early for Lunar New Year's Eve reunions.
Yen Wen-chung (顏文忠), chief of the Taiwan Railway Administration's (TRA) operations department, said crowds began forming at the Taipei Railway Station yesterday morning, and it was expecting even more passengers before noon today.
Yen said the TRA expected to transport 4 million passengers between yesterday and next Tuesday and was expecting peak travel on Saturday, Sunday and Monday, when people head back north to return to work.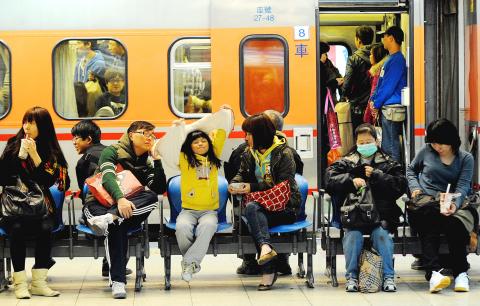 People heading out of Taipei wait for a train on a platform at the Taipei Railway Station yesterday.
Photo: Wang Yi-sung, Taipei Times
A similar scenario was seen on the high-speed rail system, where just a few seats were still available. Taiwan High Speed Rail Corp said almost all seats on trains leaving before 4:30pm today were booked.
At Taipei International Airport (Songshan airport), all seats on flights to the outlying islands were booked yesterday.
Traffic on freeways was for the most part smooth. On most roads, driving speeds were 80kph or above at 7:30pm.
The National Freeway Bureau will close tollbooths between midnight and 7am from today through Monday. The High Occupancy Vehicle policy — which requires at least three passengers in a car — will be implemented for several southbound freeway sections from 7am to 12pm today and from 9am to 3pm on Saturday and Sunday on northbound sections.
The bureau's director-general, Tseng Dar-jen (曾大仁), said that motorists must be prepared for heavy freeway traffic every day during the holidays, with travel time between Taipei and Greater Kaohsiung varying from between six hours to eight-and-a-half or even nine hours.
The worse traffic congestion on freeways was expected on Saturday and Sunday, he said.
Comments will be moderated. Keep comments relevant to the article. Remarks containing abusive and obscene language, personal attacks of any kind or promotion will be removed and the user banned. Final decision will be at the discretion of the Taipei Times.