ARATS delegation arrives in Taipei
CHECKPOINTS, CHANTS: Chen Yunlin and delegation members were greeted by demonstrators at the Grand Hotel as well as inside the National Palace Museum
The sixth round of high-level cross-strait talks began in Taipei yesterday with barricades and walls of police keeping back protests by pro-independence advocates who vowed to follow Association for Relations Across the Taiwan Strait (ARATS) Chairman Chen Yunlin (陳雲林) "every step of the way" of his stay.
TV footage showed a group of protesters waiting for Chen in the terminal as his plane touched down at Taiwan Taoyuan International Airport. Protesters also gathered near the Flora Expo site as Chen's motorcade headed toward the Grand Hotel, where the delegation is staying during its three-day trip.
Numerous checkpoints ringed by large metal barriers have been set up on roads leading to the hotel. Police squads were also spotted along the motorcade's route from the airport to the hotel.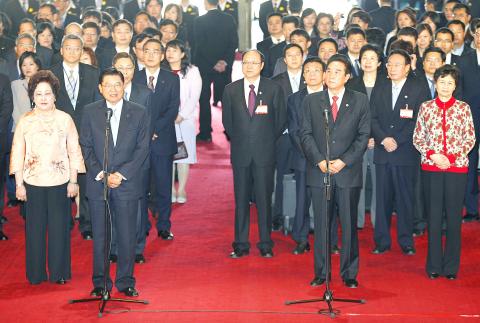 Association for Relations Across the Taiwan Strait Chairman Chen Yunlin, front right, and Straits Exchange Foundation Chairman Chiang Pin-kung, front left, speak during a welcoming ceremony in the lobby of the Grand Hotel in Taipei yesterday.
Photo: Pichi Chuang, Reuters
When the motorcade pulled into the hotel driveway, Chien Sheng-che (簡聖哲) from the Taiwan Republic Office led a four-man protest outside the hotel, although Chen presumably did not see it because he was still inside the vehicle.
Chanting "Taiwan and China are two countries on each side of the Taiwan Strait" and "Chinese dogs, get out," Chien and his colleagues were quickly escorted by police to a nearby police station. They were later released without questioning.
"I wanted to let Chen Yunlin know that he isn't welcome in Taiwan," Chien said, adding that he had hiked up the back of the hotel grounds to avoid police checkpoints. "He needs to know that Taiwan is a country, just like China."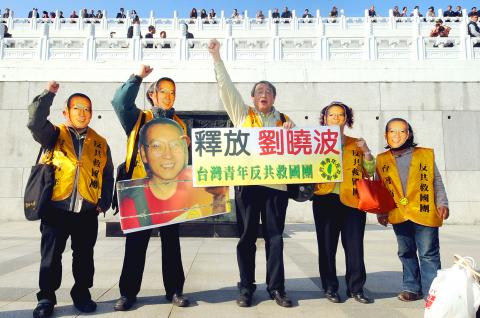 Taiwan Youth Anti-Communist Corps chairman Paul Lin, center, and social activists stage a protest as Association for Relations Across the Taiwan Strait Chairman Chen Yunlin visits the National Palace Museum in Taipei yesterday. Lin and his associates urged Beijing to release Nobel Peace Prize winner Liu Xiaobo.
PHOTO: LU CHUN-WEI, TAIPEI TIMES
Chien said the group originally planned to wave a custom-made flag — featuring China's five-star red flag on the upper left side and the Republic of China's (ROC) flag printed upside down on the lower right corner — but ditched the idea.
He said the flag would have symbolized the downfall of the ROC and President Ma Ying-jeou's (馬英九) administration when dealing with China.
In his welcome address to Chen in the Grand's lobby, Straits Exchange Foundation (SEF) Chairman Chiang Pin-kung (江丙坤) said the two sides have expanded negotiation issues from purely economic to medical and health cooperation. Although the two sides would not be signing an agreement on investment protection today as planned, he said he hoped they would continue to work to close the deal as soon as possible.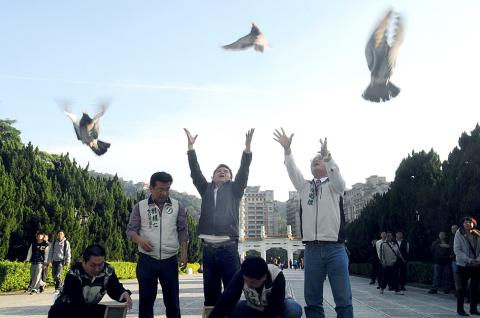 Democratic Progressive Party Taipei City Councilor Chuang Ruei-hsiung, center, and other party members free pigeons in front of the National Palace Museum in Taipei as Association for Relations Across the Taiwan Strait Chairman Chen Yunlin visits the museum yesterday.
PHOTO: LU CHUN-WEI, TAIPEI TIMES
Taipei and Beijing have built a solid foundation for future negotiations, he said. Both sides agreed to tackle issues that are easier and more urgent first, and to put economic issues before political ones.
"We have proved to the world that as long as we work together, we can overcome any difficulty," he said. "We have also won support among the people by showing that negotiations can resolve differences, cooperation can replace confrontation and development can create a win-win scenario."
While lower-level officials conducted a final round of talks on the medical and health cooperation pact to be signed today, Chen and his wife spent the afternoon at the National Palace Museum.
A member of the Alliance of Referendum for Taiwan tears a People's Republic of China flag as Association for Relations Across the Taiwan Strait Chairman Chen Yunlin visits the National Palace Museum in Taipei yesterday.
PHOTO: CHANG CHIA-MING, TAIPEI TIMES
Their motorcade was led by five police cars, three police vans and included two minibuses and six luxury sedans. At least 200 police officers were deployed inside the museum itself for his visit.
One visitor to the museum, upset by the heavy security, got into a verbal and physical clash with the police that ended up with him and several officers being pushed down a staircase.
Also inside the museum were about 10 people from the Alliance of Referendum for Taiwan, who chanted "Chen Yunlin, get out," "Ma Ying-jeou, step down," "Hold a referendum on the ECFA [Economic Cooperation Framework Agreement]" and "Taiwan and China are two countries on each side of the Taiwan Strait."
Other protesters included five students from National Yang-ming University, who demanded that China release dissident and Nobel Peace Prize laureate Liu Xiaobo (劉曉波).
Guo Ling-feng (郭凌峰) said the five wanted to show that Taiwan and China are different because they can protest here, but their Chinese counterparts cannot.
They also wanted to express the "true voice" of their generation because the administration seemed reluctant to take a stance on the matter, he said.
Outside the museum, a group of protesters held up signs saying: "One Taiwan, One China" and "Protect Taiwan."
About 100 Falun Gong practitioners held a silent protest as well, calling on China to stop prosecution of Falun Gong followers.
Three Democratic Progressive Party (DPP) Taipei City councilors also protested outside the museum, and others said they planned to protest today.
Taipei City Councilor Chuang Ruei-hsiung (莊瑞雄) said he decided to release pigeons after learning that several key agreements, including ones on cross-strait investment protection and judicial assistance, would be left off today's agenda.
"If Chen Yunlin doesn't understand what 'releasing pigeons' (放鴿子) means in Taiwan, he should Google it," Chuang said.
The term is commonly used to symbolize a failure to show up at an event.
Police had initially hoped to contain the protests at the museum, which was not as heavily guarded as the Grand Hotel, to the main entrance. However, many protesters were able to enter the museum as regular visitors, although they failed to reach Chen or his delegation.
The police presence was visibly more relaxed compared with Chen's first visit in 2008, when police officers confiscated ROC flags and several protesters complained of police brutality.
Two brief clashes were reported yesterday, although no one was injured and Chen's motorcade passed by hundreds of ROC flags enroute from the airport to his hotel and then to the museum.
Despite earlier reports that more than 2,000 police officers had been mobilized as part of Chen's security arrangements, National Police Administration officials said only 200 officers had been deployed. However, DPP Taipei City Councilor Chien Yu-yen (簡余晏 said the figure did not include reserve and back-up squads.
The Chinese Nationalist Party (KMT) caucus urged DPP Chairperson Tsai Ing-wen (蔡英文) to keep her party's supporters under control and to protest rationally.
KMT caucus secretary--general Lin Tsang-min (林滄敏) voiced concern about venue security, while KMT Legislator Kuo Su-chun (郭素春) urged the DPP to show manners during this week's talks and not turn the nation into a laughingstock.
"It is true that we all enjoy our rights to protest, but what would people think of us if something happens to Chen Yunlin during his stay in Taiwan?" KMT caucus deputy -secretary-general Lo Shu-lei (羅淑蕾) asked, urging the DPP and other demonstrators to refrain from making provocations.
Meanwhile, hotel guests and National Palace Museum visitors should expect to come under strict questioning from police before being allowed entry into the either facility today and tomorrow.
ADDITIONAL REPORTING BY FLORA WANG AND AFP
Comments will be moderated. Keep comments relevant to the article. Remarks containing abusive and obscene language, personal attacks of any kind or promotion will be removed and the user banned. Final decision will be at the discretion of the Taipei Times.