Wang signs a new one-year contract with Nationals
SIDELINED: Wang Chien-ming won more games than any other big league pitcher in 2006 and 2007, but his injuries have limited him to just 27 appearances in two years
Taiwanese right-hander Wang Chien-ming (王建民) has signed a one-year contract to rejoin the Washington Nationals that will guarantee him a base salary of US$1 million and give him a chance to earn another US$4 million in incentives, Wang's US-based agent Alan Chang said in a statement early yesterday.
"Wang has expressed gratitude to the Nationals for its recognition and confidence in his ability. He is currently working on individual training in Taiwan and is scheduled to be back in the US early next year," Chang said in the press release.
Wang, who played for the New York Yankees before being released late last year, signed with the Nationals in February for a year with a guaranteed US$2 million salary.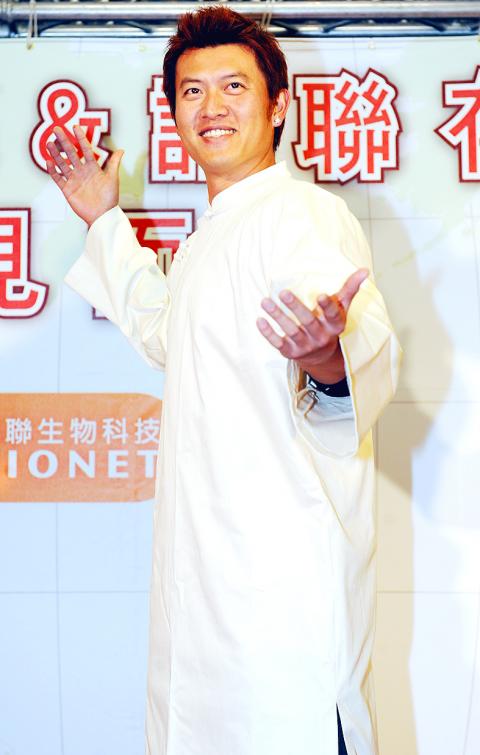 Wang Chien-ming strikes a kungfu pose yesterday in Taipei during an event for BIONET Corp.
PHOTO: CHANG CHIA-MING, TAIPEI TIMES
However, he has been in rehabilitation for the past 15 months and has not pitched for the Nationals in a Major League Baseball (MLB) game, only appearing in two instructional league games in October.
Wang was not offered a contract by the Nationals before the deadline of Dec. 3 and therefore became a free agent.
According to an MLB report published early yesterday, Wang had indicated to his agent that he wanted to stay with the Nationals because of the way they treated him while he was recovering from surgery to his right shoulder.
Although Wang will receive only half the guaranteed salary of his previous contract, he can secure up to US$4 million in incentives next season.
Wang will be paid US$250,000 if he stays on the 25-man roster for more than 30 days, a further US$250,000 if he stays for 30 more days, and an additional US$250,000 if he stays for another 30 days after that, according to the contract.
The incentives will be based on how many games Wang appears in as a starting pitcher.
He will earn an extra US$100,000 for between 10 and 19 games, US$150,000 for between 20 and 21 games, US$200,000 for his 22nd starting job and US$300,000 for between 23 and 27 games.
Wang will receive as much as US$600,000 if he wins any MLB award, including US$200,000 for the Comeback Player of the Year award.
Wang won more games than any other big league pitcher (38) between 2006 and 2007, but his injuries have limited him to just 27 appearances over the past two years.
In his last year with the Yankees, Wang was 1-6 with an atrocious 9.64 ERA before being shut down for the season because of his shoulder.
Commenting on the new contract, Wang said: "I am very happy because I had no team last year."
"The Nationals are signing me and bringing me back to major league baseball, and they are letting me recover without putting any pressure on me, so I can let my arm heal completely before I get back out on the pitch," the Taiwanese pitcher said.
Wang also said that he should be able to return in April or May next year, and that he currently is doing weight training and rehabilitation six to eight hours a day.
Wang also said he has started pitching again.
He said that both his speed and his different types of pitches are looking good.
Comments will be moderated. Keep comments relevant to the article. Remarks containing abusive and obscene language, personal attacks of any kind or promotion will be removed and the user banned. Final decision will be at the discretion of the Taipei Times.