Japan-US exercises begin
Japan and the US launched their biggest ever joint military exercise yesterday in a strident display of firepower featuring tens of thousands of personnel, hundreds of aircraft and 60 warships.
The "Keen Sword" drills were planned before North Korea's deadly artillery barrage of a South Korean island last week, but come just days after the US and South Korea conducted smaller exercises aimed at deterring Pyongyang.
The drills are being held to mark the 50th anniversary of the Japanese-US alliance, Japanese defense ministry officials said, and last until Friday next week.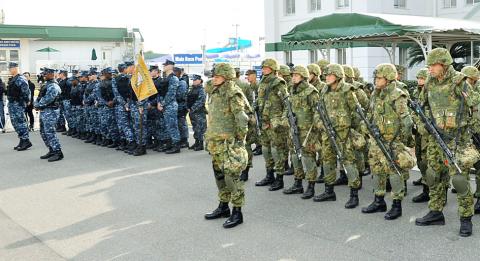 A ceremony is held at the US naval base in Sasebo, Japan, to mark the beginning of Japan-US defense exercises yesterday.
Photo: Reuters
The Pacific allies are for the first time being joined by South Korean military observers, in a bid by Tokyo to demonstrate solidarity among the three countries at a time of high tension in the region.
The massive exercise features about 44,000 military personnel, 60 warships and 400 aircraft from both sides in a drill off Japan's southern islands, close to the coast of South Korea and in the Sea of Japan.
The US nuclear-powered George Washington aircraft carrier, which also took part in the US-South Korean exercises, joined Japan's Aegis missile-equipped destroyers and F-15 jet fighters as heavy wind and rain lashed the first day. The joint drills will be much bigger than the naval exercise staged by Washington and Seoul.
Japan, which relies heavily on the US for its security under its pacifist constitution, has been on high alert since the attack.
China's newly assertive posture on territorial issues this year has also been a cause for concern for Tokyo and other Asian nations, in a region where Washington is seen as an important counterbalance.
The maneuvers include integrated air and missile defense, base security, close air support, live-fire training, maritime defense and search and rescue.
The inclusion of South Korean observers follows Japan's sending of observers to joint US-South Korean military exercises in July, held after the sinking of the South Korean Cheonan naval vessel.
An international investigation blamed North Korea for the sinking, which left 46 South Korean sailors dead. Beijing has hit back at the military maneuvers, which it sees as taking place in its backyard, -saying to talk with the nuclear-armed regime is better than to "brandish weapons."
China complained it was being unfairly criticized for urging dialogue and suggested talks with the North would be more helpful than military exercises, as South Korea also readied for new live-fire drills next week.
Comments will be moderated. Keep comments relevant to the article. Remarks containing abusive and obscene language, personal attacks of any kind or promotion will be removed and the user banned. Final decision will be at the discretion of the Taipei Times.