Chen Shui-bian now prisoner No. 1020
CAREFUL SELECTION Former president Chen Shui-bian's new cellmate — a fraud convict — was chosen to help take care of him and help him adapt to prison life
Former president Chen Shui-bian (陳水扁) will now be identified by his personal identification number, 1020, as he began serving his prison sentence at Taipei Prison on Thursday after being convicted on corruption charges.
Democratic Progressive Party Legislator Chen Ting-fei (陳亭妃) visited Chen Shui-bian yesterday morning and said she was shocked when to see the former president with his head shaved in accordance with prison regulations for inmates.
Chen Shui-bian was more calm than her, Chen Ting-fei said, saying that he was the one who comforted her, noting that prior to his transfer to the prison in Gueishan Township (龜山), Taoyuan County, Chen Shui-bian had been detained for about 700 days at the Taipei Detention Center in Tucheng City (土城), Taipei County, so he had actually just changed location.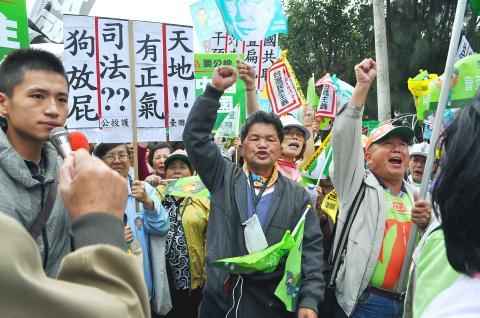 Supporters of former president Chen Shui-bian outside the Taipei Prison in Taoyuan County's Gueishan Township yesterday hold up placards protesting what they say is a lack of fairness by the judiciary.
Photo: Chou Min-hong, Taipei Times
"It's all about politics, not justice," Chen Ting-fei quoted Chen Shui-bian as saying.
Local media reported that when asked by a prison officer about his past experience — a routine question for the purpose of arranging suitable work for inmates — Chen Shui-bian replied, "I have served as president" and said his field of expertise was "administration."
Chen Shui-bian appeared calm during his first day in prison and ate all the food he was served for his first dinner there, according to a prison officer. The meal consisted of rice, stewed ribs with herbs, fried dwarf beans, tofu miso soup and a coconut tart.
It was arranged that he would share a 1.2 ping (3.96m2) cell with another inmate. Prison officials said the former president's cellmate was convicted of fraud and has a mild temperament and no political inclinations.
The officials promised that the man "will not lose his temper" even if Chen Shui-bian annoys him every day.
According to sources familiar with prison affairs, the man was carefully selected to help take care of the former president and help him quickly adapt to prison life.
A senior judge said Chen Shui-bian's time in prison would probably amount to 17 years. This was calculated based on a 10 percent reduction of his total 19-year sentence for accepting bribes in the Longtan (龍潭) land deal and the appointment of a chairman at Taipei Financial Center Corp. The time he spent at the Taipei Detention Center could also be counted toward the sentences.
Chen Shui-bian's wheelchair-bound wife, Wu Shu-jen (吳淑珍), who was also sentenced to a combined 19 years in the same cases, will likely be ordered next week to report to prosecutors in preparation for imprisonment.
In an interview with ERA News, former vice president Annette Lu (呂秀蓮) said that Thursday marked the most embarrassing and miserable point in Chen Shui-bian's life.
She said that the former president's imprisonment was a tragedy for him, his family and Taiwan's democracy. She also argued that even if Chen Shui-bian were at fault, he should not have been made to take all the blame.
Comments will be moderated. Keep comments relevant to the article. Remarks containing abusive and obscene language, personal attacks of any kind or promotion will be removed and the user banned. Final decision will be at the discretion of the Taipei Times.