Ma urges passage of judicial reform
WITH HASTE The president said he would like to see the draft bill pass through the legislature in a speedy manner, as well as better on-the-job training for judges
President Ma Ying-jeou (馬英九) has heard the call of the White Rose Movement and is urging swift passage of a draft bill to regulate the certification, performance and ethics of judges, the Presidential Office said in a statement issued yesterday.
The statement came in response to a rally by thousands of demonstrators in front of the Presidential Office on Ketagalan Boulevard last night calling for incompetent judges to be dismissed. Demonstrators also called for legislation to better protect children and people with disabilities against sexual abuse.
The demonstrators, many joined by their children, handed out white roses to call for better care of minors.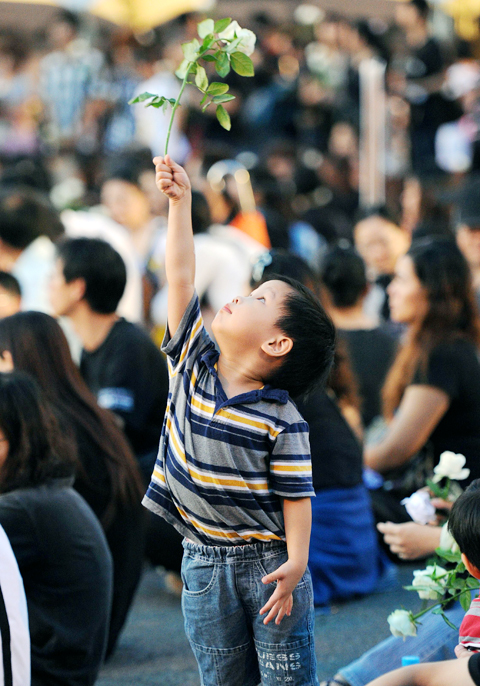 A boy holds a white rose during a rally to protest against the nation's justice system in front of the Presidential Office in Taipei yesterday.
PHOTO: SAM YEH, AFP
The White Rose Movement, initiated by local netizens and organizations dedicated to the welfare of women and children, emerged amid public fury stirred by the recent acquittals and light sentences given to people accused of molesting children because the judges ruled that it could not be proven that the victims had objected to the actions of the defendants.
In one case, Supreme Court judges rejected an appeal to convict a suspect accused of molesting a three-year-old girl because prosecutors failed to prove the alleged offense was committed against the girl's wishes. The case was sent back to a lower court for retrial.
In another case, a judge ruled that prosecutors failed to prove a six-year-old girl had shown "strong will" in fighting off the perpetrator, and found him guilty of "having sex with a person under 14 years of age," which came with a sentence of three years and two months in prison, rather than finding him guilty of committing "sexual assault," which is punishable by three to 10 years in jail.
The rulings led to 300,000 Internet users lodging online complaints demanding the judges be fired and calling for an overhaul of the judiciary system.
"We need laws to protect children who don't know how to fend off sex abuse," Garden of Hope Foundation executive director Chi Hui-jung (紀惠容) said.
The Judicial Yuan has since agreed to push for an amendment that regards sex with children under the age of seven as rape, which is punishable by a minimum sentence of seven years.
Giving his support for tougher penalties for child molesters, Ma said in the statement that he attached great importance to judicial reform and hoped that a draft of the judges' act approved by the Cabinet and sent to the legislature on Thursday, would pass in a speedy manner.
During the legislative procedure, it is necessary to seek opinions from all circles before reaching a consensus, the statement said.
Equally important is the on-the-job training of judges and prosecutors, it said, adding that the Judicial Yuan and the Ministry of Justice must step up efforts to organize training programs.
It is worth considering cooperating with expert witnesses when the court was hearing cases of sexual assault on children, it added.
As for the compulsory medical treatment of pedophiles, the statement said Ma would like to see related agencies get on with the program, complementing other prevention measures, such as circulating notices when a pedophile moved into a community and observing high-risk families.
ADDITIONAL REPORTING BY CNA AND AP
Comments will be moderated. Keep comments relevant to the article. Remarks containing abusive and obscene language, personal attacks of any kind or promotion will be removed and the user banned. Final decision will be at the discretion of the Taipei Times.