US moves on Chen Shui-bian properties
PUZZLEMENT The ex-president's son said his father was perplexed by Washington's move and urged US authorities to wait until the final court cases have been decided
The US is seeking to take over two properties in New York and Virginia owned by former president Chen Shui-bian (陳水扁) and his wife.
The US Justice Department filed complaints on Wednesday in New York and Virginia alleging part of US$6 million paid in bribes to Chen's wife, Wu Shu-jen (吳淑珍), was used to purchase an apartment in Manhattan and a house in Keswick, Virginia. The complaints state that Yuanta Securities Co (元大證券) paid a bribe to ensure its bid to acquire additional shares in Fuhwa Financial Holding Co (復華金控) would not be blocked by authorities.
"A portion of these bribe proceeds were then transferred ... to the United States and used to purchase a condominium in Manhattan" and a house in Virginia, the complaints allege.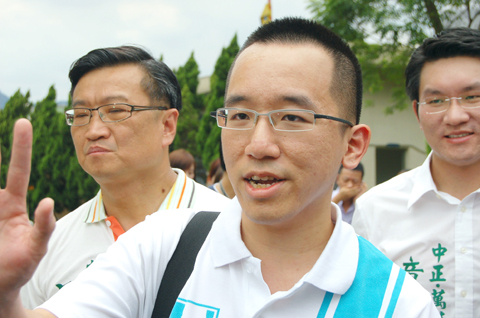 Chen Chih-chung, center, arrives at the Taipei Detention Center in Tucheng, Taipei County, yesterday to visit his father, former president Chen Shui-bian.
PHOTO: CNA
Chen and Wu were convicted last year of embezzling state funds, accepting bribes and money laundering, and sentenced to life in prison. The sentences were reduced to 20 years by an appeals court on June 11, although that verdict is being appealed by prosecutors.
Homeland Security Director for Immigration and Customs Enforcement John Morton said the complaints reflect the US' determination not to allow itself to be abused by corrupt foreign officials.
"This serves as a warning to those ... officials who abuse their power for personal financial gain and then attempt to place those funds in the US financial system," he said.
Chen was perplexed by the US request and urged the US judiciary to await the final court ruling on the "case of the second financial reform" before taking any action, the couple's son, Chen Chih-chung (陳致中), said yesterday after visiting his father at the Taipei Detention Center in Tucheng (土城), Taipei County.
The former president was referring to the prosecutors' allegation that he and his wife accepted bribes from banks in 2007 to "smooth" requirements at the time the government was implementing a second phase of financial reforms to encourage monetary institutions to merge.
Chen Chih-chung said he did not understand the US government's "leap in thinking."
"Maybe the US government did not have sufficient information before it made the decision," he said. "Such a decision was arbitrary."
Chen Chih-chung said he suspects the US government made the request based on the "second financial reform case."
However, before Taipei District Court hands down its verdict in that case, the US could not be sure if the money used to buy the properties was dirty, he said.
The Presidential Office and the American Institute in Taiwan (AIT) both declined to comment yesterday. Presidential Office Spokesman Lo Chih-chiang (羅智強) said President Ma Ying-jeou (馬英九) would not intervene in an ongoing case.
"This is a case where Department of Justice is working with Taiwan authorities ... I cannot comment on the specifics of an ongoing case," AIT spokesperson Sheila Pasksman said.
Meanwhile, Ministry of Foreign Affairs Spokesman Henry Chen (陳銘政) said the ministry respected the US judicial process and would provide any information the US requested, although it would not volunteer such information.
ADDITIONAL REPORTING BY SHIH HSIU-CHUAN
Comments will be moderated. Keep comments relevant to the article. Remarks containing abusive and obscene language, personal attacks of any kind or promotion will be removed and the user banned. Final decision will be at the discretion of the Taipei Times.